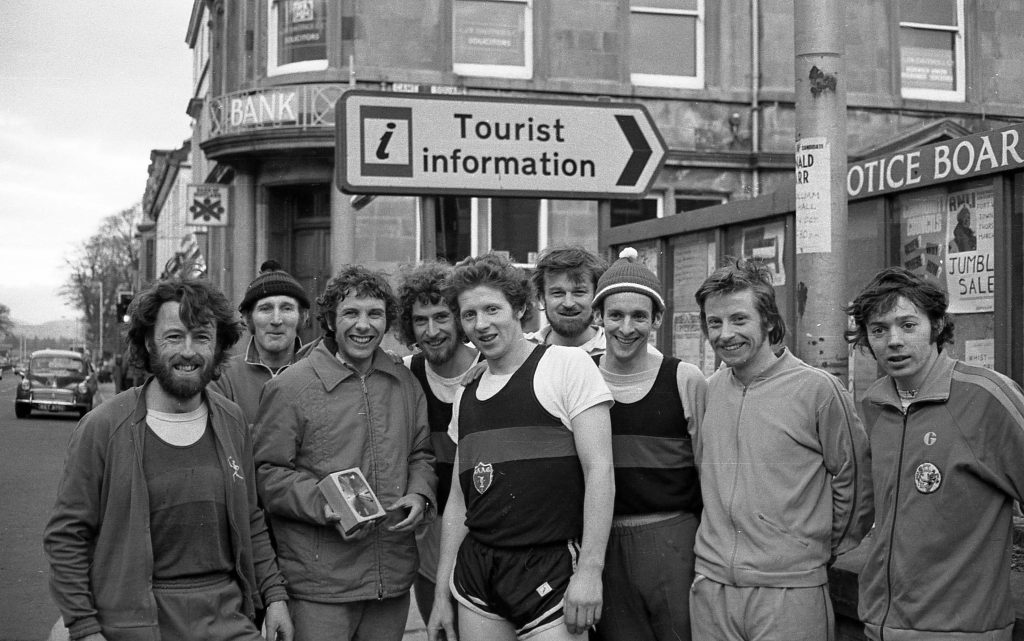 The Dumbarton AAC team that had run from Glasgow to Fort William: Ian McWatt third from right
Ian McWatt of Dumbarton AAC was one of the best known track officials in Scotland and before that he was, as the photograph above shows, a keen runner. The photograph was taken after the club had run a relay from Glasgow to Fort William using only eight runners who ran four stages each. It was not an easy task but the men running it had one recce runs for weeks beforehand and every one of them knew what had to be done. It was a club event and Ian was very much a club man. He ran in all championship races – club, county, district and national. He also ran in the Edinburgh to Glasgow Relay several times in the 1970's plus all the races that club runners do – Nigel Barge, Glasgow University Road Race, Balloch to Clydebank and so on. Very easy to get on with, he was widely known throughout the running world.
I had known him as a runner from the days when we met in the county cross-country championships and always found him easy to get on with. The weather didn't bother him and he turned out rain or shine and did his best. One of his friends from the running and racing days shed some light on his character when he tells us that "As a runner, he was meticulous in the way in which he packed his kitbag on race day: everything was in a different polybag – clean kit, dirty kit, wet-weather kit, arctic kit, towel, soap, comb, clean trainers, dirty trainers, micropore, vaseline, germoline … Very often, this resulted in lengthy rummagings in the kit bag, because the polybagged items weren't as easily identifiable as if they had been packed loose; if this failed, then countless polybags emerged onto the floor until the right one was found. This shows that attention to detail was his forte, which certainly carried over into his officiating – and, no doubt, his school work. While the polybag syndrome manifested itself every Saturday afternoon, it occurred in spades on Glasgow to Ft William occasions, when multiple changes of kit were needed and one had to be prepared for multiple soakings, freezings etc."
Ian, a long time teacher at Dumbarton Academy, was also a member of the local cycle club and took part in many of their events. When he stopped competitive running, Ian became an official. As befits a runner he was a track rather than a field official and was a time keeper from 1986. He was awarded the Raymond Hutcheson Trophy for Services to Officiating on 3rd Nov 2018, and the citation for the award read:
"Ian started timekeeping in April 1986
In October 1987 Ian passed both the practical and theory tests require by Scottish Amateur Athletics Association/Scottish Women's Amateur Athletics Association, and became a Grade ! timekeeper – 1987 style. Since then Ian has continually officiated as a timekeeper at both Endurance (Road Running and Cross Country) and Track and Field events as timekeepers were expected to do in those days. In 2016 his latest Record of Experience still records him doing so. Ian has assisted and mentored many new timekeepers over the years. As an example, at the Scottish U13 and U20 Championships in August 2017 Ian, as Chief Timekeeper, used his knowledge and experience to lay out the timekeeping team in manner that enhanced the skill level of his team – by insisting on capturing times other than first place.
Under the tutelage of Ray Hutcheson, Ian expanded his role in athletics to include Photo-Finish. Ian is one of the core individuals whose expertise makes this aspect of athletics in Scotland the envy of the rest of the UK. Ian has applied his innovative skills continually, in order to improve the technology used within Scottish Photo-Finish. One example is that the Scottish Athletics Display Clock now uses a "wireless" device Ian developed and manufactured.
Ian is always ready to turn up for the vital pre-event set up necessary to ensure Scottish athletic events are the success they are. In 2016 Ian's RoE records 62 days of Photo-finish activity, and previous years records show the same level of commitment and involvement. During Ian's 30 plus years in athletics, he has been a member of the Scottish Athletics Timekeeping Peer Group, including being Head of Discipline for a number of years. Ian is currently a member of the Scottish Athletics Photo-Finish Peer group.
Ian has officiated at numerous British Athletics events – as both a timekeeper and a photo-finish judge. He was a member of the Technical Information Centre team at the 2014 Glasgow Commonwealth Games and a timekeeper at the 2011 Youth Commonwealth Games in the Isle of Man.
For the reasons above we wish to nominate Ian McWatt for the 2017 Ray Hutcheson Trophy"
Dave Finlayson – Head of Discipline Photo-finish
Mike Forrest – Head of Discipline Timekeeping
I knew Ian as a runner and also as a timekeeper. When I went on the course for timekeepers, Ian was one of the three instructors (the other two were Sheila McDougall and Jim Johnston). We subsequently worked at many meetings together where Ian was the Chief and I was the lowliest of the Indians. He never flapped and faffed about as some did; he never got angry or impatient as others did, although like everybody else he was at times a wee bit irritated. After every race, the timekeepers had to check the times, have them copied out and sent to the recording officials. Meanwhile the Starter was anxious to get the next race off. Ian as Chief always kept the Starter waiting unacknowledged until he was sure that all the recording had been done and dealt with before he gave the signal for the next race. Even on very wet afternoons when the other officials and the runners were just wanting to get the meeting finished, Ian would say "Let them wait" until the results and times were recorded to his satisfaction.
As Dave and Mike said above he officiated at both track races and road/cross-country events. He was always there, always helpful.
When I heard from Alistair Lawson that he was very ill with cancer, I visited him in the Vale of Leven Hospital.and we talked about several topics but he showed me photographs of his cycle trip to Spain in August 2017 in which he looked very fit and as happy as ever. He had been diagnosed with cancer at the start of 2018 but was looking forward to getting back home. Unfortunately he died on 13th February before that could happen. His funeral was held on 21st February and there was a big turn out of athletes, cyclists and friends at the Crematorium in Cardross. But Ian, had the last word, and a good one it was too, when he left instructions that the mourners should be taken to the Abbotsford Hotel in Dumbarton and "give them all a bl**dy good feed!"