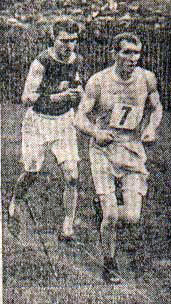 Prior to Frank Clark's breakthrough into the top flight of marathon running, Scotland was bereft of elite marathoners. The first Scot home in the 1909 Powderhall Marathon had finished only seventh in a time several minutes outside three hours. Overseas in Canada, a Scottish expatriate called Alex Rowan had in fact broken the three-hour barrier, when he finished second in a professional marathon race of 26 miles 385 yards at Vancouver on 21st August 1909 in 2:55:32. However, no-one in Rowan's native Scotland would have been any the wiser. Frank Clark's performance in the 1910 Powderhall Marathon was the real groundbreaker.
 Frank Clark (this was almost certainly an alias) was a miner from the Fife village of Glencraig near Lochgelly. We know that he was of Irish extraction, having been born at Ballina in County Mayo. He may well have worked at the Glencraig Colliery, although there were several working pits in the immediate area.
 A relative newcomer to marathon racing, Clark supposedly discovered his own abilities as a long-distance runner while training with Alex 'Sandy' Haddow in his race against John McCulloch of Strathmiglo from Glenfarg to Cowdenbeath in November of 1908. A former winner of the Powderhall Mile, Haddow was a miner from Mid-Calder living at the time in nearby Ballingry.
Prior to making his marathon debut on 1st January 1909, Clark had been prominent at distances ranging from the half-mile to twenty miles. His first major taste of success came at Tynecastle Park, Edinburgh, on 6th January 1905, when he took advantage of a 145-yard start to win the mile handicap in 4:25.0. Whenever possible, Clark competed in both the one and two mile handicaps at the many local highland gatherings, which were a huge attraction. When Clark won the mile handicap at the Thornton Highland Gathering on 26th July 1907, he did so in front of an estimated 50,000 spectators.
 There was a proliferation of "marathons" in Scotland in 1909 after the dramatic Olympic Marathon in the summer of 1908. All but one (the Powderhall Marathon) was less than the "full" distance of 26 miles 385 yards, this being the distance covered by the runners in the Olympic Marathon. Some were as short as five miles, but to the uninitiated it would have felt like a marathon. In those days the longest race in a highland gathering was the mile or the two miles.
After failing to finish the inaugural Powderhall Marathon in gruelling conditions, Clark had his first taste of success in a 12-mile marathon at Methil on 5th April 1909, when he came in first ahead of his mentor Alex Haddow in 1:14:09.4. Shortly after that, on 19th June 1909, he finished a highly creditable second behind the British Marathon Champion Charlie Gardiner (Lewisham) in a 20-mile track marathon held in conjunction with the Glasgow Police Sports at Celtic Park. The Fifer gave the Londoner more than he bargained for, keeping pace with Gardiner throughout and conceding defeat by only six yards in 1:58:05. He was the first Scot to run sub two hours for twenty miles.
 The following week, at the Blairadam and District Games, Clark continued his run of success by winning the ten miles marathon ahead of Haddow and Davie Butchart of Kirkcaldy. For good measure, he also entered the two-mile handicap and finished runner-up. He next won an 18-mile championship race at Strathaven in 1:57:00, and a few days later met Gardiner again in another 18-mile race from Riccarton to Ayr. The race ended in a virtual dead heat, both men finishing in 1:50:16. At the finish the judges gave Clark the verdict, but when he came out of the stripping hut he found that the decision had been reversed and Gardiner declared the winner. Only six days later, on 26th July 1909, Clark beat Haddow and William Swan, Catford, in the £7 marathon race at the Kinross Games, where he completed the 10 mile course in 57:00. A month later, Clark and Gardiner again crossed swords in the 14-mile Perth-Birnam road race held in conjunction with the Birnam Highland Games on 25th August. In a close finish, Gardiner again had the upper hand, staving off challenges by Clark and Haddow to win a close race in 1:21:00. Returning to the track for the winter pro racing season, Clark showed a decent turn of speed when he ran 4:28 from a start of 80 yards to take second in the mile handicap at Powderhall Grounds on 30th October 1909.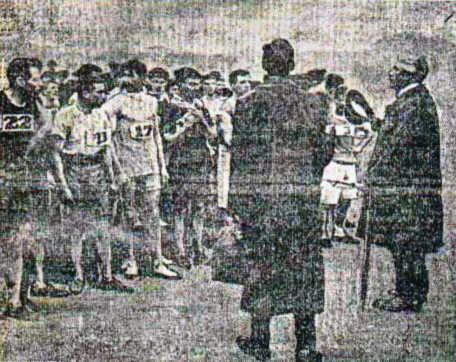 The line up for the Powderhall Marathon, 1910.   Clark (17) beside Haddow (in black)
A successful summer of marathon racing augured well for the Powderhall Marathon on 3rd January 1910. In addition to a large Scottish contingent, the 39-strong field included entries from England, France, Ireland, Italy, Switzerland and Wales. The star of the show was Charlie Gardiner, who only 16 days earlier had sensationally defeated Dorando Pietri in a indoor match for the "Marathon Championship of the World" at the Albert Hall in London. The canny Edinburgh bookmakers were, however, of the opinion that Charlie Gardiner would not be a danger so soon after his last marathon, which he had finished with his feet badly blistered, and made Clark their evens favourite. The runners set off at 10 a.m. in cold and windy conditions before a bumper crowd of 15,000 spectators. After allowing Gardiner to set the pace for the first twelve miles, Clark forged ahead and led the way through fifteen miles in 1:27:54, with only England's Jack Price to worry about. Gardiner retired hereabouts after being lapped, proving the bookies spot on. Price actually caught Clark just before passing the twenty-mile post in 1:58:47. The race thereafter consisted of Clark churning out the miles 21 to 25 with Price tucked in behind sheltering from the fierce crosswind. Not once did the Englishman volunteer to take over the pace-making duties. There was an air of inevitability when Price surged past Clark two laps from home, opening up a gap of some 200 yards on his spent rival to break the worsted in a new British record of 2:40:07.5. After passing the winning post, Price waited for Clark to arrive, and the pair sportingly shook hands. Clark was rewarded for a gutsy performance with a Scottish record of 2:40:54.0, an absolute world-class time in 1910. Also worth noting is the fact that Clark's intermediate times at 21 miles (2:05:20), 22 miles (2:12:00), 23 miles (2:18:53) and 24 miles (2:26:07) were British records. He was only a second worse than Len Hurst at 25 miles (2:33:44).
 How could a coal-miner run 2:40 for the marathon in 1910? Not only that, in an icy wind, on a hard cinder track and wearing heavy spikes. When asked by the Dunfermline Journal about his training after the Powderhall Marathon, Clark revealed that he usually walked about two miles before breakfast. In the afternoon, after coming home from the pit, he would do between five and six miles not too fast, and fifteen miles about twice a week. To answer the question: sixty miles a week on top of a strenuous job!
 Clark among the runners invited to compete in the prestigious International Marathon Derby at New York on 2nd April 1910. This was, basically, the professional championship of the world. He arrived in New York on 4th March and was initially scheduled to compete in a twenty-mile race at Madison Square Garden on 14th March. However, for reasons unknown he scratched from this and all other races in America. It appears likely that illness or an untimely injury ended his meteoric rise from the coalfields of Fife to marathon fame.
 Clark returned to competitive action later in 1910 and tied with Alex Haddow in a marathon race at Coldstream, but, alas, he never managed to re-scale the heights of his former glories.
The highlights of a short-lived career were his Scottish records for 20 miles and the marathon. These performances are still seen as aspirational by many a runner today, and are all the more remarkable when you consider the nature of his employment and the conditions in which he worked, not the mention the primitive, heavy footwear and apparel which runners of his day had to make do with.
The above profile was written, and the photographs provided, by Alex Wilson and should maybe be read in conjunction with the one on Alex Haddow.