This excellent profile of the little known Scottish Miler Douglas McNicol comes from Alex Wilson who has done several such pen portraits of noted Scottish runners of the past and this one is as good as any he has done so far.  Alex writes:
In previous posts we've encapsulated the careers of John McGough, who was Scotland's No. 1 miler from 1902 until 1910, and Duncan McPhee, who held a similar position of supremacy between 1913 and 1923. The missing link, as it were, is the Anglo-Scot Douglas McNicol, who emerged from McGough's shadow in 1910 to dominate Scottish miling for few short years. Known as "Little Mac", he was very short, barely over five feet tall, but big on talent.
Douglas Frank McNicol was born in Chelsea on September 11, 1885 to Kate and Colin McNicol, a Scot with roots in Dalry.
McNicol burst onto the scene in 1905 when he finished fifth in the South of Thames CC Championship, leading Thames Valley Harriers to silver medals in the team contest. In his first track season the young accountant produced a flurry of outstanding performances and looked all the part like a man with the potential to challenge the indomitable Alf Shrubb. On 27th April, competing for his second-claim club Islesdon Harriers, he won the 2 miles inter-team race in the South London Harriers sports at Kennington Oval in a superb 9:36.0, defeating a quality field including George Pearce, Joe Deakin; and Albert Aldridge, the reigning AAA 10 miles champion. A 4:34.0 mile at Richmond on 11th May hinted at his considerable potential over this distance. In the AAA championships at Stamford Bridge on 5th July, however, he tackled the 4 miles and made a medal-winning debut by finishing second in 21:34.6, the favourite Shrubb dropping out. The next month he showed his stamina and versatility by taking second in the half mile and winning the 3 miles in an excellent 14:56.4 in the Norwich and Norfolk sports on 5th August. In retrospect, his 1:56.6 half-mile in Norwich was unofficially a Scottish amateur record, but of course his Scottish eligibility had yet to be ascertained despite the suspicious surname.
McNicol then disappeared off the radar for a year and re-emerged in 1907 as a member of Polytechnic Harriers. Here he came under the tutelage of Sam Mussabini, who, like McNicol in some ways, was a small man with big ideas. Mussabini was a pioneer in his field, certainly one the greatest athletics coaches who ever lived, and best known for his work with Olympic champions Albert Hill and Harold Abrahams. Mussabini firmly believed, for example, that the mile would one day be run in under four minutes, a notion which in those days was scoffed at.
McNicol opened his account that year by winning their mile championship at Paddington on 19th June in 4:38.0. This led to his second appearance in the AAA championships on 6th July at Fallowfield where he finished sixth in the 4 miles. His time of 20:55.0 earned him a standard medal for beating 21 mins. Other highlights of an otherwise quiet season were a 4:23.0 mile off 40 yards at Exeter on 31st August and a 1:56.0 half mile off 26 yards at Exmouth on 2nd September.
The enigmatic Scot was again conspicious by his absence during the 1908 season, which is particularly puzzling considering that the Summer Olympics were staged in his home city that year. Be that as it may, he made another successful return to track racing in 1909. In the first of two matches between Polytechnic Harriers vs. Stade Francais at Stamford Bridge on 8th May he threw away his chances of winning the mile by – somewhat embarassingly for an accountant – miscounting the laps and launching his finishing sprint a lap too early. French runner Quilbeuf made up 30 yards on the last lap to win by six yards from McNicol in 4:37.4. However, McNicol made up for his faux pax in the return match in Paris three weeks later. After thrashing Quilbeuf to take the mile in 4:28.4, he won the three miles in a French record of 15:02.4. The following month, some five years after taking up athletics, he finally availed himself of the opportunity to compete in the Scottish championships. On 26th June, three days after retaining the Polytechnic Harriers' mile championship at Paddington in a record 4:32.2, McNicol made his long-awaited SAAA championships debut at Ibrox Park. He contested the mile, which proved to be one of the highlights of the meeting. Harry Jamieson in tight finish prevailed by two yards from John McGough in 4:29.2, with McNicol another two yards behind in 4:29.6. A sub 4 min. 30 sec. performance would usually have been good enough to earn selection for the Scotland vs. Ireland match in those days, but only the first two were selected, so he missed out. However, McNicol had by coming up to Scotland and competing in the national championships made a strong case for consideration in the future. A week after the SAAA championships he competed closer to home in the AAA championships at Stamford Bridge, where he contested the mile. He was in the thick of the action until the closing stages when Eddie Owen, Broughton Harriers, got away to win by two yards from Arthur Robertson in 4:23.0. McNicol was close behind in sixth and inside the 4 min. 30 sec. standard, although his exact time was not reported. In any case, in an inter-club contest at the same venue on 13th July he returned a world class time of 4:24.6 to comfortably win the mile. Of Scots, only John McGough (4:24.0) ran faster that season.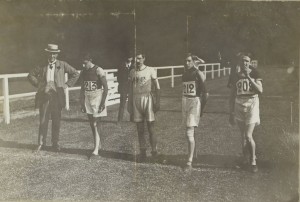 The lineup for the mile in the 1909 Poly H. vs. Stade Francais match won by Douglas McNicol 
By 1910 McNicol was on the cusp of becoming Scotland's top miler, although there was little to choose between himself and the incumbent John McGough. This became apparent when McNicol made his second appearance in the SAAA championships at Powderhall on 25th June and came within a whisker of wresting the mile crown from McGough. It proved a humdinger of a race with McNicol leading virtually from gun to tape only to lose by the width of McGough's singlet, the Bellahouston harrier edging ahead in the last few strides to claim a record seventh title in 4:32.8. It was so close, in fact, spectators actually thought McNicol had won, and both men were given the same time. Three days later McNicol made a successful defence of the Polytechnic Harriers' mile championship at Paddington, and, in so doing, lowered his own championship record to 4:29.6. The AAA championships at Stamford Bridge on 2nd July witnessed McNicol trying the difficult half-mile/mile double, particularly as the half also included a preliminary heat. He finished third in the half mile, crossing the line only 2 ½ yards behind Ireland's James Hill in 2:01.7. Later in the afternoon he occupied the same position in the mile, finishing eight yards behind Emil Voigt (Manchester AC) in 4:27.6. One wonders if he would not have been better off devoting his energies to the mile, but, that said, Voigt was the reigning Olympic five miles champion and a hard man to beat in the best of circumstances. A 4:25.8 mile four days later in winning the London Championship at Stamford Bridge saw McNicol ranked second in the UK that year behind Voigt's world-leading 4:19.8. On 9th July he capped his season with a great performance in the Scotland v Ireland match at Ibrox Park, where he produced a terrific sprint in the home straight to snatch victory from Ireland's James Bill by inches in 4:26.0. He also defeated his great rival John McGough, who was run out of it and gave up in the home straight. Scotland achieved their biggest ever margin of victory, with 9 wins to Ireland's 2. On 23rd July McNicol wrapped up his season with a 4:28.2 mile win in the Polytechnic Harriers vs. Herne Hill Harriers match. On the whole, it had been a very successful campaign.