This excellent profile of the little known Scottish Miler Douglas McNicol comes from Alex Wilson who has done several such pen portraits of noted Scottish runners of the past and this one is as good as any he has done so far.  Alex writes:
In previous posts we've encapsulated the careers of John McGough, who was Scotland's No. 1 miler from 1902 until 1910, and Duncan McPhee, who held a similar position of supremacy between 1913 and 1923. The missing link, as it were, is the Anglo-Scot Douglas McNicol, who emerged from McGough's shadow in 1910 to dominate Scottish miling for few short years. Known as "Little Mac", he was very short, barely over five feet tall, but big on talent.
Douglas Frank McNicol was born in Chelsea on September 11, 1885 to Kate and Colin McNicol, a Scot with roots in Dalry.
McNicol burst onto the scene in 1905 when he finished fifth in the South of Thames CC Championship, leading Thames Valley Harriers to silver medals in the team contest. In his first track season the young accountant produced a flurry of outstanding performances and looked all the part like a man with the potential to challenge the indomitable Alf Shrubb. On 27th April, competing for his second-claim club Islesdon Harriers, he won the 2 miles inter-team race in the South London Harriers sports at Kennington Oval in a superb 9:36.0, defeating a quality field including George Pearce, Joe Deakin; and Albert Aldridge, the reigning AAA 10 miles champion. A 4:34.0 mile at Richmond on 11th May hinted at his considerable potential over this distance. In the AAA championships at Stamford Bridge on 5th July, however, he tackled the 4 miles and made a medal-winning debut by finishing second in 21:34.6, the favourite Shrubb dropping out. The next month he showed his stamina and versatility by taking second in the half mile and winning the 3 miles in an excellent 14:56.4 in the Norwich and Norfolk sports on 5th August. In retrospect, his 1:56.6 half-mile in Norwich was unofficially a Scottish amateur record, but of course his Scottish eligibility had yet to be ascertained despite the suspicious surname.
McNicol then disappeared off the radar for a year and re-emerged in 1907 as a member of Polytechnic Harriers. Here he came under the tutelage of Sam Mussabini, who, like McNicol in some ways, was a small man with big ideas. Mussabini was a pioneer in his field, certainly one the greatest athletics coaches who ever lived, and best known for his work with Olympic champions Albert Hill and Harold Abrahams. Mussabini firmly believed, for example, that the mile would one day be run in under four minutes, a notion which in those days was scoffed at.
McNicol opened his account that year by winning their mile championship at Paddington on 19th June in 4:38.0. This led to his second appearance in the AAA championships on 6th July at Fallowfield where he finished sixth in the 4 miles. His time of 20:55.0 earned him a standard medal for beating 21 mins. Other highlights of an otherwise quiet season were a 4:23.0 mile off 40 yards at Exeter on 31st August and a 1:56.0 half mile off 26 yards at Exmouth on 2nd September.
The enigmatic Scot was again conspicious by his absence during the 1908 season, which is particularly puzzling considering that the Summer Olympics were staged in his home city that year. Be that as it may, he made another successful return to track racing in 1909. In the first of two matches between Polytechnic Harriers vs. Stade Francais at Stamford Bridge on 8th May he threw away his chances of winning the mile by – somewhat embarassingly for an accountant – miscounting the laps and launching his finishing sprint a lap too early. French runner Quilbeuf made up 30 yards on the last lap to win by six yards from McNicol in 4:37.4. However, McNicol made up for his faux pax in the return match in Paris three weeks later. After thrashing Quilbeuf to take the mile in 4:28.4, he won the three miles in a French record of 15:02.4. The following month, some five years after taking up athletics, he finally availed himself of the opportunity to compete in the Scottish championships. On 26th June, three days after retaining the Polytechnic Harriers' mile championship at Paddington in a record 4:32.2, McNicol made his long-awaited SAAA championships debut at Ibrox Park. He contested the mile, which proved to be one of the highlights of the meeting. Harry Jamieson in tight finish prevailed by two yards from John McGough in 4:29.2, with McNicol another two yards behind in 4:29.6. A sub 4 min. 30 sec. performance would usually have been good enough to earn selection for the Scotland vs. Ireland match in those days, but only the first two were selected, so he missed out. However, McNicol had by coming up to Scotland and competing in the national championships made a strong case for consideration in the future. A week after the SAAA championships he competed closer to home in the AAA championships at Stamford Bridge, where he contested the mile. He was in the thick of the action until the closing stages when Eddie Owen, Broughton Harriers, got away to win by two yards from Arthur Robertson in 4:23.0. McNicol was close behind in sixth and inside the 4 min. 30 sec. standard, although his exact time was not reported. In any case, in an inter-club contest at the same venue on 13th July he returned a world class time of 4:24.6 to comfortably win the mile. Of Scots, only John McGough (4:24.0) ran faster that season.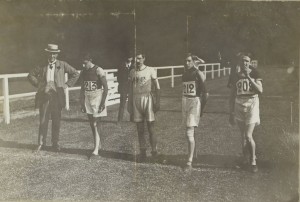 The lineup for the mile in the 1909 Poly H. vs. Stade Francais match won by Douglas McNicol 
By 1910 McNicol was on the cusp of becoming Scotland's top miler, although there was little to choose between himself and the incumbent John McGough. This became apparent when McNicol made his second appearance in the SAAA championships at Powderhall on 25th June and came within a whisker of wresting the mile crown from McGough. It proved a humdinger of a race with McNicol leading virtually from gun to tape only to lose by the width of McGough's singlet, the Bellahouston harrier edging ahead in the last few strides to claim a record seventh title in 4:32.8. It was so close, in fact, spectators actually thought McNicol had won, and both men were given the same time. Three days later McNicol made a successful defence of the Polytechnic Harriers' mile championship at Paddington, and, in so doing, lowered his own championship record to 4:29.6. The AAA championships at Stamford Bridge on 2nd July witnessed McNicol trying the difficult half-mile/mile double, particularly as the half also included a preliminary heat. He finished third in the half mile, crossing the line only 2 ½ yards behind Ireland's James Hill in 2:01.7. Later in the afternoon he occupied the same position in the mile, finishing eight yards behind Emil Voigt (Manchester AC) in 4:27.6. One wonders if he would not have been better off devoting his energies to the mile, but, that said, Voigt was the reigning Olympic five miles champion and a hard man to beat in the best of circumstances. A 4:25.8 mile four days later in winning the London Championship at Stamford Bridge saw McNicol ranked second in the UK that year behind Voigt's world-leading 4:19.8. On 9th July he capped his season with a great performance in the Scotland v Ireland match at Ibrox Park, where he produced a terrific sprint in the home straight to snatch victory from Ireland's James Bill by inches in 4:26.0. He also defeated his great rival John McGough, who was run out of it and gave up in the home straight. Scotland achieved their biggest ever margin of victory, with 9 wins to Ireland's 2. On 23rd July McNicol wrapped up his season with a 4:28.2 mile win in the Polytechnic Harriers vs. Herne Hill Harriers match. On the whole, it had been a very successful campaign.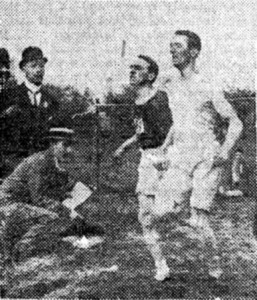 John McGough pips Douglas McNicol for the 1910 SAAA mile championship at Powderhall.
In the run-up to the 1911 SAAA championships McNicol scored a series of early season wins including notably a 15:05.6 for three miles at the Geneva A.C. sports at Stamford Bridge on 21st April, a 4:26.8 mile at the Kinnaird Trophy meeting at Stamford Bridge on 27th May and a 1:59.6 half mile at the LAC summer meeting at Stamford Bridge on 21st June, not to mention a half-mile/mile double in the Midland Championship.
On Saturday 24th June McNicol continued his good run of form in the SAAA championships at Hampden Park, where Anglo Scots caused consternation by accounting for five out of eleven events. The mile delivered the most meritorious performance of the day courtesy of McNicol. Despite strong winds, he took the lead on the first lap and front ran his was to victory by half the length of the home straight from J.T. Soutter, Aberdeen University AC, in 4:26.4. The Glasgow Herald wrote: "Considering the weather and track conditions, this is a brilliant effort, and we hope it is but a prelude to a still greater effort at Stamford Bridge in the English Championships this week".
In the AAA championships the following week McNicol did not disappoint before 16,000 spectators in fine weather. The mile, which nineteen contested, proved to be one of the best races of the day. Again McNicol was in the thick of the action. He was only fourth entering the home straight, but then uncorked a fine finish which carried him past his rivals and onward to victory by a couple of yards from the Canadian Jack Tait, who, in turn, was a yard ahead of the Northern champion Eddie Owen, Broughton Harriers. With a personal best of 4:22.2, he became only the second Scot after Hugh Welsh to win the AAA mile.
Four days later, McNicol returned to Stamford Bridge for the LAC sports and won the London Championship in another personal best of 4:21.0. Among Scottish amateurs, this ranked him fifth of all time behind Hugh Welsh, 4:17.2 in 1898; Charles Henderson-Hamilton, 4:17.8 in 1905; John McGough, 4:19.2 in 1906; and Henry Acland Munro, 4:20.4 in 1895.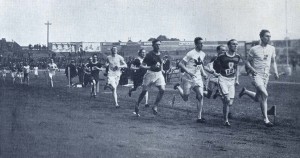 The 1911 AAA mile, entering the last lap. Philip Baker leads from Eddie Owen (12) and Jack Tait (19) with the diminutive McNicol tucked in behind Owen.
A McNicol in this form would surely have no trouble retaining his mile title in the annual Scotland vs. Ireland match at the RDS Showgrounds, Ballsbridge, on 15th July. In fact, the mile turned out to be a procession. McNicol was a class apart and won by 40 yards from J.T. Souttar in 4:25.0, thus helping Scotland to victory by 7 wins to 4.
On his return from Dublin McNicol made a detour via his ancestral home of Ayrshire and won the 1000 yards handicap from scratch at the Ayr United FC sports in 2:20.2.
Having discovered a rich vein of form, McNicol made his first appearance at the annual sports of Rangers FC before 10,000 spectators at Ibrox Park on Saturday 5th August. The feature of a varied programme was the win of Harry Gissing, New York, in the invitation half mile handicap in a 1:56.2, just a fifth of a second outside Mel Sheppard's all-comers record. McNicol, off 10 yards, did well to take second a couple of yards behind the American in 1:56.5, despite being badly spiked in the second lap. His afternoon was not over, however, because, despite his injury, he also ran in the open half mile handicap off 10 yards, winning his heat in 1:58.6 and the final in 1:58.0. The Glasgow Herald commented upon McNicol's marvellous exhibition of stamina thus: "There are not many runners in Britain capable of equalling this threefold effort of the Polytechnic Harrier." Two day's later McNicol returned to Ibrox Park for the additional Monday evening meeting. Like on the Saturday, the feature of evening was the running of Gissing and McNicol, but this time it was in the 1000 yards handicap. Thirty three started, but interest centred on the scratch men, McNicol doing most the pace-making work. In the home straight the canny American had more in reserve and won by inches in a new Scottish all-comers' record of 2:16.6. McNicol finished a close third and had the satisfaction of setting a new Scottish native record, his time of 2:17.0 being eight-tenths of a second better than Adam Turnbull's record made in 1909.
After the Rangers sports followed the annual sports of Celtic FC on 12th August, which at that time was the biggest meeting in Scotland with an attendance of around 30,000. Again, McNicol (15 yards) faced Gissing (scratch) in the half mile handicap. Again the Scot did all the donkey work, and again the American won by two yards in 1:58.0 to 1:58.3 for McNicol, a troublesome wind mitigating against fast times.
On 17th August McNicol wrapped up his domestic programme with a 4:27.4 mile to retain the Polytechnic Harriers Club Championship at Stamford Bridge.
His final outing that season was in Berlin, Germany, where he represented his club in a match against Berlin Sports Club. McNicol ran in the 1500 metres, where he faced, among others, none other than 1906 Olympic champion Jim Lightbody. Despite the loose track, which was not to the Polytechnic Harrier's liking, a big crowd witnessed a fast race with the American winning by 5 metres in 4:06.2. McNicol's time in second of 4:07.0 was the fastest ever by a Scot, being just inside the 4:07.2 credited to fellow Anglo Scot Arthur Robertson at Stockholm in 1908. Thus concluded a memorable season brimful of highlights, wins and records. In recognition of his achievements McNicol was elected a life member of Polytechnic Harriers.
1912 was again, of course, an Olympic year, and, following the bountiful medal hauls in 1906 and 1908, Britain's elite athletes once again focussed their energies on qualifying for Stockholm. With this in mind, the AAA staged Olympic trials at Stamford Bridge on 18th May, the flat races being run over metric distances. McNicol, running in the 1500 metres, won the first heat in a fast 4:09.0. In a close-run final McNicol took second in the same time, finishing a yard behind Bill Cottrill (Hallamshire Harriers), winner in 4:08.8, and 3 yards ahead of dead-heaters Charles Ruffell (Highgate Harriers) and Alec Hare (Herne Hill Harriers). The performance was good enough to assure McNicol a berth on the boat for Stockholm. In all, no fewer than ten Polytechnic Harriers gained an Olympic nomination.
After retaining the club half mile championship at Stamford Bridge, McNicol won the mile in the annual match between Polytechnic Harriers and Stade Francais at Paris on 27th May in 4:37.0. He followed this with mile wins in the Inter-Poly Championships at Chiswick on 8th June and in the London Championship at Stamford Bridge on 13th June in 4:32.0, auguring reasonably well for a successful defence on his SAAA championship title at Ibrox Park on Saturday 15th June. McNicol did not disappoint, cutting loose on the last lap, but was given a harder race than expected by James McFarlane (Glasgow University AC), who got to within three yards of the London Scot at the post. The first quarter was done in 63.4, the second in 2:16.0, the third in 3:26.2, and the full distance in 4:31.8.
However, there was now a question-mark over McNicols's form. Would it be good enough for a successful defence of his AAA crown? Some had their doubts. These proved to be right when McNicol was dropped 200 yards from home and finished fourth, a few seconds inside the 4 min. 30 sec. standard, Eddie Owen winning by 3 yards from Ireland's Bob Hales in 4:21.4. As to this, the Glasgow Herald remarked: "D. McNicol never looked like winning from half-distance, and all the rumours that he has gone back since last season would seem to be confirmed by this second-rate effort."
Although qualified, McNicol did not make the journey Stockholm the following month. The Polytechnic Magazine states only that he was unable to go "for business reasons". One wonders if his poor form was perhaps a factor in his decision to pass up what many an athlete would regard today as the opportunity of a lifetime. In his absence, in any case, Arnold Jackson claimed gold for Britain in an Olympic record of 3:56.8.
On 20th July McNicol had another below-par showing in the Scotland vs. Ireland match at Powderhall, where he again came up against Bob Hales and again came off second best, trailing home 35 yards behind the Irishman, who won as he pleased in 4:27.8.
However, as the season drew to a close, McNicol rediscovered his old form and came within two-tenths of his Scottish 1000 yards record at the Ayr FC sports on 3rd August. On the whole, however, he was below his best in 1912.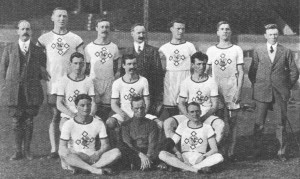 The 1912 Polytechnic Harriers Olympic team, with McNicol seated front right.
McNicol kicked off his 1913 season by retaining his club championship in the half mile at Stamford Bridge on 22nd May in 2:02.4. He confirmed his form in the Kinnaird Trophy meeting the following weekend by winning the mile in 4:29.4, and at the Inter-Poly sports at Paddington on 7th June, where he won the mile in 4:32.4. In all during gis career, McNicol won the Poly mile championship six times and the half mile championship three times.
In the SAAA championships at Celtic Park on 28th June McNicol boldly went for the double, and made a successful start by winning the half mile in 2:04.8. In the mile, however, he was beaten on the tape for the second time in three years. On this occasion, he was denied by the up-and-coming Duncan McPhee, Clydesdale Harriers, both men being given 4:34.0.
McNicol was to make few competitive appearances after the 1913 Scottish championships. In his absence, Duncan McPhee became his successor by winning the half mile and mile at the SAAA championships, as well as taking the mile in the first Triangular International Contest between Scotland, England and Ireland.
The outbreak of WW1 in 1914 would have ended McNicol's career anyway, as he enlisted for military service not long after war was declared.
Having moved from London to Nottingham, he served in the rank of private in the 12th Battalion Notts. & Derbyshire Sherwood Foresters.
The next we hear he is dead, aged only 29. A brief obit in Polytechnic Magazine records the circumstances surrounding his untimely demise:
"It is with very deep regret that we have to record the death of Douglas McNicol, our Studd Trophy Champion and National Mile Champion of 1912. When the war called for men Douglas was one of the first to respond and Joined Kitchener's Army. He was located at Shoreham where he apparently caught a cold and died of pneumonia in Brighton Hospital on Friday, October 30th, and was buried at Wealdstone on Tuesday, November 3rd. Douglas McNicol's sincerity and kindliness had won for him a host of friends and no enemies. We deeply sympathise with his parents in their loss, but what could a man do more than give his life for his country. Douglas as truly gave his life for his country as if he had been shot in the firing line in France. A keener athlete never lived"
That was career of Douglas McNicol. Like McGough before him and McPhee after him, he was a highly decorated athlete who did everything in threes.   Even his first SAAA title was third time lucky!   In total, he claimed three SAAA titles. He arguably set three Scottish records, including a native 1000 yards record. He represented Scotland against Ireland on three occasions and twice won the mile. He also hauled in a full set of AAA championship medals over three distances: the half mile, mile and four miles. The highlight of his career was of course his victory in the blue riband event of British athletics, the AAA Mile Championship, in 1911. He would have been an Olympian, too, but for business reasons he was unable to make the journey to Stockholm. McNicol was an all or nothing kind of man – an uncompromising and courageous front runner who only competed when fit and made the ultimate sacrifice for his country.