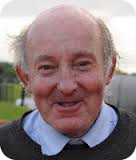 I had been a member of the British Milers Club for about a year when I first met Derek. He had taken over as Scottish Secretary but resigned after a couple of races that he had organised did not take off. I was his successor but it was several years before I managed to get the club working as it should. Derek was a member of the British Milers club until his death on 27th May 2014 and wore the club badge on his tracksuit alongside his BAAB Senior Coach badge. He wrote many, many articles on the subject of coaching: I read them in Athletics Weekly, Scotland's Runner (pretty well for the duration of its existence – from 1986 to 1993), Athletics Coach (published for many years by the AAA's as the oifficial coaching magazine with a large circulation), the BMC News in its various forms, and many others. The articles could be academic when dealing with the physiologyof the events he was discussing or intensely practical, such as when he spoke of working with very young athletes and using various kinds of 'tig'. There were some aspects of his coaching that he kept private and I was surprised several years ago when he wrote a letter to Athletics Weekly complaining that other coaches had stolen some of his sessions. Surprised because he was always forthcoming when we spoke and because coaches share information readily.
Derek was always easy to get on with – he was always the same as far as I was concerned. Of his range of coaching knowledge there could be no doubt. He was a good coach and he knew he was a good coach. But the difference with him was that his knowledge came from reading and experience. I never, ever, saw him at a coaching conference or gathering. When I asked him – not once but several times – to come and speak to BMC coaches at annual meetings in the 1980's he always gave the same reply, that he preferred to stay in Kilbarchan or Linwood working with his own athletes. He was devoted to them and spent a lot of time with them individually. But maybe we're getting ahead of ourselves a bit.
Like almost all coaches, Derek was not a full-time coach – he had to earn a living as well. he had a degree in Divinity and he wrote the occasional letter to the 'Glasgow Herald' on topics connected with religion. He wrote for the local newspaper, the Gazette, and was interested in and an authority on local history. Indeed he was also a member of the Johnstone History Society. Latterly he was a park ranger and this fitted in well with his love of nature on which subject he also had an encyclopaedic knowledge. Nor did he compartmentalise his various areas of interest – for instance he often wrote about the need for runners to get away from the artificial restrictions of track running and had a wonderful article in"Scotland's Runner" about the Australian coach Percy Cerutty: possibly one of the best I've read on the man.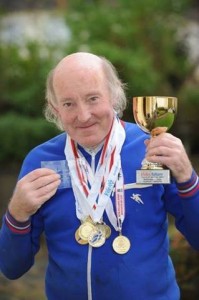 He spoke of his coaching on the Kilbarchan AAC website and I reproduce much of it below since it is a good, fairly detailed account of his career and practices.
Coaching Background:- I began coaching in my early 30s and was at one time the youngest senior sprints coach in Scotland and also the youngest coach to hold the senior awards in sprints and middle-distance simultaneously. Since then, I have coached on a regular basis i.e. several days per week on an uninterrupted basis for nearly 40 years. I have extensive experience of coaching male and female athletes of all ages and abilities from nine to 70. Up until recently, I coached senior athletes at international level in sprints, hurdles, steeplechase, middle-and long-distance, cross-country, half-marathon and marathon. From now onwards (in the meantime, at least), I plan to concentrate my coaching efforts on the long distance seniors group (men and women), including 2014 Commonwealth Games aspirants Hayley Haining and Gemma Rankin. I pride myself on the fact that my group includes club and elite standard athletes, all of whom get MY close personal attention.
Further Information:- I have coached athletes to Olympic, World, European, Commonwealth Games and UK elite standard level. The Olympic level athlete was Hayley Haining who achieved the Olympic standard marathon qualifying time TWICE in 2007-2008 but was controversially not selelcted for the Beijing Olympics. However, representing GB & NI, Hayley won a bronze medal in the team event (along with Paula Radcliffe and Liz Yelling) at the World marathon championships in Helsinki, Finland, in 2006. She also represented GB & NI at the World half-marathon championships in Edmonton, Canada, in 2006.I have coached two Commonwealth Games athletes (Hayley Haining in the 2006 marathon at Melbourne, Australia, and Claire Gibson in the 800 metres at Delhi, India, in 2010).I was also triathlete Kerry Lang's 10K coach for the Commonwealth Games triathlon in Melbourne, 2006. I have coached three senior Great Britian and Northern Ireland full internationals (Hayley Haining – marathon/half-marathon; Robert Quinn – track, cross-country, roads and hills).
I have also coached three UK age group champions (Ross Toole – indoor 3000 metres; Andrew Gibson – indoor 1500 metres; and William Docherty – 1500 metres steeplechase. Coaching experience outwith Kilbarchan AAC includes advising England international marathon runner Kim Fawke and Joe Gough (Kilkenny, Ireland) who won several European 800 and 1500 indoor and outdoor titles at veterans championships and a silver medal at one world championship.
On the basis of my work with Hayley Haining and Claire Gibson, I won the prestigious Scottish Athletics Performance Coach of the Year Award in 2005 and 2009.
I have also written hundreds (literally!!) of coaching articles in leading athletics journals for many years, including Athletics Weekly, Athletics in Scotland, Running Fitness, The Coach, Scotland's Runner and other publications.
And that is his own account of his career as a coach. Like all really good coaches he was approachable and any athlete, whether in his own club or not, could go to him for advice and get individual, tailored advice based on what he had told Derek and what Derek had seen when the athlete was running.
Derek was totally unique. Only 71 when he died, I feel every sympathy for his family and for his athletes and friends at the club. The 'Herald' obituary appeared on 31st July, 2014, and can be found at http://www.heraldscotland.com/comment/obituaries/derek-parker.24904241