Sam Stevenson who featured in almost every Clydesdale Harriers Sports
"Our Annual Sports were held at Celtic Park on 26th May, 1906, and proved a great success; and it gives the Committee great satisfaction to report a favourable balance. We again held meetings at Dunoon on Glasgow Fair Saturday and Monday along with the local club, and we regret to state that, owing to miserable weather on the Saturday and Monday, there was a considerable loss on the venture. Had it not been for the weather we are certain that this meeting would have proved a great success. Junior Football Tourneys were included in both programmes, and proved to be most popular."
The May meeting had a star studded cast which included Halswelle, McGough, Kitson, Mitchell, Sam Stevenson and others. The Glasgow Herald repost on the Monday started with the comment: "Are we to have a quadruple champion this season? Lt Halswell's brilliant running at the Clydesdale Harriers sports on Saturday is responsible for this interesting query. The man who can do 600 yards in 1 min 12 4-5th sec is quite capable of winning the quarter and half mile, and 24 sec on a yielding, sodden surface is good enough to win the 220, while if it be true that Halswell in practice is covering 100 yards in 'half second', the quadruple achievement is not beyond the bounds of possibility on the part of that accomplished pedestrian. Perhaps it is physically impossible for anyone to win four championships in one afternoon, but if there is one more capable than another of such an achievement then Halswell is that man. He is a great runner in every sense of the term and it will be a disappointment to many if he does not leave the impress of his athletic genius on our national records over more distances than the 600 yards.
The 100 yards race was divided into 24 heats, all of which filled well. R Kitson, Bellahouston Harriers, won in 10 and 2-5th seconds and W Fairbrother of GYMCA (9 yards) was second. The final was a very fine race and the finish was as close as it was possible to be."
After that build up, what had Halswell done to deserve it? He had won the 600 yards invitation, running from scratch to beat John McGough (15 yards) by three yards in 1 min 12 4-5th seconds, a new native record, the previous being held by R Mitchell, St Mirren, with 1 min 15 3-5th seconds. He also won the 220 yards in 24 1-5th seconds. G Perth of ESH (55 yards) won the 1000 yards from AM Matthews (EUAC 17 yards) and Tom Jack (25 yards). This race had 122 entries of whom 104 started but only ten per cent of that number finished. Needless to say, heats were required here too. It was a successful meeting in every way including the weather but the same was not true of their meeting at Dunoon in July.
Organised jointly by Clydesdale Harriers and Dunoon Athletic Club on 14th and 16th July, the first day was showery but the attendance was said by the Glasgow Herald to be 'large' and there were close contests throughout the programme. The best known competitor was probably A Turnbull of Clydesdale Harriers who won the half-mile from 28 metres – he would go on to be second in the SAAA 880 yards championship twice but was a better runner than that suggests. There were several local athletes competing and, maybe to hedge their bets, a 5-a-side football competition featuring Clydebank (the winners), Clyde, Dunoon Albion , Petershill, Benburb, Strathclyde, Rutherglen Glencairn and Maryhill. Given that it was the start of the Glasgow Fair fortnight, the preponderance of Glasgow teams was not surprising. There was also a two day sports meeting at Ayr on the Saturday and Monday,another popular destination for the holiday makers, organised by Ayr FC.. Ayr had attracted several very well known Scottish athletes, especially in the sprints where JP Stark and R Kitson featured At Dunoon on the Monday, despite the presence of Sam Stevenson and some good racing, the weather and attendance were both poor. An interesting comment in the Glasgow Herald was that 'if Dunoon is to vie with Ayr athletically, the sooner a cycle track is laid down the better.'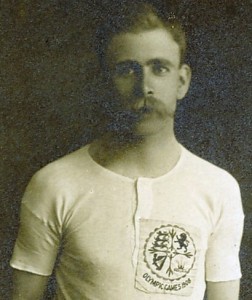 Tom Jack from Edinburgh was a frequent competitor at all the big Sports in Glasgow
25th May was the date of the club sports in 1907 which were again held at Celtic Park. The programme was not as lengthy as it had sometimes been and there was again a 5-a-side tournament which was won by Port Glasgow from Clyde by 1 goal to 1 corner. Results of the main events were as follows:
100 yards: 1. HW Hepburn (WSH 6 yards); 2. JB Watson (CH 8 yards); 3. A Buglass ( ESH 7 yards). Time 10.2 Won by less than a yard
220 yards: 1. JD McVicar (unatt 22 yards); 2. D Johnston (BH 6 yards); 3. J Walker (BH 12 yards) Time 23.2 Won by a couple of yards.
880 yards: 1. JG Allan (Fettesian-Lorettonians 40 yards); 2. T Jack (ESH 28 yards); 3. G Chalmers (GACC 52 yards) Time 1 min 59 sec. Won with ease.
Three Miles: 1. E Paterson (MYMCA 220 yards); 2. G Culbert (Monkland 200 yards); 3. A Duncan, jnr (Kendal scratch) Time 14:50.4 Won easily.
Throwing the Hammer: 1. TR Nicolson (WSH scr); 152′ 1″; 2. R McHardy (Queen's Edinburgh 41′ 0″) 147′
The club also held their sports on the new recreation ground at Dunoon on 13th July with a programme confined to flat racing and a 5-a-side competition. Only 20 turned up for the 100 yards, none of the back markers being present. Indeed neither sprint was outstanding although there were close finishes. The half mile was a bit different with 24 on the track and the first three finishing almost side by side. These were Adam Turnbull (CH 40 yds), R Koter (Maryhill 52 yds) and Sam Stevenson (CH 30 yards and Turnbull's time was 1:59. The Mile was a quality race with a field of 20 runners. PC Russell (Bellahouston 95 yards) won but there was a real tussle between Sam Stevenson (50 yards) and Alex McPhee (75 yards) both of Clydesdale Harriers for second place which went to Stevenson. The 5-a-side was won by Maryhill over Vale of Clyde.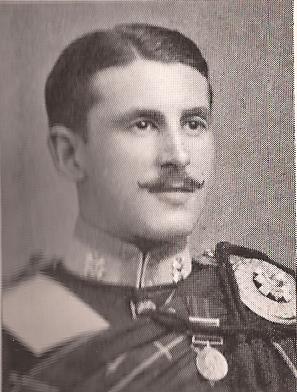 Lt Wyndham Halswell
In 1908 the sports were on 30th May and were back at Ibrox Park. The star attraction was Wyndham Halswell who had won four SAAA titles (100, 220, 440 and 880 yards) in 1906 and two in 1907 and held the Scottish record for the quarter-mile. In this meeting he won the Olympic Games trial 440 yards in 50.4 from GW Young of the High School and Bellahouston Harriers and also the 600 yards from scratch in 1:12.2. 1908 being Olympic year event trials were given to various sports meetings around the country and there were three here – the 440 yards and the broad and triple jumps won by Bryce W Scott (CH).
Among the other results, JL Reid of Clydesdale won the 100 yards and 220 yards for a double success; Quinn of Bellahouston won the two miles walking race from Justice of Clydesdale; R O'Connor won the half mile from Mann of Clydesdale (well known as a cross-country and road runner); and W McPherson of Motherwell (330 yards) won the three miles team race from R Craig of Dennistoun Harriers (220 yards).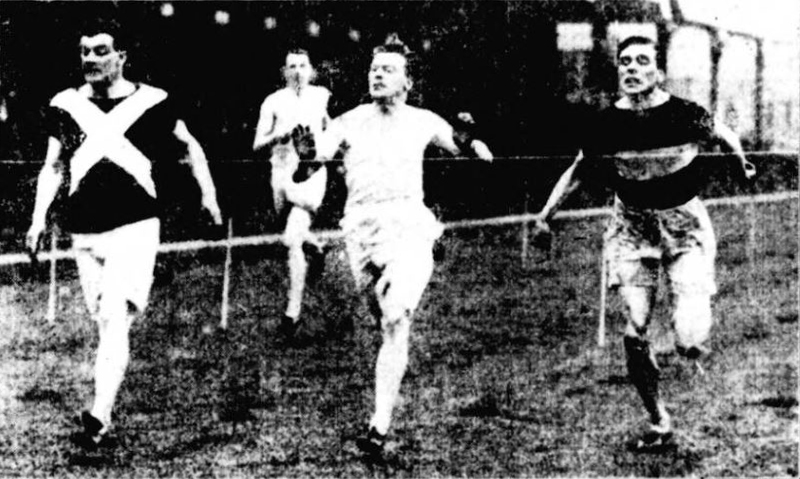 George Dallas, right, started out as a sprinter but became one of Scotland's best half milers
On 29th May in 1909 Ibrox was again the venue for the club's annual sports and the handbook said "The annual sports were very successful from an athletics standpoint. Unfortunately the attendance was not up to expectations but the Directors of the Rangers Football Club, Ltd, very generously handed over the stand drawings, thus permitting us to make ends meet, and to them we extend our hearty thanks." The Glasgow Herald agreed with the comment that the sports were very successful – read their report:
FINE SPORT AT IBROX PARK
If Clydesdale Harriers did not get all they merited in the shape of public support, they have the satisfaction of knowing that they maintained, and more than maintained their good name as providers of athletics. For all the races were well contested, and if there were no outstanding performance, this was due in some measure to the conditions, which were against a high rate of speed. Ian Dickson of Edinburgh University AC improved on his exhibition at Hampden Park the previous week by getting first in the 220 yards and second in the 100 yards. It was only in the last stride that he lost the latter, Stanley Jeffrey, who disposed of him in the second round of the West of Scotland Harriers sprint, beating him by inches in 10 sec. The better performance, however, was the 220 and it is evident he is a formidable competitor over this distance. With Lieutenant Halswell out of the way, championship honours appear to be within his grasp in the 220 and 440 as well. GW Young, Bellahouston Harriers, should be in the latter on last year's form but so far he has not disclosed anything like the pace of which he was then possessed. The half-mile handicap was captured by George Dallas, Maryhill Harriers, and the winner at Hampden the previous Saturday, R Maguire, Glenpark Harriers, was second. The short mark men were anything but prominent in the three miles handicap, and it is just possible they were hampered more by the conditions than some of the others. Whatever the reason, McPhee, Stevenson, Bowman and others retired when they reconciled themselves to the hopelessness of their task. The winner was Kerr of Motherwell YMCA Harriers, who out in a very interesting finish. A Justice, Clydesdale Harriers won the walk handicap and IL Reid, another member of the promoting club, with his concession cleared 22 feet 5 inches which is a very good performance and it is hoped he will see his way to enter for the handicaps. The cycle handicaps were won by riders with biggish handicaps …"
Another good year for the sports if not financially: unfortunately that scenario was repeated the following year. The 1910 sports were held on 30th May at Ibrox and the club report said "the Annual Sports were very successful from an athletic standpoint. Unfortunately the attendance was not up to expectation but the Directors of the Rangers Football Club, Ltd, very generously handed over half the stand drawings, thus permitting us to make ends meet, and to them we extend our hearty thanks."