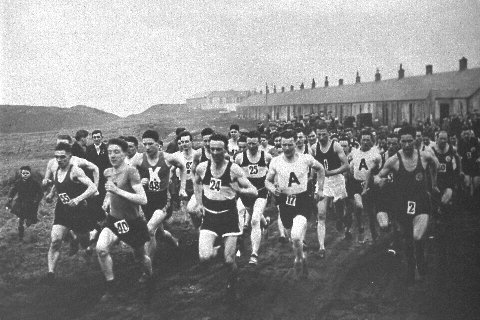 Ayrshire Championships, 1938, in Benwhat
The Ayrshire Harrier Clubs Association was founded in 1924 and has been a force for good in athletics for almost 100 years. It is not just another County Association. It was established early in the 20th century and is still going strong in the 21st. There were five clubs in the Association in the beginning and in 1990 there were 11 clubs in membership of the SAAA, and the AHCA was also affiliated. In Dunbartonshire, Dunbartonshire AAA was only established after the second world war, the Glasgow Association did not last long and its members are scattered all around the city – Shettleston and Springburn are in Lanarkshire, Maryhill, Victoria Park and Glasgow University are in Dunbartonshire and Belllahouston is in Renfrewshire.
Among the clubs which are or have been in the AHCA are –
Afton Water AC, Ailsa Harriers, Ardeer AC, Ayr AAC, Ayr Seaforth AC, Beith Harriers, Cumnock AC, Dalry Thistle, Doon Harriers, Eglinton Harriers, Girvan AAC, Irvine YMCA, Kilmarnock Harriers, Loudon Runners, Muirkirk Harriers, Stewarton, Troon Tortoises AC, West Cumnock Harriers and West Kilbride AAC. Strangely, the short-lived Ayrshire AAC never joined the AHCA.
It has organised the County Championships and Relays, the South Western District Relays and Championships, the Ayrshire v Renfrewshire match, County track championships and assisted at lots of local events. Ayrshire of course is famous for cross-country with races which are noted for being tough courses. If you want flat grassland, don't come to Ayrshire. Burns spoke of "the lang Scots miles, the mosses, waters, slaps and stiles' and that pretty well described the local country side. We all have memories of the trails there.
How did the Ayrshire Clubs Association come about and how did it develop ? A major factor in the development of the sport in the county was the Ayrshire Harrier Clubs Association. There had been a thriving cross-country and athletics scene in Ayrshire before 1924 of course with several well known and successful clubs. Alex F Neilson of Beith Harriers was a close friend of George Dallas, and was a founder of the Ayrshire Harrier Clubs Association in 1924. He was president of the National Cross Country Union of Scotland 24 years later in 1948-49. (32 years later he was still involved in the sport, and on 20th April 1956 Beith Harriers held a Presentation of Prizes where Alex was presented with a wrist watch in appreciation of his long years of service as President of the Club)
Ayrshire Harrier Clubs Association was founded in 1924 and its first championship (for season 1924/25) was on 17th January 1925. More than 60 runners took part on a 7 mile circular course starting and finishing in Rugby Park. The race was won by Saltcoats Harriers. The following preview is from the Kilmarnock Herald & North Ayrshire Gazette of Friday 16th January, 1925.
AYRSHIRE CROSS COUNTRY CHAMPIONSHIP
For the cross-country championship of Ayrshire, to be decided to-morrow (Saturday), there will be five clubs aspiring for the honour. These are Beith, Kilmarnock, Mauchline, Saltcoats YMCA and West Kilbride. The individual championship will bring out Calderwood of Maryhill (in West Kilbride colours), Quinn of Garscube (Saltcoats) and McIntyre of West Kilbride. These three alone should provide a good race, and after Miller of Mauchline's splendid show at the Western District Trial on Saturday, he cannot be overlooked as a 'probable'. The race is to commence from Rugby Park, which will also witness the final sprint. Messrs Geo. Dallas and J.C.A. Bogie are expected to assist the County Committee in carrying out the arrangements."
Unfortunately the next issue did not contain the result of the race in detail but the preview does show the ease with which runners could at this time turn out for clubs other than their own regular first-claim teams when it mentions the presence of Calderwood and Quinn.
The Beith Harriers minute book gives us some useful information about the county athletics scene in the 1920's. On 1st February, 1925. the club held an Emergency Committee meeting. There was a Financial Statement which had an Abstract of the Accounts of the AHCA showing a deficit of 8/9d, this entailing an additional 1/9d from each club as per their guarantee. Payment of this levy was approved and the Secretary instructed to forward the required amount. At 1/9d per club, there must have been 5 clubs in membership (5 x 1/9d = 8/9d The early date in 1925 implies that they were probably in existence in 1924 and founder members.
As an example, the year for Beith Harriers was typical of all the county clubs and indicates, as below, that cross country in Ayrshire was very active at the time –
14/03/1925: Beith Harriers had an inter-club run at Dalry
17/03/1925 Letter from Saltcoats YMCA inviting club to a rally of all Ayrshire Clubs at Saltcoats. This invitation was accepted, and the club agreed to encourage as many members as possible to travel to it. .
At the AGM on 14/09/1925 fixtures with Maryhill, Saltcoats YMCA, Paisley Juniors, Mauchline Harriers were announced. Inter-club runs were popular all over the country at this time with no problems for Glasgow or other central belt clubs It is interesting to see how far clubs such as Beit were prepared to travel.
27/09/1925 Committee Accepted invitations to Maryhill, Saltcoats YMCA and Irvine Harriers.
12/01/26 Team selected for Ayrshire Championship at Mauchline.
14/ 01/1926 Beith Team 2nd in Ayrshire Championship which was won by James Mitchell of Kilmarnock Harriers.
23/08/1926 At the Beith Harriers AGM T McGill was appointed representative to Ayrshire Association.
26/08/1926 Committee Meeting: Interclub runs proposed with Maryhill, Plebian, Irvine YMCA and Garscube. It should be noted that these were probably the strongest clubs in the West of Scotland and indicates that the county was not just a rural backwater but a real part of the Scottish athletics scene.
The Beith Committee Meeting held on 26th October, 1926, was an important one. The proposed constitution for the Ayrshire Association had been received and was read by R Black. Ii was the unanimous finding of all present that rule No 11 should have an additional phrase as follows. "7 days before the meeting" and rule No 7 of the championship races rules be altered to, "The venue of the championship be the headquarters of an affiliated club and such club to secure the honour in order of seniority. When every club in the County has been visited thereafter the venue to be obtained by ballot, visiting a Northern section and a stipulated Southern area alternately." The only other change was rule No 9 – rules governing championship races. Instead of a mile road to start and a mile of road to finish it was suggested that half a mile would be ample to meet any congestion at the first obstacle.
The club's opinions were forwarded to the 27th October, 1926 Committee meeting of the Ayrshire Association
The documentation associated with the above indicates that the five early clubs were Beith Harriers, Dalry Harriers, Saltcoats YMCA, Mauchline Harriers and Irvine YMCA Harriers, unless some of them joined after 01/02/1925. One might have expected Kilmarnock Harriers to be there.
*
The Saltcoats YMCA team that won the Scottish YMCA title at Thornliebank almost exactly one month before the County race in 1925. Then their runners were D Lambie (1), T Maxwell (2), T Linney (6), J Conn (9), W McMillan (10), A Little (12), A Allan, jnr (13), W Lindsay (21)
*
The Glasgow Herald of 17th January, 1927 (season 1926/27) we see that the Ayrshire championships have been held two days earlier and their report reads:
THE AYRSHIRE CHAMPIONSHIPS
Catrine was the scene of the third annual seven miles Ayrshire cross-country championship on Saturday. Nine teams, a record for the competition, started. The course, which was of seven miles, was rendered extremely heavy by recent rains. During the race the competitors had to contend with extremely unfavourable conditions. R Miller, Mauchline, who was generally fancied to have it all his own way, set the pace. He increased his lead mile after mile until ge ran out a winner by 400 yards from P Nicol, Kilmarnock Harriers. J Roxbugh, Catrine, was third[ M Stobbs, Catrine fourth; CP Wilson, Irvine YMCA, fifth; J Quinn, Garscube Harriers, sixth; J Calder, Beith seventh; and H Todd, Kilmarnock eighth. The winner's time was 47 min 48 sec. Team placings:- 1. Beith – J Calder (6), A Fitzsimmons (9), G McKechnie (11), DF McKechnie (13), D Jamieson (23) and DG Gray (38) – Total 100 points. 2. Kilmarnock Harriers – P Nicol (1), H Todd (7), E Thursby (12), C Richardson (24), P Highgate (31) and E Loudon (39) – 114 points; 3. Catrine AC – J Roxburgh (2), M Stobbs (4), J Robertson (16), G Clark (26), J Nicol (35) and E McAdam (37 – 120 points; 4. Eglinton Harriers (123); 5. Irvine YMCA (135); 6. Mauchline (141); 7. Barleith (241); 8. New Cumnock (401); 9. West Kilbride AC (454). P Nicol, Kilmarnock Harriers, was declared the winner of the junior championship."
Nine clubs had taken part and a runner from Garscube Harriers had also been allowed to run. Interesting too that a Junior championship was being held as part of the race. That the Association was now very much a part of the scene on a year round basis was indicated by an entry in the Beith Harriers Minute Book for 15th September, 1927, referring to the fact that the club would donate as a prize to the AHCA Free Gift Scheme a Whist Table to be valued at £2.
The next big event over the country for the Association was at the start of the next cross-country season, 1927/28, and was the relay championships. The extract below is also from the Glasgow Herald report. note that from five clubs at the start in season 1924/25, there were nine in January 1927, and now there were eleven clubs contesting the events in December 1927.
"The Ayrshire Harrier Clubs Association decided their ten miles cross-country relay championship at New Cumnock on Saturday under favourable weather conditions. Eleven teams of four runners took part, each runner following a circular trail of about 2 1/2 miles. In the first lap, James Mitchell, Barleith Harriers, the ex-Scottish 10 miles champion completed the circuit in 12 min 2 sec, being followed by J Calder, Beith. In the second lap, DM Jamison brought Beith into first place with T Meikle, Barleith, lying second, and in the third lap Fitzsimmons still held the lead for Beith with G Dick (Doon Harriers) close up. In the final round, Adam M Hattie (Doon Harriers) finished strongly in front of DF McKechnie, Beith Harriers man. Results – 1. Doon Harriers (Alex McHattie, W Dick, G Dick, Adam McHattie). 2. Beith Harriers (J Calder, DM Jamison, A Fitzsimmons, DF McKechnie) At the end of the race the prizes were presented by Mr W Macfarlane, the president of the Association."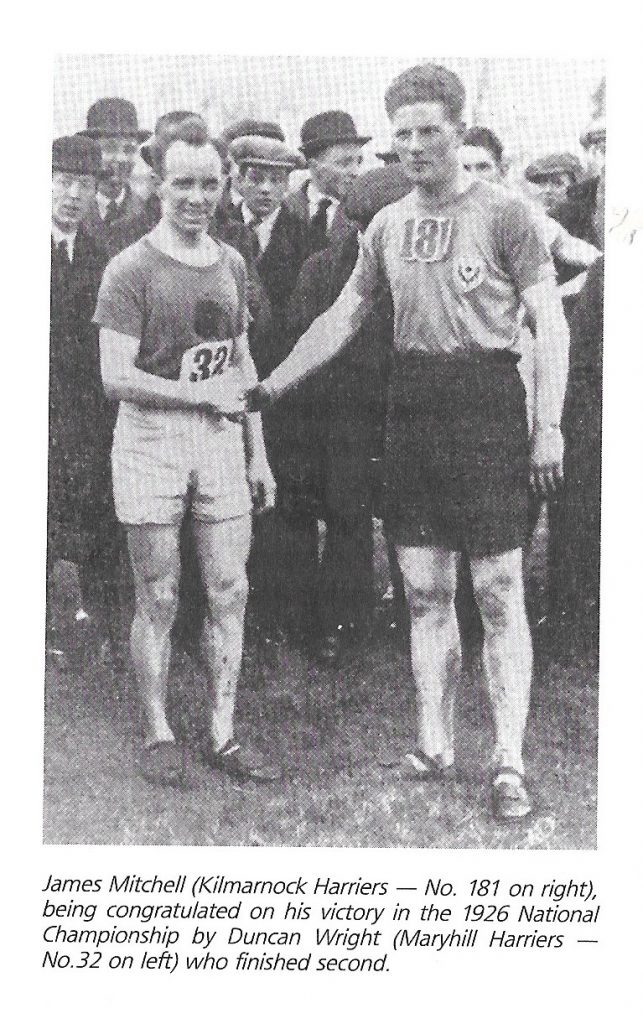 The progress continued: on 14th January 1928 the championships were held at West Kilbride.. There were eight teams out this time including Walter Calderwood and Tom Blakely, both Maryhill. Calderwood was a Scottish champion and record holder, Tom Blakely had set a Scottish record for the three miles and Calderwood would win the Ayrshire Mile title in summer 1928.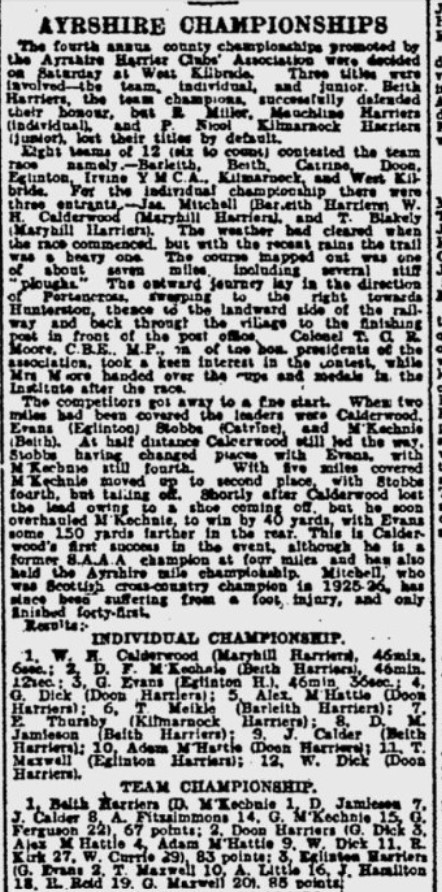 There were of course sports held in Ayrshire over the summer and while they were of course run by the local clubs, with the involvement of AHCA in county championships – this is from the Ben'what Sports of 16th July, 1928.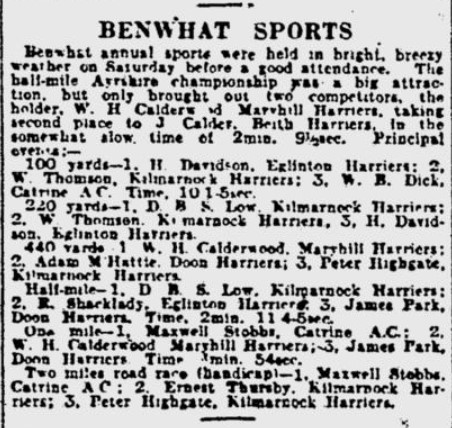 Maxie Stobbs had a good, if strenuous day, winning the two longest distance races on the programme – he would go on to join Plebeian Harriers. There were other sports meetings held in the county over the summer but the big one that year turned out to be at Beith at the end of July (20th) where there were no fewer than six county championship events as well as three Ayrshire Schools Championships, a Boys Brigade Championship and invitation events. The 'Glasgow Herald report read: There was only one outstanding amateur athletic sports meeting in Scotland on Saturday, and it took place at Beith where the local athletic club re-entered the list of sports promoting clubs. It was a most successful gathering from a sporting point of view, and a large crowd watched the proceedings under ideal weather conditions. The promoters set out to make matters pleasant for spectators and competitors alike, and in this they succeeded, everything being managed with a smartness that might be copied with profit by other more experienced promoters."
It continued with a description of the meeting pointing out that English and British internationalist Cyril Ellis was competing in his last events before travelling to Amsterdam for the Olympics. The country championship results:
AYRSHIRE COUNTY CHAMPIONSHIPS
100 yards: 1. TJ McAllister, Beith H; 2. W Wright, GUAC; 3. N Harrison, Beith H. Time 10 4-5th sec
220 yards: 1. TJ McAllister, Beith H; 2. J Calder, Beith H; 3. AW McCulloch, Glasgow H. Time 23 4-5th sec
440 yards: 1. J Calder, Beith H; 2. TJ McAllister, Beith H; Time 5 1-5th sec *
Four Miles: 1. T Blakely, Maryhil;l H; 22:23 3-5th sec. Others did not finish.
Relay Race: 1. Beith H (J Calder, N Harrison, NT Finlay, TJ McAllister); 2. Eglinton H. Time: 4 min 14 1-5th sec
High Jump: 1. D Law, Beith H; 2. A McHattie, Doon H. Height: 5 ft 6 in.
Two points emerge from these championship results: First, The names of TJ McAllister, J Calder will be familiar to followers of the cross-country results as good runners throughout the winter season and yet they were running comparatively good time on a grass track. Second, it would be interesting to know what the qualifications for the championships were since Donald McLean of Maryhill was also present and competed in the Open Two Miles Race and dropped out, and was 'handicapped out of it' in the open Mile. He did not take part in any championship event. However, the AHCA championships were a big part of a very successful meeting.
The winter season came round and in December, the AHCA organised 10 mile relay was run at Beith on Saturday, 8th December. The report from the Kilmarnock Herald described that afternoon for us.
AYRSHIRE TEN MILE RELAY CHAMPIONSHIP
The second annual cross-country cross-country Relay Championship held under the auspices of the Ayrshire Harrier Clubs Association was decided at Beith on Saturday. By courtesy of Mr BJC Govan of Geilsland House, the competitors were given stripping accommodation in the garage behind the mansion house, while the race started and finished at the entrance on the Lugton Road. Eight teams of four started on the course which measured about 2 1/2 miles. The trail was laid over country to the north of the Lugton Road, starting in the direction of the town, then circling to the right and coming back on to the road about half a mile from the change-over. Keen frost made the going very hard, but otherwise conditions were excellent. At the end of the first round, Barleith Harriers (T Meikle) led Beith Harriers (DF McKechnie) by a couple of second with Eglinton Harriers (G Evans third and Doon Harriers (Alex McHattie) fourth. On coming round a second time (half distance) the local club's second man (A Fitzsimmons) was now leader, Eglinton (A Little) were second and Barleith (J Clowes) third, while Kilmarnock (E Thursby) had moved up to fourth place. From this point on till the end, Beith Harriers had the issue well in hand. G Ferguson and J Calder both increasing their advantage, the latter finishing a minute ahead of the Barleith representative. Results:- 1 – Beith Harriers (DF McKechnie, 13 min 4 sec, A Fitzsimmons 14 min 17 sec, G Ferguson 14 min 5 sec, J Calder 13 min 57 sec) Time, 54 min 5 sec; 2 – Barleith Harriers (T Meikle 13 min 4 sec, J Clowes 14 min 36 sec, J Scobie 15 min 40 sec, J Mitchell 14 min 51 sec) Time 56 min 53 sec; 3 – Doon Harriers, holders (Alex. McHattie 14 min 11 sec, W Dick 14 min 33 sec, G Dick, 14 min 43 sec, Adam McHattie, 13 min 45 sec) Time, 57 min 30 sec. The other placings were:- 4. Kilmarnock Harriers, 5. Eglinton Harriers; 6. Eglinton Harriers B; 7. Doon Harriers B; 8 Barleith Harriers B. The fastest lap times were 13 min 40 sec T Meikle (Barleith); 13 min 42 sec DF McKechnie (Beith), 13 min 43 sec Adam McHattie (Doon) .
*
The January 12th, 1929, version of the championships was a bit different from the previous ones. The report in the Glasgow Herald read as follows. "The Ayrshire Harrier Clubs Association held their fifth annual team and individual championships from the Railway Institute, Barleith, by Hurlford. Excellent weather conditions favoured the fixture and there was a fine attendance. The entry of eight clubs (twelve to run, six to count) included all the leading runners belonging to county clubs with the exception of ex-Scottish champion James Mitchell, Barleith Harriers (Ayrshire champion in 1925) who was indisposed.
Owing to the introduction of a new rule, two past winners, R Miller (1924 and 1926), and WC Calderwood (holder), both of Maryhill Harriers, were debarred from competition through not being first-claim members of an affiliated club. A new individual champion had therefore to be found but, with Beith Harriers having five of last year's winning sextette, the team honour was not expected to change hands.
An excellent trail of some seven miles was laid by the local club, the course being to the south of the village , starting and finishing with half a mile on the Mauchline Road. The going was slippery in places and although there was not a great deal of ploughed land to be traversed, yet the course was a stiff test of stamina and pace. The field of over 80 competitors was started by the Asociation president , Mr G Laurie, Eglinton Harriers. Owing to a haze the progress of the runners could not be followed, and it was only when they came into view in the last half mile of road work that it could be seen that the leader was Maxwell Stobbs, Catrine AAC. Not far behind came T Meikle, Barleith H., and as they neared the tape, the local lad made a splendid effort to get in front. He probably would have succeeded had not the crowd closed in so as to leave a narrow 'lane' that there we no room to pass. It was a rayher unfortunate happening, particularly as Meikle seemed to have the stronger finish, but Stobbs was a very plucky run indeed. So far as the team race was concerned, Beith Harriers confirmed popular opinion by scoring their third successive victory, although their winning margin was slightly less than that at West Kilbride last year."
Result: 1. Maxwell Stoibbs, Catrine AC, 43 min 12 sec; 2. T Meikle, Barleith H, 43 min 12 1/5th sec; 3. AM Hattie, Doon H, 43:37.
Team Championship: 1. Beith H, 73 pts; 2. Eglinton H 92 pts; 3. Kilmarnock H 133 pts.
There were trophies for each race – first individual won the Lieut-Col JT Moore, CBE, MP challenge cup and the winning team received the William H Campbell, Esq, Challenge Cup.
The next fixture where the Association was heavily involved was on 9th March at Saltcoats where the second annual Ayrshire v Renfrewshire Inter-County match took place. The Ayrshire team consisted of CF Wilson (Itvine YMCA 2), E Thursby (Kilmarnock 4), J Park (Doon 6), R Maxwell (Eglinton 10), G Evans (Eglinton 11), DF McKechnie (Beith 13), H Tod (Kilmarnock 14), P Highgate(Kilmarnock 16), D Kerr (Irvine 18), D Fitzsimmons (Beith 19). Renfrewshire won with 99 points to the home team's 112.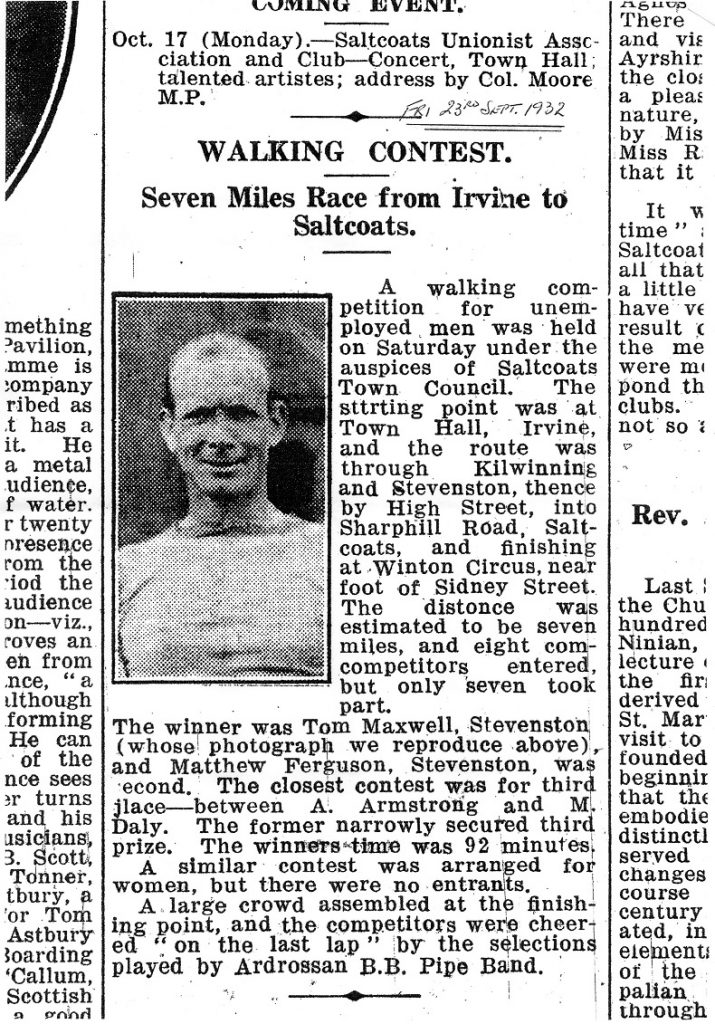 Tom Maxwell: Read about his son Harry Maxwell on the 'Notables' page.
The Association was now five years old and was already a substantial body organising championships – cross-country relay, cross-country championships, track and field championships, helping the various clubs with their own meetings, selecting the County team for the Inter-County competitions and once the South Western District was set up from the old West District, no doubt organised those championships held in Ayrshire with the clubs concerned.
The relays, organised 'under the auspices of the Ayrshire Harrier Clubs Association', were run on 7th December, 1929, at Mauchline. Irvine YMCA won from Barleith followed by Kilmarnock, Beith and then Irvine B team, then Eglinton, Doon, Catrine, Barleith B and Mauchline.
*
On 11th January 1930 the championships were held at Saltcoats again and the report in the Glasgow Herald on the following Monday read
IRVINE YMCA HARRIERS' SUCCESSES
Irvine YMCA had a successful afternoon at Saltcoats on Saturday. The occasion was the sixth annual team and individual championships open to all clubs affiliated to the Ayrshire Harrier Clubs Association and the Irvine club eas successful in gaining both titles. Each win was accomplished with something to spare. This year's team conditions differed from those in the past in that, instead of being confined to runners of junior status they were open to seniors also. The immediate effect of this new rule was was that ex-champion Jas. Mitchell ran in the Barleith team, while Irvine YMCA had the services of CP Wilson who, like Mitchell, is an internationalist. It had, however, no bearing on the result such was the margin of points – 49 – in the winners' favour. While the entry of only five clubs was disappointig, , the only notable absentee was WH Calderwood, who was County champion two years ago. Calderwood i8s now debarred by reason of his being a first-claim member of an outside club – Maryhill Harriers. There were twelve runners in each team, and the aggregate number of the first six determined the order of the teams. There were also two individual entrants, M Stobbs Catrine AC (holder), and WH Dunlop, Glasgow University Hares and Hounds, so that the field totalled 62 runners. The course measured 6 miles 918 yards and consisted of one circuit , the start taking place in Argyle Road and finish on the promenade."
The first three individuals were R Wilson, Irvine YMCA; 2. CP Wilson Irvine YMCA; 3. M Stobbs, Catrine AAC. and the first three teams were
Irvine YMCA (R Wilson 1st; CP Wilson 2nd; D Aldie 9th, D Kerr 10; D Fry 13; J Watson 15th) 60 pts
Barleith Harriers (J Mitchell 3rd; T Meikle 5th; J Rennie 16th; E Malcolm 19th; J McDade 26; J Cowan 31st) 99 pts
Eglinton Harriers (H Davidson 4th; R Maxwell 7th; G Evans 11th ; J Hamilton 18th; R Reid 21st; W Kelly 30th) 101 pts.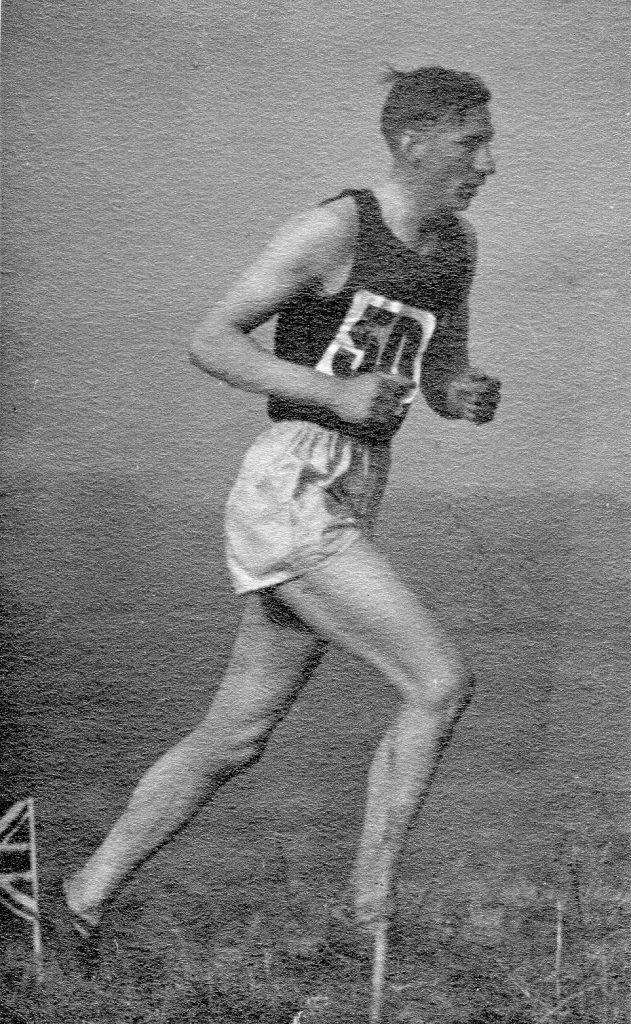 PJ Allwell
More work came the way of AHCA in February 1930 when the South West District was created from the old West District. It would consist largely of Ayrshire and Renfrewshire with some clubs from Galloway also involved. The association would inevitably be involved with the various host clubs organising the trail on a fairly frequent basis. The first championships of the new association were held in that same month of February 1930.at Eglinton Castle. The first three individuals were M Stobbs, Catrine AC, R Wilson, Irvine YMCA and T Tod of Kilmarnock. The first three teams were Irvine YMCA, Eglinton Harriers and Paisley Harriers. There were 12 teams taking part in the event.
The work of the Association progressed through the 1930's and the results, where available, for the County Championships and Relays plus those of the District Championships are noted below. They show the range of clubs involved as well as the number of individuals who recorded victories or fastest times in the various events. They are not all, or anything like all, that AHCA did – eg the track championships are not here, nor are the District Relays which ran from 1929/30 through to 1938/39. There is a lot more information on the latter part of this period in Peter Allwell's profile by Alex Wilson at http://www.anentscottishrunning.com/peter-j-allwell-the-Ayrshire-meteor/
Season
Race
Date
First Individual
First Team
Comments
1930/31
Ayrshire Relay
13/12/30
M Stobbs [fastest]
Beith H
–
1930/31
Ayrshire Champs
12/1/31
D Fry [Irvine]
Doon H
Held at Benwhat
1930/31
SW District
7/2/31
M Davidson [Eglinton H]
Beith H
Eglinton
1931/32
Ayrshire Relay
28/11/31
A McHattie [Doon]
Doon H
Benwhat
1931/32
Ayrshire Champs
16/1/32
M Stobbs [Catrine AC]
Kilmarnock H
Beith

*

1931/32
Ayrshire Champs
23/1/32
M Stobbs[Catrine AC]
Kilmarnock H
Beith

**

1931/32
SW District
6/2/32
T Tod [Kilmarnock]
Kilmarnock H
Held at Irvine
1932/33
Ayrshire Relay
3/12/32
W O'Neil [Doon]
Eglinton H
Riccarton
1932/33
Ayrshire Champs
14/1/33
M Stobbs (Catrine)
Kilmarnock H
Irvine
1932/33
SW District
4/2/33
W O'Neil [Doon]
Eglinton H
Milliken Park
1933/34
Ayrshire Relay
2/12/33
D Fry [Irvine]
Irvine YMCA
Catrine
1933/34
Ayrshire Champs
13/1/34
D Fry [Irvine]
Irvine YMCA
Ayr Racecourse
1933/34
SW District
3/2/34
J Miller [Beith]
Greenock Glenpark H
Held at Irvine
1934/35
Ayrshire Relay
8/12/34
HW Davidson [Eglinton]
Eglinton H
Irvine
1934/35
Ayrshire Champs
14/1/35
HW Davidson [Eglinton]
Eglinton H
Riccarton
1934/35
SW District
2/2/35
A McDonald [Auchmountain]
Auchmountain H
Held at Beith
1935/36
Ayrshire Relay
29/11/35
WC Murdoch [Beith]
Eglinton H
Hurlford
1935/36
Ayrshire Championships
11/1/36
M Stobbs [Kilmarnock]
Beith H
Ayr Racecourse
1935/36
SW District
8/2/36
W Kennedy [Kilbarchan]
Beith H
Inchinnan
1936/37
Ayrshire Relays
5/12/86
J Barr [Beith]
Beith
Ayr
1936/37
Ayrshire Champs
-
-
-
–
1936/37
SW District
6/2/37
W Fulton [Ardeer]
Irvine YMCA
Eglinton
1937/38
Ayrshire Relays
6/12/37
PJ Allwell [Ardeer AC]
Ardeer AC
Kilmarnock
1937/38
Ayrshire Champs
-
-
-
-
1937/38
SW District
5/2/38
H Livingston [Kilmarnock ]
Greenock Glenpark H
Johnstone
1938/39
Ayrshire Relays
4/12/38
R Reid [Doon]
Beith H
Benwhat
1938/39
Ayrshire Champs
14/1/38
-
–
-Ardeer

**

1938/39
SW District
4/2/39
R Reid [Doon H]
Gteenock Wellpark
Beith
* The championship at Beith in January 1932 was headlined as 'a fiasco'. Read the Glasgow Herald comments: "The stormy weather on Saturday completely spoiled the Ayrshire Championships. The high-lying Beith countryside got the full force of the gale and it was impossible to lay a paper trail. A course was hurriedly set with the aid of flags, but this did not prove entirely satisfactory, with the leaders having difficulty in following the latter part of the trail. In consequence of this, Irvine YMCA lodged a protest, which was upheld and the race was ordered to be re-run next Saturday at Beith. Saturday's race, such as it was, proved most interesting and it was unfortunate that, through no fault of their own, Maxwell Stobbs (Catrine AC) and Kilmarnock Harriers were denied the success which their efforts merited."
** The most satisfactory feature of the re-run Ayrshire Championships at Beith was the confirmation of the successes achieved the previous Saturday by Maxwell Stobbs (Catrine) and the Kilmarnock club."
** Meeting cancelled because of fog. "PJ Allwell was another prominent runner deprived of a race when the Ardeer event was called off."
Several of the runners from Ayrshire mentioned ran cross-country for Scotland, either in this period or subsequently. Names like James Mitchell (1925, '26), R Miller (1926, '27), CP Wilson (1929, '31), M Stobbs (1930, '31, '32), D Fry (1931), T Tod (1934), PJ Allwell (1938, '39), R Reid (1939, '46, '47, '48, '49, '50, '51, '52).
There was a thriving athletics scene in Ayrshire before 1924 but the Ayrshire Harriers Association added a structure and greatly helped the development of the sport there. Meanwhile we show below the report on Beith Harriers' third consecutive victory in the South West District Relay in 1934.