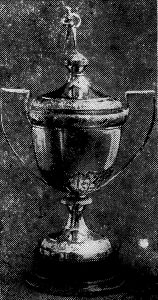 1909 Aberdeen Marathon Trophy
The Association of Road Running Statisticians website (with the intentionally humorous online address of www.arrs.net) includes, along with a vast range of information, race histories, including that of the Aberdeen Marathon, which was run twelve times (1979 to 1990). (Click on Race Histories, then Marathon, then Scotland, then Aberdeen Marathon (or directly to: http://arrs.net/HP_AberdeenMa.htm
An appendix lists the results of the much earlier Aberdeenshire Harriers so-called marathons run annually from 1909 to 1913 and from 1920 to 1925. Then there was a gap until 1928. These events covered a number of distances (15 to 20 miles) and routes, starting from small towns such as Banchory, Inverurie and Oldmeldrum, but always finishing in the city of Aberdeen itself, often at Central Park, Kittybrewster. The only true marathon was the 1923 race, won with considerable difficulty by Duncan McLeod Wright (who later took part in three Olympic marathons), only 37 seconds in front of local athlete Jim Ronaldson.
The Aberdeen Marathon was conceived at the height of the first marathon boom inspired by the epic Marathon race at the Olympic Games of 1908 (which will forever be associated with the tragic figure of Dorando Pietri). The promoting club, Aberdeenshire Harriers, had, among other activities, been holding road races since their inception in 1888 so when marathon running became the "in" thing to do, they dived in with hungry enthusiasm.
A more in-depth explanation of how the event originated is given by the Aberdeen Daily Journal: "Enterprising and up-to-date in all matters pertaining to sport, Aberdeen caught up what may aptly be termed the "Marathon craze", and with the conception of the idea by the Aberdeenshire Harriers Club, the management did not allow the grass to grow under their feet. The club is strong in numbers and strong in talent, and when the notion was first mooted at an "at home", the members received the suggestion with such indications of hearty approval that those at the head of affairs immediately determined to carry out the bold suggestion. Mr. William Jamieson, the hon. president of the club, made the first practical move by presenting a handsome silver cup and gold medal to stimulate interest in the competition, and his lead was early and enthusiastically followed by other gentlemen interested in the club, with the result that there was soon an attractive list of awards to entice the best talent of the club to come forward. The club management evidently felt that it was incumbent upon them to do something of a similar nature, and hence the presentation of bronze medals for all competitors who showed ability to cover a long distance. With such inducements everything was in favour of the projected "marathon", and the running members of the club evinced the greatest enthusiasm and readiness to carry out the idea. On due consideration regarding the question of a route, it was decided to fix upon Deeside. Banchory was ultimately selected as the starting point, so that a distance of 18 miles would be covered."
The "Aberdeenshire Harriers' Marathon" was, therefore, well short of the 26 miles 385 yards "standard" set at the Summer Olympics eight months earlier (a distance that would eventually be codified by the IAAF in 1921). But, at 18 miles, it was still very much a journey deep into uncharted territory for the club's members, none of whom had ever raced beyond ten miles, a sentiment echoed by the Aberdeen Daily Journal, according to which "it was felt that the run from Banchory to Aberdeen would be quite sufficient as a severe test of the powers of endurance of the club members". Moreover, it was a good deal longer than the vast majority of that year's ubiqitous so-called marathons, such as the mere five-mile jaunt which constituted the "Marathon Race" at the Dalbeatie Gala.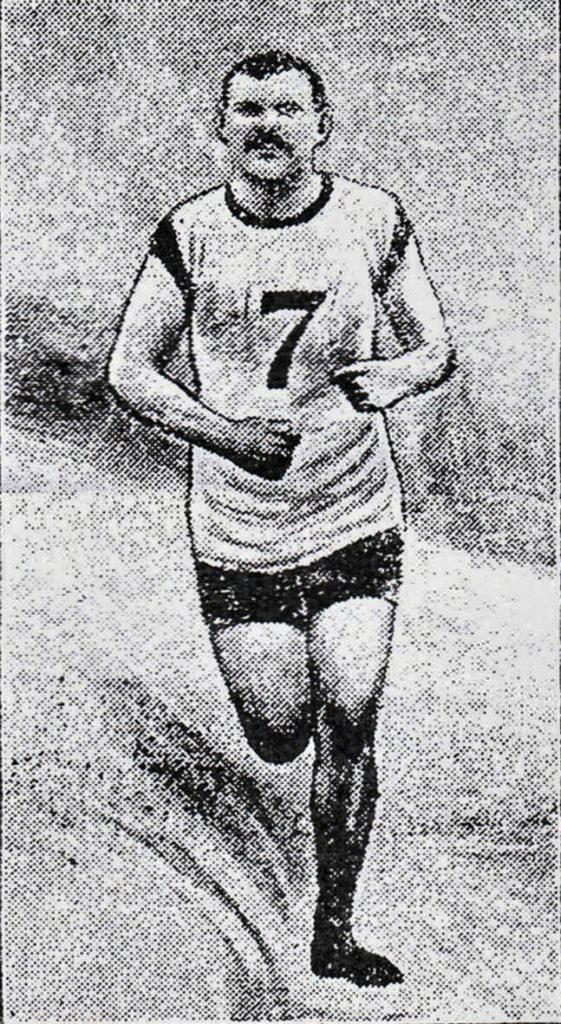 1909 Aberdeen Marathon, Joe Munro
The first Aberdeenshire Harriers Marathon was decided on Saturday 23rd March 1909 when twenty intrepid members were bundled onto charabancs and taken to Banchory where they were given a rousing send-off by a crowd so large it must have accounted for about the entire population of the town and surrounding area. An exciting 18 mile race saw the lead switch back and forth several times before reaching its dramatic conclusion in Aberdeen, when Joe Munro wrested pole position from Jim Hall on Anderson Drive and opened up a good gap by the finish at the junction of St Andrew's Street and George Street where he was besieged by clammering well-wishers. His winning time: 2hrs. 5mins. Jim Hall had to fight his his way through dense crowds to salvage second in 2hrs. 10mins. ahead of Walter Reid, who was third in 2hrs. 13mins. In the "do" held that evening at The Rest, Munro was awarded the "Marathon Cup" to keep for one year and a valuable gold medal donated by club benefactor William Jamieson. The second prize was a timepiece, the third a gold medal of lesser value and the fourth a medal with a gold centre, with all finishers (twelve in number) receiving a commemorative bronze medal.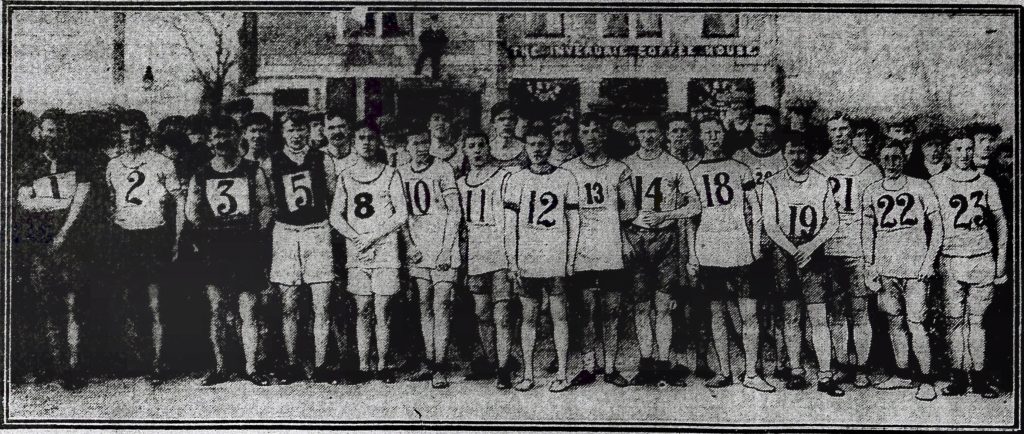 1910 Aberdeen Marathon start
The second race for the Aberdeenshire Harriers' Marathon Cup promotion was a toughish 16 miler from Inverurie to Central Park, Kittybrewster, held on Saturday 26th March 1910 in dry but windy conditions and contested by 22 members. The previous year's winner, Joe Munro, was prominent until the 13th mile when he suddenly gave up owing to stomach cramp brought on, it was reckoned, by his ingesting dust (widespread paving of public roads did not begin until the 1920's). Munro's exit left the way clear for Jim Greig (a member of the 'Shire since 1900), who won the 16 mile contest by about quarter a mile in a time of 1hr. 39mins. 35secs. George Davie (1.41.02) finished second and club captain Harry Russell took third (1.43.02) ahead of Walter Reid (1.45.00). 'Shire trainer Tom Knowles expressed his satisfaction with the result and acknowledged that his men had "trained well" for the race. He had, it was reported, been making his charges do 13 or 14 miles on Tuesdays and shorter spins on Thursdays.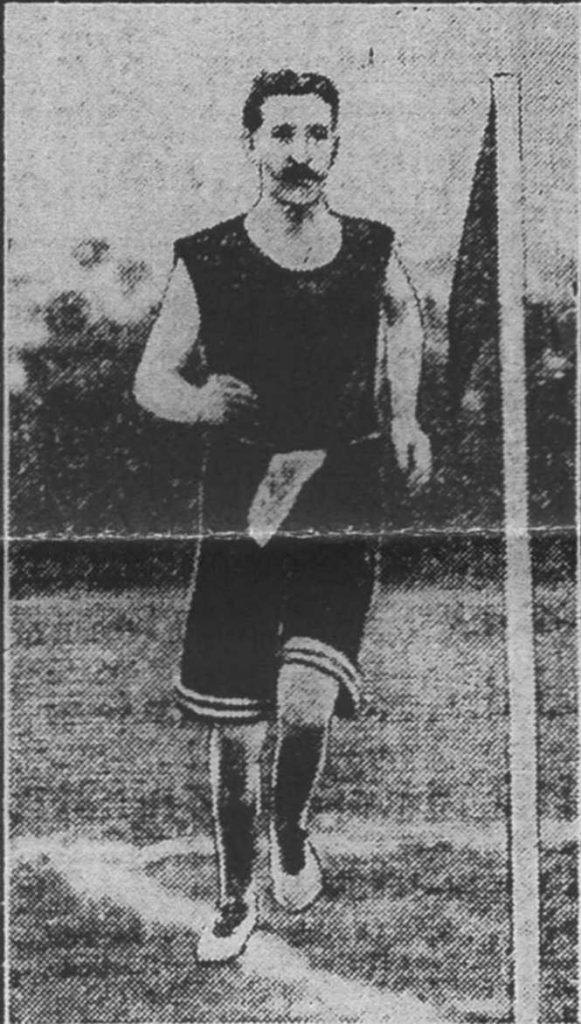 1910 Aberdeen Marathon Winner: Jim Greig
Variety being the spice of life, as they say, the 'Shire once again chose a different route for the third edition of their now annual fixture, a distance of 18 miles from Oldmeldrum to Central Park, Aberdeen. The race was scheduled about a month later than previously, on Saturday 22nd April 1911, and started from the 18th milestone on the Aberdeen road, where 16 members set off at about 4 p.m. each accompanied by an official cyclist carrying refreshments not to mention a goodly retinue of spectator cyclists. The race marked a return to form for Joe Munro who reclaimed the Marathon Cup in a time of 1hr. 45mins. 15secs., albeit with great difficulty after being pressed hard all the way by talented 17-year-old novice Alick King (1.45.40). Jimmy Gray was a distant third in 1hr. 58mins. 45secs. and Walter Reid again finished fourth in 2hrs 1min. 14secs.
The fourth edition of the race on Saturday 27th April 1912 was again run from Banchory to Central Park, Aberdeen, but by adding a bit at the end the Aberdeenshire Harriers contrived to extend the course to 20 miles, making this the longest race yet. 16 of the 21 entrants faced the starter, a notable absentee being the previous year's winner Joe Munro. This race marked the rise to ascendency of the runner Munro had beaten in 1911, Alick King. The youngester shrugged off windy and dusty conditions to win easily in 2hrs. 14mins 38secs., having belied his age and inexperience by holding back in the early stages before launching a decisive attack in the 14th mile. George Mackenzie, a recent new recruit, showed good judgement to take second in 2hrs. 21mins. 29secs. ahead of Jimmie Gray (2.26.49) and Harry Russell (2.27.25). Finishing down the order in 11th place was another Russell, Billy, who in 1924 was appointed trainer of Aberdeen Football Club.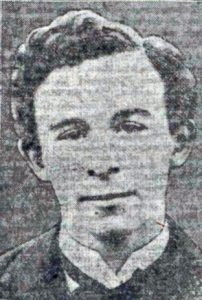 Alick King
Two months after his win in the Aberdeenshire Harriers Marathon, Alick King was 7th in the Scottish Marathon Trial for the Stockholm Olympics at Glasgow. This is, incidentally, the only occasion on which the Scottish Amateur Athletics Association has ever held such a trial, which in any case turned out to be a rather pointless exercise because not even the winner was deemed worthy by the B.O.C. selectors in London.
Preparations for the fifth Aberdeenshire Harriers Marathon race got under way early in the year when the club organised a number of Saturday practice runs in which the members were divided into paced and whipped slow and fast packs, the fast packs regularly being led by Alick King. The club's Marathon Race Committee voted at a meeting in January for the 16-mile course from Inverurie to Aberdeen, the second time the race had been run from the northern town since 1910. Whereas in former years the race had been confined to members of the Aberdeenshire Harriers, on this occasion the members of the fledgling Aberdeen Y.M.C.A. Harriers were invited to compete (on certain undisclosed conditions), and several took part. Altogether, 17 men faced the starter at Inverurie Town House on Saturday 5th April 1913. The weather was fine but a troublesome crosswind meant that runners had to contend throughout with clouds of dust raised by the attending army of cyclists. Alick King once again showed maturity beyond his years by holding back in the early stages (in fact he was still 400 yards behind the leader at 9 miles) before forging ahead in the 12th mile and running out an easy winner. His time of 1hr. 39mins. 54secs. was just 19 seconds outside Jim Greig's course record set in better conditions. Fred Stewart was second in 1hr. 43mins. 26secs. and the ever-consistent Walter Reid third in 1hr. 43mins. 50secs. Jim Barron, 5th in a respectable time of 1hr. 45mins. 40secs, was the first Y.M.C.A. runner home. It is also worth noting that there was not a single retirement, all 17 starters taking receipt of the coveted Aberdeenshire Harriers Marathon finisher's medal.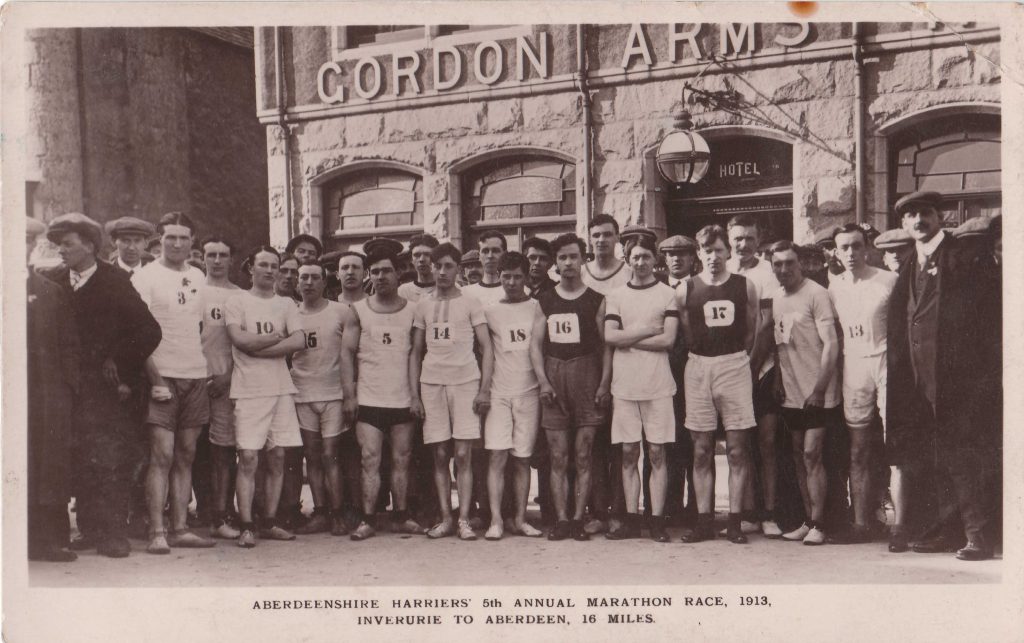 After Alick King's second win in the Aberdeenshire Harriers Marathon the question of northern supremacy arose when King was challenged to a race by John Tosh the well-known professional from Arbroath. A 20 mile race for the "Championship of the North of Scotland" and a side stake was decided at Pittodrie Park, Aberdeen, on Saturday 6th September 1913, King emerging victorious in 2hrs. 10mins. 00.4secs. It is not clear if dabbling with professionalism would have affected Alick King's amateur status because he emigrated to Canada shortly after, and all was forgotten.
The Aberdeenshire Harriers' Marathon had to be cancelled in 1914 owing to the large number of their members that had emigrated, but Aberdeen Y.M.C.A. Harriers at least ensured some continuity by staging their own race on Saturday 18th April over a 16 ½ mile course from the club's headquarters at Kepplestone to the Y.M.C.A. building in Union Street. The race was decided at Mannofield when Charles Howie, the club secretary, took the lead from Jim Barron, the club captain, and finished strongly to take custody of the Y.M.C.A. "Marathon" Cup for one year with a winning time of in 1hr. 57mins. Barron finished second in 2 hours exactly and Charlie Watt came third in 2hrs. 3mins., ten of the twelve starters (all Y.M.C.A.) completing the course.
Harrier activities were suspended completely throughout the war, which also took its toll on the membership of both the 'Shire and the Y.M.C.A. clubs, whose casualities included marathoners James Gray, who was seriously wounded and lost an arm, and Jimmie Rice, who was shot in the neck.
There was good news for the Aberdeenshire Harriers when Alick King, who had served in the Canadian Over-Seas Expeditionary Force during the war and represented Canada in the Inter-Allied Games, returned to his native Aberdeen after the war. He was a prominent competitor in the Victory Sports held by Aberdeenshire Harriers at Pittodrie Park on 19th July 1919.
Having established their own Marathon races before the war, the Aberdeenshire Harriers and the Aberdeen Y.M.C.A. Harriers continued where they left off when they reformed after the war, with the result that, from 1920 to 1922, Aberdeen hosted not one, but two, marathons!
The Y.M.C.A. race was held on 6th March 1920 when a field of 16 runners braved wretched weather during their 18 mile run from Banchory to Manofield. In a close-run race Oliver Coutts emerged triumphant in a time of 1hrs. 48mins., with Charlie Watt (1.48.30) and Alan Sutherland (1.49.10) filling the minor placings. At the prize-giving that evening Coutts took custody of the Y.M.C.A. "Marathon" Cup for the year, a gold medal and another prize valued at two guineas. Meanwhile Watt was presented with a silver medal with a gold centre, a palm stand and a Chinese vase, Sutherland taking home a silver medal and set of Army surplus hair brushes.
On 17th April 1920 the Aberdeenshire Harriers successfully revived their annual Marathon race after a seven-year hiatus. This was a bigger event that the rival Y.M.C.A. race, attracting 40 entries (of which 33 started) including several members of the Aberdeen City Police, who had been invited to compete. In the run-up to the event the 'Shire membership had, said the Evening News, undergone "strenuous training such as long walks, distance road running and finishing up with skipping rope and punch-ball". There had been large turnouts for the trice-weekly pack runs from the club's King Street headquarters culminating in a 16 miler in the preceding week. Many handsome prizes had been forwarded by patrons of the club, and as a special inducement for everyone to accomplish the distance it had been arranged to have a special bronze medal engraved and awarded to those who finished. As had been the tradition since the inaugural race, the principal prize was the Marathon Cup, which was donated by hon. president William Jamieson. The route chosen for the 1920 race was, as in 1912, a distance of 20 miles from Banchory to Aberdeen. Keith Rennie, a sixteen year old boy, came close to causing a sensation by leading to within a mile of the finish, when he was overhauled by the experienced Charlie Watt, who, it will be noted, was a member of both the 'Shire and Y.M.C.A. clubs! Watt won in a time of 2hrs. 17mins. 30 secs., thus missing the record set by Alick King in 1912 by about three minutes. Rennie (who collapsed after passing the finishing post and had to be carried off) was second in 2hrs. 19mins. 10secs. and Oliver Ward third in 2hrs. 28mins. 10secs. The runners who completed the course included two seasoned veterans of the first Aberdeen Marathon, Walter Reid and Jim Greig, who finished 8th and 12th respectively.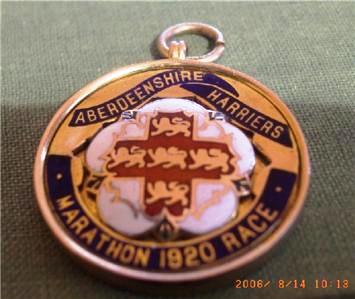 Aberdeen Marathon Medal, 1920
The third edition of the Aberdeen Y.M.C.A. Harriers Marathon Saturday 23rd April 1921 was contested by 10 members and run was over a 20 mile course starting and finishing at the Y.M.C.A. sports ground in Linksfield Road. On this occasion, unlike in the previous year, youth would prevail over experience, debutant Ted Lawson finishing in great style to deny Charlie Watt a successful defense of his title in the closing stages. His winning time of 2hrs. 14mins. 4secs. was good going considering the blustery conditions and the fact the he had only been with the club since the start of the season. Watt (2.16.30) settled for second ahead of another youngster, Daniel Gibb.
The Aberdeenshire Harriers' race, held the following weekend, featured Alick King making a long-awaited comeback in their annual "Marathon", which was run in unseasonably warm conditions over a 17 ¼ mile course starting and finishing Pittodrie Park where several thousand spectators at the Scottish League match between Aberdeen FC and Albion Rovers awaited the arrival of the runners. First man through the gate was the indefatiguable Alick King, who picked up seamlessly where he left off in 1913 with a commanding win which earned him a rousing ovation. He even had the time to complete the final two laps of the ground before the next runner put in an appearance. In addition to the usual array of handsome prizes a special bronze medal was presented to all who completed the course inside 2 hours 6 mins.
Results:
Alick King, 1hr. 55min. 4.6sec.;
Duncan 2.00.27;
Leslie Smith 2.04.15.6;
James Dey 2.06.06;
Walter Reid
The fourth and – as it transpires – last of the Aberdeen Y.M.C.A. Harriers' Marathon races on 15th April 1922 was run over a 15 mile course from Kintore to Pittodrie. It featured a neck-and-neck battle between the holder Ted Lawson and Alan Sutherland which culminated in the most thrilling finish yet to any Aberdeen Marathon, Lawson prevailing by less than 10 yards in 1hr. 30min. 10secs. Jim Ronaldson finished a distant 3rd, with 11 of the 13 starters completing the course.
City rivals the 'Shire held their eighth annual Marathon over a distance of 16 miles starting and finishing at Pittodrie Park on Monday 1st May 1922 when the runners encountered windy conditions and heavy roads to Belhelvie and back. The entire membership had been coached by Alick King and so it showed as the first 10 men all finished inside two hours. They were led home by pre-race favourite J. Duncan in a time of 1hr. 46min. 00.4sec., followed by Eddie Watson (1.46.43) and William Angus, with old hand Walter "Wattie" Reid finishing in 7th, one place ahead of an unfit Alick King.
In 1923, with the usual inter-club cross-country fixtures out of the way, the 'Shire and the Y.M.C.A. Harriers joined forces to organise a Marathon race over the classic distance of 26 miles 385 yards from Fyvie Castle to Aberdeen in the hope that such a race might in the words of the Press and Journal "reveal obscure talent that could worthily uphold the country's name in the competitions at the Olympiad". Duncan "Dunky" McLeod Wright was not exactly an obscure talent. The previous month he had become the ten-mile cross country champion of Scotland and had competed in his fourth consecutive International Cross Country Championship race. The organising clubs provided all but three of the starting line-up of eleven runners. Wright was representing Clydesdale Harriers and the other two non-Aberdeen entrants – James Walker and David Ritchie – came from Dundee Thistle Harriers. There was great disappointment at the absence through injury of top local runner Alick King, so it was left to Ted Lawson, William Angus, Jim Ronaldson, Joe Tastard, Harry Russell, James Davidson, Reggie Jones and Walter Reid to carry the Aberdeen banner in this, Scotland's first full-length amateur marathon. The race started at the gates of Fyvie Castle, some 26 miles north west of Aberdeen on a day in which the runners faced a stiff and cold headwind, not to mention heavy roads still sodden after recent rains. Wright set off at a brisk pace, having taken the ridiculous advice of his coach, Dick Vickers, to get away as fast as he could. At the halfway mark the pocket-sized Glaswegian (1hr. 20mins.) was over quarter of a mile ahead of his closest pursuer, Ted Lawson (1.21.55), who in turn was followed at intervals by Walker (1.25.32), Ritchie (1.26.16), Ronaldson (1.28.35), James Davidson (1.31.16) Angus (1.32.13) and Russell (1.32.35). On his arrival at the Parkhill feeding station at about 19 miles, Wright (2hrs. 4mins. 35secs.) was beginning to show signs of distress. Shivering with the cold, he asked for brandy and tea, but when informed by an apologetic marshal that no tea was available he settled for some brandy and ran on. The next to arrive at Parkhead was Jim Ronaldson, who had moved up into second place after the retirement of Lawson and Walker, but he was almost eight minutes behind the leader. The outcome looked to be a foregone conclusion until Wright began resorting to walking breaks, unlike Ronaldson, who by maintaining a steady trot began to make inroads on Wright's seemingly unassailable lead. Excitement grew as the runners entered the city and it became obvious that Ronaldson was capable of catching the race favourite. Hundreds of people lined the streets and cheered on the local man as Wright's lead was whittled down to 300 yards with little over a mile to go to the finish at Advocates' Park. A final effort by Ronaldson along King Street reduced Wright's slender advantage still further, but the Glaswegian dug deep and somehow held on to win by 150 yards. Inside the ground, both men were given a tremendous ovation by several thousand wildly cheering spectators. Wright's winning time of 3hrs. 12mins. 12.4secs. was modest even by the standards of the day, but it provided him with some valuable lessons while giving an early indication of the steely resolve that would stand him in good stead for the rest of his successful career.
 The full result was:
1 – Duncan McLeod Wright, Clydesdale Harriers, 3.13.12.4;
2 – James Ronaldson, Aberdeen Y.M.C.A. Harriers, 3.13.59.4;
3 – William Angus, Aberdeenshire Harriers, 3.51.10.2;
4 – Harry Russell, Aberdeenshire Harriers, 3.57.54.2;
5 – David Ritchie, Dundee Thistle Harriers, 4.00.58.6
Jim Ronaldson's training was idiosyncratic. In preparation for the 'marathon', which was held in March, April or May, he would stop smoking and drinking on January 2nd and would run 16 or 17 miles three times a week until the race. Then after four months training, he would start smoking and drinking again!
Dunky Wright's club, Clydesdale Harriers, was the most important in Scotland at the time. Training there concentrated on nightly pack road runs of five or six miles, with Friday off, followed by a race or a steady club run of anything between 7 and 15 miles over the country. Sundays might be the occasion for a seriously long hillwalk.
The Aberdeenshire Harriers Club celebrated the 10th running of their annual Marathon race on Saturday 3rd May 1924 when 12 members tackled a 15 mile course starting and finishing at the club's headquarters in King's Crescent and run in what were described as "extremely adverse weather conditions". Wind and rain were against the competitors over the greater part of the course, while the ground was so heavy the cyclists had trouble keeping up with the runners! J. Duncan eventually ran out a clear winner in a time of 1hr. 35mins. 7.2secs. to take custody of the Marathon Cup for a second time ahead of William Angus (1.37.28.4). One of the remarkable features of the race was the success of veterans such as Harry Russell (3rd in 1hr. 38mins. 3.8secs) and Walter Reid (8th in 1hr. 48mins. 6secs.). 11of the 12 starters completed the course, all within the standard time of two hours, for which each received a special bronze medallion.
The 11th edition of the Aberdeenshire Harriers Marathon was staged on Saturday 9th May 1925 and run over a 16 mile route from Banchory to Mannofield, the course being by the North Deeside Road from the eighteenth to the second milestone. There were only six starters, the smallest number ever, but they included Alick King and the up-and-coming James Shearer, as well as nostalgic favourite Walter Reid and a good race for the Marathon Cup presented by W. Jamieson was expected. As usual, the conditions were awful, a torrential downpour and a headwind conspiring to make the race a "severe test of stamina". From the start Shearer, an 18 year old of promise, took the lead, closely followed by King, now 31, who bided his time until a mile from the finish before unleashing a spurt which carried him to his fourth win since 1912. He finished 80 yards to the good in a time of 1hr. 48mins 33secs. to 1hr. 49mins 3secs for Shearer. H.T. Robertson followed a mile behind in 3rd and finished comfortably ahead of Walter Reid, whose remarkable record in this event now read:
1909 –3rd, 1910 – 4th, 1911 – 4th, 1912 – 12th, 1913 – 3rd, 1920 – 8th, 1921 – 6th, 1922 – 7th, 1924, 8th, 1925 – 4th.
The officials were: Starter – Mr. W. Jamieson; timekeeper – Mr. J.C. Watson; judges – Messrs. J.S. Gray, J. Smart and R. Duncan.
Despite the theory that these races were 'annual marathons', they do not seem to have taken place in 1926 and 1927. Perhaps the number of entrants became too small. James Shearer seems to have tried his luck as a professional athlete for a while. However the Aberdeenshire Harriers Club ran their 1928 'marathon' race on Monday 7th May. The route was from Banchory to Mannofield in Aberdeen, by the North Deeside Road. There were twelve entries, all of them 'first season men' apart from James Shearer (a reinstated amateur, who had been second in the 1925 race over the same course). A bus took the competitors and officials from Gordon's College to the start, outside the Burnett Arms Hotel.
At 11.15 a.m. the race commenced, with nine men taking part. The Aberdeen Press & Journal described events in their edition published on Wednesday 9th May. "W. Hall led from Banchory, followed closely by James Shearer and W. Stuart, who ran side by side until entering Culter, with W. Chapman fourth. Stuart gradually fell behind, allowing Hall and Shearer to maintain supremacy. Misfortune, however, befell W. Hall at Cults Square, where he fell over a stone on the road. This allowed James Shearer to take the lead. The placings then became – Shearer, Hall and Stuart, with Chapman and Sutherland close behind. This position remained until a mile from home, when Shearer increased his pace, and W. Stuart then passed Hall to run Shearer a close race to the finish. The winner's time was 1 hour 48 minutes 30 and two-fifths seconds. Stuart's time was 1.49.52. W. Hall did well to recover after his fall. The officials were: starter, Mr F.G. Glegg, hon. president; timekeeper, Mr J.S. Greig, SAAA; judges, Messrs W. Russell, sen, R. Duncan and W. Simpson." The club's bronze medallions were presented to competitors who finished within a specified time.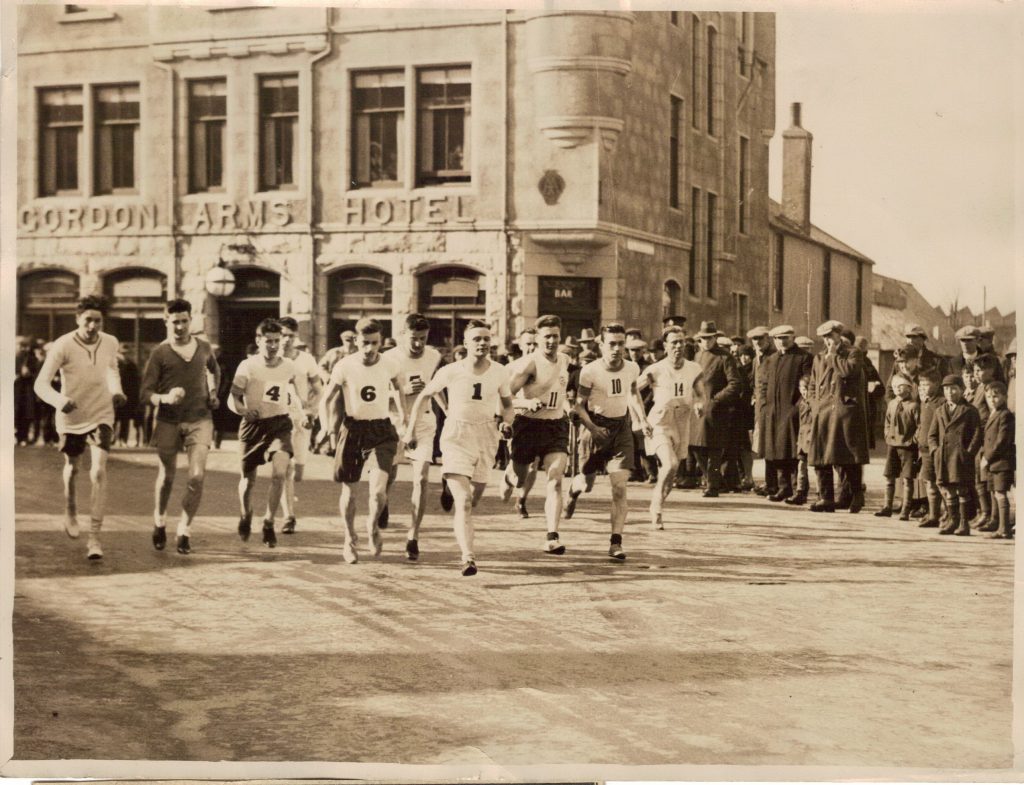 Aberdeen Marathon in 1929: niote the starting point is the same as in the 1913 picture above
A fascinating article from a 1929 'Evening Express' was written under the nom-de-plume of "Chuck", who was clearly enthusiastic and knowledgeable about fitness. The headline is "With The Cyclists, Harriers and Walkers in Aberdeen and District" and the subheading is "Suggestion for Gymnastic League".
He begins with some excellent advice for cyclists on the topic "How to Avoid Fatigue". There is an analysis of problems with wrists, shoulders, back, chest and thighs, with ideas about how to relieve discomfort. One is led to expect, after 50 miles hard cycling, "a peculiar benumbed sensation over the heart"! No need to panic, however, since a change of position may be "as good as a rest".
Chuck moves on rapidly to "Next Week's Big Walk", which mentions that "a splendid entry has been received for the North Eastern Harriers Association five-mile scratch walking race on Aberdeen Links". The favourite was T. C. (Clarence) Andrews, who later won the Shire Harriers Three-Mile Walking Championship. Also rated was twenty-year-old E.(Ernest) G. Marshall of the Shire Harriers, who later finished second in the 3 mile race. Chuck reckoned that "these two lads are coming along very nicely in the walking game".
Shamrock Athletic Club's half-mile and quarter-mile open novice races are also mentioned; and the Wheelers Cycling Club Sunday morning two-mile handicap races. Chuck's favoured cyclist was A. Cruden, who was described as "a rare good boy". The journalist adds "These events are proving a great attraction to devotees of the early Sunday morning walking exercise. They walk out to the starting point on the Skene Road, view the race, then proceed on their way to where their fancy leads."
Chuck ends his article with a rallying cry to make Aberdeen once again "one of the greatest gymnastic centres in the kingdom" by forming a Gymnastic League.
The overall impression given by Chuck's writing is of Aberdeen and district athletes engaging in a range of "cross-training" in search of fitness, fun and competition. Surely such a philosophy should be welcome if reintroduced in the 21st century!
Indeed, the aforementioned young race-walker Ernie Marshall went on to demonstrate his versatility by completing two Shire Harriers running 'marathons': the 1929 17-mile Inverurie to Aberdeen; and the 1930 18-mile Oldmeldrum to Central Park, Kittybrewster, Aberdeen. In preparation for the challenge, he ran a club 7 mile road race on 16th February 1929, finishing first (from 15 starters) in 41.18.
Alexander Allan won both long-distance events. In between the last 'marathon' in 1925 and this one in1929, Aberdeenshire Harriers running section had moved their training accommodation to a hut in King's Crescent. There the athletes had been overshadowed by the boxing fraternity, so that no long road races had been held from 1926-1928.
However in early 1929 James Greig, the 1910 record-holder for the 17mile Inverurie to Aberdeen route, generously offered to present a gold medal to any runner who could "smash his record" of 1.39.35. The winner would also become the holder of the William Jamieson silver challenge cup. At 2.30 p.m. prompt, on Saturday 20th April 1929, the race started and the route went from The Square, Inverurie, via Kintore, Blackburn, Bucksburn, Woodside, Anderson Road, and Clifton road, concluding with four laps of Central Park, Kittybrewster. The Bon-Accord Cycling club acted as clerks of the course, to ensure that there was "no pacing in the race". However it was Alex Allan of Aberdeenshire Harriers, running "a faultless, well-timed race", who easily broke the record with a finishing time of 1.38.28 and two-fifths seconds; and, not far behind, John McRobb also beat the previous best with 1.39.01. James Shearer was third (1.40.25.6). He was followed by Alex Sutherland (1.41.43); William T. Stuart (1.45.29); John Troup (1.46.04.4); young Ernie Marshall was seventh (1.46.55.6); Harry Chapman (1.55.58.8); Angus Allan (2.04.38); and finally, Robert Smith tenth (2.17.45). The only non-finisher was W. Hall. Medals were presented to those under the standard time of two hours. The presentation of the season's prizes took place at the Shire Harriers Annual Whist Drive and Dance in the Bon-Accord Hotel, Market Street, Aberdeen on Friday 26th April.
A further report in the Evening Express, which certainly sounds as if it was written by Chuck, included the following. "I warned my readers Allan would be the surprise packet, and he did not belie my confidence in him. He ran a magnificent race throughout. To me it was an inspiring tribute to the school of young runners in the city. Alex Allan is one of the best boys I have ever seen on this particular course. He joined the ranks of the Shire only ten weeks ago and soon proved himself to be a chip off the old block, viz Jamie Allan, who was a fine runner years ago. Alex is only 22 years of age and a fine specimen of manhood. Thanks are also due to Dod Fraser, the club's trainer who has worked so hard since taking charge this season. The club has prospered beyond my wildest dreams."
The route for the Saturday 12th April 1930 Oldmeldrum to Aberdeen 18 mile 'marathon' was from the Square at Oldmeldrum via Dyce to the railway bridge. From there it continued to Bankhead and Woodside, along Anderson Road and Clifton Road and into the final four laps of Central Park at Kittybrewster. The 'P and J' account is as follows. "Nine runners faced the starter under ideal weather conditions, which prevailed until Dyce, when heavy rain fell until the finish of the race.   The rain undoubtedly spoiled the efforts of Alex Allan to reduce Joe Munroe's record of 1 hour 45 minutes 15 seconds, created in 1911, for up to this point in the race, Allan was going strongly, and high hopes were entertained of his putting up a new record.   Right from the start, Allan forced a hot pace from W. Begg (also a race-walker) and J. McRobb. At Whiterashes only seven runners were on the road, Angus Allan and Alex Wallace dropping out near the Post Office.   At Newmachar, Allan was leading by 300 yards from Begg, with McRobb in close attendance, the remainder being strung out.   At half distance, Allan increased his lead to 600 yards from McRobb, who displaced Begg of his second place.   At this point it was seen than Marshall, who had been lying well behind, was gaining rapidly on the leaders, forcing his way up to fourth position.   Nearing the city, Allan still held the lead from McRobb, with Marshall running strongly into third place.   Hall and Begg dropped out with leg trouble, thus reducing the field to five runners.   Allan's battle against the rain told its tale, and on entering the Central Park, he contented himself to keep going at a slow pace to complete the distance and win his second Marathon race.   McRobb entered the Park in a similar way and, hanging onto his lead from Marshall, he too completed the distance.   E.G. Marshall apparently had a big reserve in hand, for he ran the last mile in a very convincing manner.
 The full results were:
1          Alex Allan, 1 hour 50 minutes 25 seconds
2          John McRobb, 1 hour 54 minutes 1.5 seconds
3          Ernie G. Marshall, 1 hour 56 minutes 36 seconds
4          Peter Burnett, 2 hours 3 minutes 51 seconds
5          Alex Gordon, 2 hours 4 minutes
(Medals were presented to all finishers, since they were faster than the standard time of 2 hours 15 minutes.)
Starter and timekeeper – Mr Fred J. Glegg; Judge – Mr Charles C. Russell. The Aberdeen Wheelers supplied the stewards, and accomplished their work in an admirable manner."
On Saturday 18th April 1931 Jack McRobb exacted revenge on Alex Allan for previous defeats. "Ten runners faced the starter at the Aberdeenshire Harriers annual "Marathon" race (18 miles) from Oldmeldrum to Central Park, Kittybrewster.   Weather conditions favoured the competitors, a heavy following wind greatly assisting the first four men to return good times.    Alex Allan (winner of the last two races over the distance) set up a hot pace right from the pistol shot, and was closely followed by J. McRobb and H. Gordon.   The first five miles saw Allan clinging to his lead by three yards from McRobb, Gordon having dropped back 150 yards in the rear.   Nearing the ninth mile McRobb displaced Allan. H.Gordon was then making headway and on nearing Stoneywood passed Allan to occupy second place.   Passing through Stoneywood McRobb held 250 yards lead from Gordon, and both were going strongly. Keen disappointment was expressed at this stage as Allan, owing to stomach trouble, retired from the race, leaving A.Gordon, who was gradually creeping up to take third position. Woodside was reached with McRobb holding on to his lead from the other two.   Entering the Central Park, McRobb held his lead, but only with a super effort did he manage to stave off the apparently fresher H.Gordon, who tried hard to catch the leader, but failed to do so by about 110 yards. McRobb's victory was highly popular, and he received a great ovation from the large crowd of spectators. Four men duly qualified for standard time badges, which were given to those who accomplished the distance in two hours.
Results:
Jack McRobb 1 hour 46 minutes 35 seconds;
Harry Gordon 1.46.53;    Alex Gordon 1.48.03;
David Stewart 1.55.04;    Frank Yeoman 2.24.45;
Arthur Mair 2.27.58;    James Peter 3.18.15.
Frank Yeoman won the special prize for the youngest competitor to finish in the prize list. Starter and timekeeper: Mr Fred J. Glegg. Judges: Messrs J.S.Greig and J.K.Smart. Stewards of the course – Wheelers Cycling Club members."
            On Saturday 9th April 1932 there was a final Oldmeldrum to Aberdeen race. The 'P and J' reported as follows. "Eight men lined up for the start. A stiff wind was against the runners, and hopes for a record time being accomplished were not very bright. From the pistol shot last year's winner Jack McRobb went to the front, closely followed by H.Gordon and James Shearer.    After four miles had been covered, these three were running abreast. Passing through Newmachar the same order was maintained. Yeoman and Aitken dropped out hereabouts, leaving only six competitors.   Nine miles was accomplished in 58 minutes by the leaders, McRobb, Shearer and Gordon, who were clinging together. A.Gordon was lying fourth about 400 yards in the rear. Andrew Raeper fell out with leg trouble at this point, leaving only five men on the road.    At Stoneywood H.Gordon and McRobb had broken away from J.Shearer, both running strongly.   At Persley McRobb opened up and shaking off Gordon took the lead. At Woodside McRobb increased his lead from Gordon by 200 yards.   Entering the Central Park McRobb had a clear lead and finished the course just as Gordon appeared. McRobb's victory was highly popular, considering the wind and showers of rain. He improved on his last year's time by 13 seconds, failing to beat Joe Munroe's record by 37 seconds. Only four finished the journey.
Results:
Jack McRobb 1 hour 46 minutes 13 and one-fifth seconds;
Harry Gordon 1.51.41 and two-fifths seconds;
James Shearer 1.56.50; Alex Gordon 1.58.14.
Officials: Starter and timekeeper, Mr F.J. Glegg; Judges Messrs J.S.Greig, C.C.Russell and J.K.Smart."
On 1st May 1933 there was a final Aberdeenshire Harriers 'marathon'. This time the sixteen-mile road race started and finished at Advocates' Park. The route went out to Dyce and back again. The event was covered in detail in a newspaper report.
"Alexander Gordon, Aberdeenshire Harriers, sprang a big surprise in winning the open sixteen miles road race organised by his club at Aberdeen yesterday. His time – 1 hour 31 minutes 42 seconds – was a brilliant performance.   Eleven competitors faced the starter in the enclosure at Advocates' Park in ideal weather conditions. From the start, Gordon, Beattie, Clark, McRobb, Chapman (all of 'Shire), Brown (YMCA) and Cumming ('Varsity) went to the front in a bunch and kept together until near Scotstown Moor, when Gordon and McRobb pulled away.    At Parkhill, Gordon and McRobb had a lead of 200 yards from Brown, with Clark and Chapman a similar distance in the rear.   At Dyce, Gordon, running with perfect ease, came away strongly from McRobb, who appeared to be labouring. Brown also was feeling the gruelling effects of the hot pace, being third.   Nearing Don Street, Woodside, Gordon held a 400 yard lead from Chapman, who had moved into second place. McRobb, still labouring, being third, with Clark fourth. Coming down St Machar Drive, McRobb collapsed and retired.
Entering Advocates' Park, Gordon had a comfortable lead of over 500 yards, and finished the two laps before the second man appeared. Chapman came next, with Clark at this heels, and a thrilling duel took place between them, with Chapman gaining second place by about 20 yards. The first three home gained standard medals for accomplishing the distance in the time limit of 1 hour 35 minutes.   Gordon's victory was his best performance in five years participation in harrier activities.
Results.
1 Alex Gordon 1.31.42;
2 Harry Chapman 1.34.43;
3 Edward Clark 1.34.45;
4 Robert Forbes (Shamrock Sports Club) 1.35.4 and three-fifths seconds;
5 George Brown 1.36.46.
Starter and timekeeper – Mr Fred J Glegg; Judges – Messrs CC Russell and JS Greig."
In 1934 there seems to have been no 'marathon', although there was a 16 mile Banchory to Aberdeen walking race (won by 1923 marathon finisher William Angus). Officials from Aberdeenshire Harriers helped with this event, which included a Women's walking race, won by Miss Chrissie Webster of the Aberdeen Ladies' Hiking and Athletic Club, who won by only seven seconds from Miss Ella Cumming.
 Probably due to a lack of entrants, the Shire Harriers 'marathons' did not continue. However these reports give a real flavour of Aberdeen long-distance running at the time. Aberdeenshire Harriers continued to encourage the sport helping to organise a host of other promotions, including their annual seven-mile cross country championship, North-Eastern Harriers Association championships, the Round-the-Town 20 miles relay race, miscellaneous sports meetings, Xmas and New Year handicaps and inter-club cross-country matches against the YMCA, Aberdeen University Hare & Hounds and new rivals like Shamrock Sports Club.