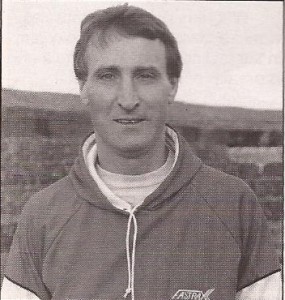 When it comes to hard working clubmen, Cambuslang's Robert Anderson has few equals.   The living embodiment of the "You do what your club needs you to do" philosophy, he has served as athlete, official, administrator, recruiting sergeant and anything else that required some action.    I was told once when I asked where a new club member had come from that Big Robert had signed him up when he was on holiday in the Highlands, and the information was quickly followed by "Don't laugh, we've got three members in Barra from the time he went there!"   As a runner he was very good but as Percy Cerutty once said of one of his stars, "He might run faster, but he doesn't run harder than me."   Robert always ran hard, none of the stars who ran for the club ever ran harder.   And yet despite all the stories, he remains friendly and affable – the only time he ever ignores anyone is when Cambuslang is racing and he has a man to shout on.    He was profiled in a magazine in the 1980's but I didn't recognise the picture painted.   The following profile is a tribute to an excellent club man and a lot of help was receibed from Dave Cooney, Cambuslang Harriers team manager for over two decades (and counting!).
Born on 12th February, 1947, Robert joined the club in 1963 at the age of fifteen and has had 50 years in the club.    Given what has been said above it might be best to look at his involvement in the various areas in which he has functioned.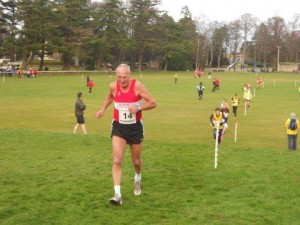 AS A RUNNER
It should be noted that Robert worked for many years delivering coal for the family business, even on a Saturday morning before competing later in the day – hardly the ideal preparation.   It did however make him stronger than almost all of the opposition.    His first individual medal was in 1965 when he was second in the Midland District Youths Cross-Country Championship.    The first six were Eddie Knox of Springburn, Robert, Colin Martin of Dumbarton, R Colvin of Springburn, Alistair Johnstone of Victoria Park and Martin Mahon of Shettleston.   He was in very good company indeed!     He went on in the same season to be ninth in the Youths National.    Eddie Knox won that one too with John Fairgrieve (EAC) second and Colin Martin third.   Finishing in the top ten was nevertheless a noteworthy achievement with several good runners left behind – eg Alistair Johnston was twelfth n this one.   Probably needless to say but he won the Cambuslang Youth championship that year and also won the Junior title.   In fact his run of club senior titles took in Senior victories in 1968, '70, ' 71, '72 and '73.     He continued running in the National – and County and District Championships until the 1990's and then went on to run in the veterans championships.  The 60's were a good decade for Robert and he also competed on the hills well enough to win the tough Ben Lomond Race 1967 and 1968.   On the track he ran 6 Miles in 31:43.0 to be ranked 25th Scot in 1968.
Of course the biggest event for endurance runners in winter, other than the national, was the Edinburgh to Glasgow eight man relay.   Robert ran in this for the first time in 1970 when the club ran an incomplete team, turning out on the hard sixth stage.   The club missed out in '71 but were back in '72 when their twelfth place was good enough to win them the medals for the Most Meritorious unplaced performance.   Robert ran on the sixth stage again.   He ran on the eighth stage in '73 pulling the team up one place.   Back on the long stage again in '74, he kept the club in 17th position with another solid run.   '75 saw him again on the sixth stage but in '76 Robert was on the third stage where he picked up one place.    The talk that day was all of John Robson who, when running the third stage stopped altogether and reportedly threw away the baton.   No fear of that with Robert who would always do his very best for the club.    In '77 he was again on the final stage for the team which finished eleventh.   In '78 the team finished sixth and Robert was on the seventh leg for a team which was getting stronger all the time with Rod Stone, Colin Donnelly and the Rimmer brothers wearing the colours.   '79 saw the team further strengthened by the addition of Eddie Stewart and improvement to fifth – it was Robert on the seventh stage who picked up from sixth to fifth.   Missing '80, when the team was second, and '81, he was back on E-G duty in '82 when the team, minus the Rimmers and Rod Stone but with Eddie Stewart and new man Alex Gilmour formed the backbone, Robert ran the final stage to bring the club home in tenth.   That was to be his final run for the club in the Edinburgh to Glasgow but it had a noble stint on behalf of the club.
On the country in the 70's he was a member of the first Cambuslang team to win a District team medal when they were third in 1976 behind Shettleston and Victoria Park and two years later he won the Lanarkshire County 10 Mile Road Running Championship.
So he was adept at cross-country and road running, then there was track running where in the 1980's he returned to the Scottish ranking lists for the first time since that 6 miles in 1968.   This time it was in the steeplechase where h recorded times of 9:59.1 in 1980, 9:54.1 in '81 and 9:53.1 in 1982.   The '80's were in general another good decade for Robert.   In 1981 he was a member of the team that took bronze in the Scottish 4 man cross-country championship running first in a team with Lynch, Stone and Stewart.   Incidentally the Young Athletes team of Sam Wallace, Pat Morris and David McShane won their race.   Becoming a vet in February 1987, he was a member of the Cambuslang team that was second in the Scottish vets cross-country championships in 1988 and again in 1989.   Unfortunately from 1990 he suffered increasingly from niggles and injuries that curtailed what running and training he could do.   They were beginning to take their toll and although he kept on running an turning out for the club, his last notable race was when he was  National M65 cross-country championships in 2013.    It was a long career as a runner an he is probably not finished with the vets scene even yet … the latest open race result I have seen is for the Cairnpapple Hill Race in 2012 when he was first M65 and 35th overall.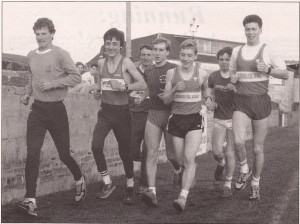 Robert, third from the left, unusually for him, in the background
AS A COACH
It used to be a common thing to go to any club on a training night and see older runners standing with a group of younger athletes getting practical advice from his experience.   It's not such a common sight any more and the sport is the poorer for it.   Robert was an excellent role model for youngsters – he had run on the road, over the country, up and down the hills and on the track, all with some success.   How does he rate as a coach?   Well, first and foremost he is dependable.   It does not matter if an athlete misses a session, or even two, over the winter.    If a coach misses one it is a cardinal sin.   Robert would be an ever present.   Mike Johnston of course is currently top man and there is a great deal of assistance from Owen Reid and Jim Orr.
His approach is said by a clubmate to be a demanding one but he leads by example.   His two maxims are "There is no such thing as pain" and "You can always find time to train if you want to."   The first is maybe a bit overstated but there is no doubt about the truth of the second.   Has he been successful?   Over the years he has helped to coach and mentor many Scottish individual and team medallists and has contributed greatly to the national success which Cambuslang has enjoyed since 1979 when the Under 13 team won bronze medals in the Scottish Cross-Country Championships.   Let's just list them:
U13 Boys Scottish Cross Country Champions 1992 -96 (runner up by 1 point in 97), 98 – 2000, 2006 and 2013 when his grandson Drew Pollock was a counting member.
U15 Boys Scottish Cross Country Champions 1979, 1992 – 96, 2002, 2005 and 2008.
U17 Boys Scottish Cross Country Champions 1982-85, 1991 -93, 1995 and 96, 2003 and 09.
U20 Boys Scottish Cross Country Champions 1983-85, 1987, 2000, 2002 and 03 and 2013
Senior Men Cross Country Champions 1998 -1995, 1997-2000, 2003 and 2004, 2006 and 2008.
AT Mays Trophy for the Best Male Club at the Scottish Cross Country Championships
Inaugural winners in 1989, 1991- 97, 1999-2006, 2012 and 2013.
Cambuslang has won the trophy on 18 out of 25 occasions.
That is quite a formidable list of medals.   Although others did their share of the work, Robert is almost certainly the main driving force.
AS A RECRUITING OFFICER
Robert is famous as a recruiting sergeant for his club.   Always on the lookout for new members, he will often just stop runners in the street and ask them if they are interested in joining Cambuslang.   Over the years he has been responsible for attracting many new athletes to the club – names such as David Cooney (team manager now for well over a decade), the best known duo in the club of Alex Gilmour and Eddie Stewart, Scottish internationalist Jim Orr who was better than he himself thought he was, hill runner Colin Donnelly, the brothers Joe and Kevin Kealy and Mark McBeth.   Involved in the local primary and secondary schools, he was quick to latch on to the new phenomenon of parkruns and now gives out club leaflets at these events held in Glasgow every Saturday morning.
AS A COMMITTEE MEMBER  
Inevitably a clubman such as Robert has done more than his share at Committee level and in organising social events, away weekend training expeditions, club relays, Christmas handicaps.   He even has a role that not many know about as a GROUNDSMAN, mapping out and maintaining two grass tracks in the summer nights on the rugby pitches at the club since there are no local track facilities available.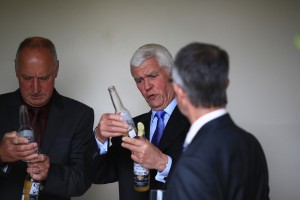 Robert on the left at a team mate's wedding   
It was mentioned above that in May 1988 "Scotland's Runner" published a club profile of Cambuslang Harriers and included in it was a pen portrait of Robert Anderson.   This extract says a lot about him.
"He lives, eats, breathes and drinks the sport.   As a promising youngster in the club in the 1960's he would spend a hard morning carrying coal sacks up closes on a Saturday morning, finishing work well after one o'clock, before rushing off to a race at a time when Cambuslang had little hopes of any real success.   Like many traditional harriers, he is now suffering the injurious effects of more than 25 years in the sport – many of them spent pounding the pavements in inadequate footwear, something that many youngsters tend to forget in these days of hi-tech footwear.
'I still manage about 35 miles a week.   More than that and I seem to get injured.   Who knows, maybe next year … ?' he says wistfully.   But despite the seemingly constant injuries, he has managed a run every day this year.   
Anderson never gives up.  A current Member of Parliament (and Cambuslang Harrier) claims that Robert gave him the hardest run of his life.   It was the day after the Mamore Hill race when a Cambuslang pack, under Robert Anderson's guidance decided to do a 90 minute run through the mountains.   Robert had the watch.   But, being a ruthless coach, he stopped the watch each time any of the hungover lads was compelled to visit the bushes.   Unfortunately, being hungover himself, he got the timing wrong.   All too soon Robert was starting the watch whenever anyone had a call of nature and stopping it whenever the pack actually started running.   A massive commitment to the Scottish mountains had been made before the dreadful truth emerged … the denouement involved two hours more than scheduled and a chest high fording of a mountain current.   They still talk about it at Cambuslang (in hushed tones) with the sort of admiring horror that every true harrier reserves for those killing days when, somehow against all the odds, you make it home.
Yet the Robert Andersons of this world claim that it was all part of their master plan to take the club on to winning the Scottish Senior Cross-Country title four years later.   Without them, our sport would drop dead."
To finish with a heartfelt tribute, John Wilson who has known Robert for decades and remembers when he first started at the club pays him this compliment:
I joined the club as a boy in the 60's.    Though this period the club's fortunes waxed and waned as football was the predominant sport in the area and a constant drain on younger members.  Often it was Robert's due diligence alone (chasing everyone up, making travel arrangements and even paying fares to get kids to events!) that kept the club going and being represented at events. 
The older stalwarts were invariably injured (Andy Fleming, Willie Kelly) and Gordon Eadie tended to train on his own.    For most of the decade Robert did not have consistent club competition or training partners at his level.    Charlie Jarvie was about the same as Robert but he and others moved away, Davie Lang and George Skinner made guest appearances on some club nights but in the main Robert was left to train with boys, youths and juniors.
To get some quality training Robert started to attend the Tuesday session at Shettleston Harriers (which was often a fast 10 mile with Bill Scally, Henry Summerhill, Dick Wedlock).   Our own club nights were Monday and Thursday and on one miserable winter's night I went to the club and I was the only one there!    We had had several weeks of numbers dropping off and the fear was the club would just simply fold. On the Wednesday Robert told me he was thinking of joining Shettleston.
Firstly had he joined Shettleston Harriers (this was around 1969/70) with the undoubted step up in high quality training, Robert would  have fulfilled his potential and become an even better runner and secondly , in my view, Cambuslang Harriers would have ceased as a club as the members had dispersed and Robert was the main driving force to get people out at club nights and into running events. (As well as driving the training sessions)
Following his decision not to join Shettleston, Robert seemed to launch himself into an out and out recruitment mode targeting lapsed members, schools, and anyone he saw running in the area.   Obviously he kept this practice going.   In those days there was nothing to suggest Cambuslang Harriers would ever attain the success it has done.    Robert was the driving force at the clubs most critical time and there is no doubt he sacrificed his own running development to ensure the continuity of Cambuslang Harriers. 
I asked Robert to complete the questionnaire – unusual for this section – because I felt he would add a lot to the profile himself.   The replies are below
Name: Robert Anderson
Club:  Ronhill Cambuslang
Date of Birth: 12:02:1947
Occupation: Owner/Driver HGV (Retired.)
Personal Best Times:  800m   2:00;          1500m   4:04;          3000m 8:42;          5000m   15:27;          10000m   32:25
How did you get involved in the sport initially:   School sports.
Has any individual or group had a marked influence on either your attitude to the sport or your performances?  First Coach – Andy Fleming
Can you describe your general attitude to the sport?   I love the sport but find young ones now do not want to put enough time or work into it.
What do you consider your best ever performances?   28th October 1967 in the Midland District Relays.   I ran on the third leg and brought the team from eleventh to fourth – 33 seconds faster than Gordon Eadie who was going really well at the time.
What goals did you have that remain unachieved?   Since the late 1960s, my ambitions have all been club based.   I do not think there is anything left to win.   We have had individual champions in every age group (male) and have won every team title.   I would like to go back to proper coaching but no one is at present prepared to take the kids coming in the door.   My wins with your help as coach:
Junior Men (Under 20): 1983, '84, '85, '87.   Youth  (Under 17): 1982, '83, '84, '85.     Junior Boys (Under 13):  1992, '93, '94, '95, '96, (1997 second by one point to Law), '98, '99
***
Thanks, Robert – a lot of the Scottish athletics fraternity would agree heartily with your comments about the present generation and their attitudes.   I reckon this is true of new athletes in all age groups.    Keep up the good work!
.