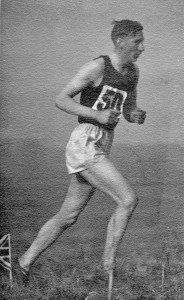 Scottish athletics had many very talented runners in the period between the wars who are not remembered at all now.   This seems to me to be more than a pity, it is almost a disgrace.   We are less aware of our athletic inheritance than any generation before us.   Alex Wilson is an expert on this period and a very good writer into the bargain.   He has made several contributions to the Scottish distance running history website and he has now written this excellent account of the career of Peter Allwell – one whose athletics were unfortunately curtailed by the 1939 – 45 War.    
By Alex Wilson 
In the 1930's, Scottish athletics was blessed with a surfeit of gifted middle and long-distance runners. This was a veritable golden era during which national records went by the board at practically every distance from the half-mile to the Marathon. In fact, a number of records created in the decade of the Great Depression would remain unbeaten until the 1950's; performances such as James Stothard's 1 min 53.6 secs for the 880 yards, Bobby Graham's 4 mins 12.0 secs for the mile, Jimmy Woods' 30 mins 34.0 secs for six miles, Dunky Wright's 2 hrs 32 mins 41 secs for the Marathon and Peter Allwell's 9 mins 13.4 secs for two miles. The last-mentioned runner is arguably the least well known of these record holders, due mainly to the brevity of his fame. This is the story of Peter Allwell, the soft-spoken Ayrshireman whose short but brilliant career was by definition meteoric.
The Allwell family were from the Lochwinnoch/ Kilbirnie area but Peter Allwell first saw the light of day in London on 1st October 1913 owing to the circumstance that his father, John Allwell, had moved south to work as a groom and married an Englishwoman. Allwell was a toddler when the First World War broke out the following year, but for him the real upheaval occurred in 1916 when his father enlisted in the Army and he was sent to live with his grandparents in Kilbirnie. His grandfather Peter Allwell, was the long-serving coachman to Mr. Bryce Muir Knox of Redheugh, Kilbirnie, proprietor of Knox Threadmills. Allwell's upbringing in Kilbirnie was, by his own account, a happy one, and he did not return to live with his parents in London after the war. In fact, sadly, he would not see his mother again until the 1950's. When the death of his grandfather occurred in 1926, he went to live with his aunt and uncle. However he had to leave school at the age of fourteen and did not get the opportunity for higher education. To earn his keep, Allwell started at his uncle's business, Watt's Rope Works in Kilbirnie, but was always keen to improve his lot in life and later left to work in the building trade before seizing a job opportunity at ICI Ardeer.
As he told the Ardrossan and Saltcoats Herald in 1990, Allwell took up running at an early age. "It all began for me when I was a hamper boy for Kilbirnie Ladeside. Two famous runners at the time, Jock Calder and Willie Murdoch of Beith Harriers, came to train at the park. Someone said that they had a boy who could run the legs off both of them. We did 25 laps and I did seem to have them puffing a bit!" The youngster was promptly recruited by Beith Harriers, where he came under the auspices of trainer Tom Maxwell. Jack Millar, National Novice Champion of 1929, once told that Allwell would leap over high fences even though leading by half a mile. It obviously helped that he was relatively tall for a distance runner (5 ft 10¾ in or 180 cm), lithe and long-limbed. In 1990 Allwell also recounted how he began to make his mark as a young runner at Beith. "I remember running against Tom McAllister [a founding member of Beith Harriers in 1923 (sic)], who was one of the best athletes at that time, in a handicap race at Bellsdale where Beith junior football club play today," he said, adding: "I recall enjoying a victory, but they did give me 100 yards of a start!"
Allwell's athletics career really began to blossom after he joined Ardeer Recreation Club AC as a first claim in 1937, having started training seriously in 1936. Like a number of other runners from the area, he was attracted to Ardeer Recreation by the offer of a job at the I.C.I. Ardeer factory. Ardeer Recreation Club was formed in Stevenston, Ayrshire, in 1929 as the workers social and recreation club of the Noble's Explosives Factory (which later became I.C.I.). At that time, the company was in the process of expanding its operations at Ardeer and taking on hundreds of new workers. Ardeer Recreation Club catered to a variety of sports and pastimes and was central to the community. During its 1930's heyday Ardeer Rec. had notable success in junior football, rugby and athletics. The Athletic Section of Ardeer Rec. was formed in October 1936. In keeping with the times, there were men's and ladies' sub-sections; they trained on a grass track at Ardeer Recreation Ground, Stevenston, a place described by one contemporary as a "thriving hub of activity" in those days.
1937 also saw the emergence of Ardeer Rec. as a rising force in athletics. Thanks to fresh intake from Eglinton and Beith Harriers, Ardeer came literally from nowhere to place 12th in the team contest in the "National" at Redford Barracks. As a knock-on effect of Ardeer's emergence, Eglinton Harriers became defunct in 1935 and their members joined Ardeer Rec., as, incidentally, did athletes from Beith and Irvine.
In addition to Peter Allwell, Ardeer Rec. had several other well-known athletes in their ranks; notably Willie Fulton, a former winner of the South-Western District cross-country championship; Dan Mulholland, a noted hill and cross-country runner; Charlie Wilson, formerly of Irvine, a four-time winner of the Ben Nevis Race; and Margaret Monie McDowall, who was just 17 years old when she represented Scotland at the 1938 British Empire Games in Sydney. McDowall won a string of S.A.A.A. sprint titles between 1937 and 1939 and set up Scottish records for 100 yards and 220 yards of 11.2 secs and 25.8 secs respectively. In fact, it is thought that she was coached by Peter Allwell whose role-model status and teaching aptitude saw him elected trainer at the Ardeer club's 1937 A.G.M.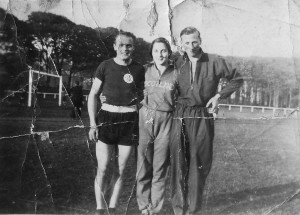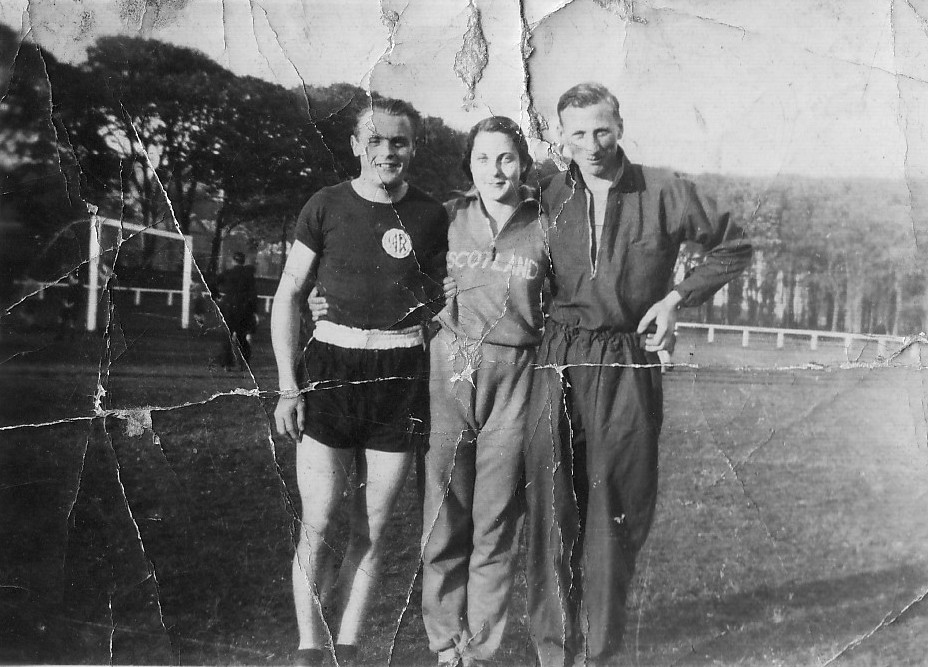 Pictured at Ardeer Recreation Ground (left to right): Willie Fulton?, Margaret McDowall and Peter Allwell.  
Cross-country 
With no more than a couple of pack runs a week with the Beith Harriers, Allwell was never going to set the athletics world alight. Even so, he gave a glimpse of his potential when he finished 10th in the Scottish Novice Cross-country Championship at Hamilton on 3rd November 1934. Then, on 26th November, he ran the third fastest lap in the South-Western District 10 miles relay championship at Largs and, in doing so, helped Beith Harriers wrest the coveted title from Greenock Glenpark Harriers.
On 2nd February 1935, Allwell continued his form by running 2nd to Alec McDonald, Auchmountain Harriers, in the South-Western District Cross-country Championship at Beith, 40:23 to 40:41.
However his form was up and down that season, mostly down in fact. After a spell with the Beith Harriers' "B" team, however, he bounced back to form late in the season to finish 2nd behind Willie Murdoch in the Beith Harriers' annual seven-mile championship.
Beith Harriers officially opened their 1935/36 cross-country season with a five-mile cross-country race for the Crawford Cup, and Allwell became the first holder of the trophy.
On New Year's Day 1936, he finished only 16th in the 1936 Beith Harrier's race, some two minutes behind Jimmy Flockhart, Shettleston Harriers, who covered the six mile course in 33 mins 34 secs, but won first prize in the open ballot team race. In those days teams of three were selected by ballot, which meant that luck of the draw ultimately decided who won the team prizes – an egalitarian idea which then was quite popular as it gave slower runners a shot at glory. The race still exists to this day and is one of the longest-running annual fixtures in the Scottish racing calendar. In Allwell's day it was a prestigious event which was always well-attended by runners from big Glasgow clubs like Plebeian, Shettleston, Bellahouston, Maryhill and Victoria Park. A list of winners can be found here: www.arrs.net/HP_Kilbirnie4.htm
Ten days later, Allwell was in the running for victory in the Ayrshire Cross-country Championship at Ayr Racecourse, which proved one of the most exciting on record with just 47 seconds separating Maxwell Stobbs, the winner in 43:11, from J. Calder the twelfth man. Beith's Willie Murdoch was 2nd past the post in 43:12 and Allwell 5th in 43:21.
On 10th February 1936, Allwell showed further improvement by finishing runner-up to Kilbarchan's Willie Kennedy in the South-Western District cross-country championship at Inchinnan, and over half a minute ahead of Willie Murdoch. Beith Harriers, led home by Allwell, became the first club to win the team contest since the race was instituted in 1930.
The 1936/1937 cross-country season got off to an auspicious start on 5th December 1935 when Beith Harriers returned victorious from the Ayrshire Cross-country Relay Championship at Ayr. Allwell ran the first leg and recorded the 7th best individual time of 18 mins 2 secs to give Beith a 75-yard lead over new club Ardeer Recreation which they never reliniquished.
Later that month, Allwell finished 2nd in the Beith Harriers' club championship for the Watson Cup, which was run off on Boxing Day. He finished about 150 yards behind Jim Barr who covered the 8 mile course in 46:16 to 46:44 for Allwell.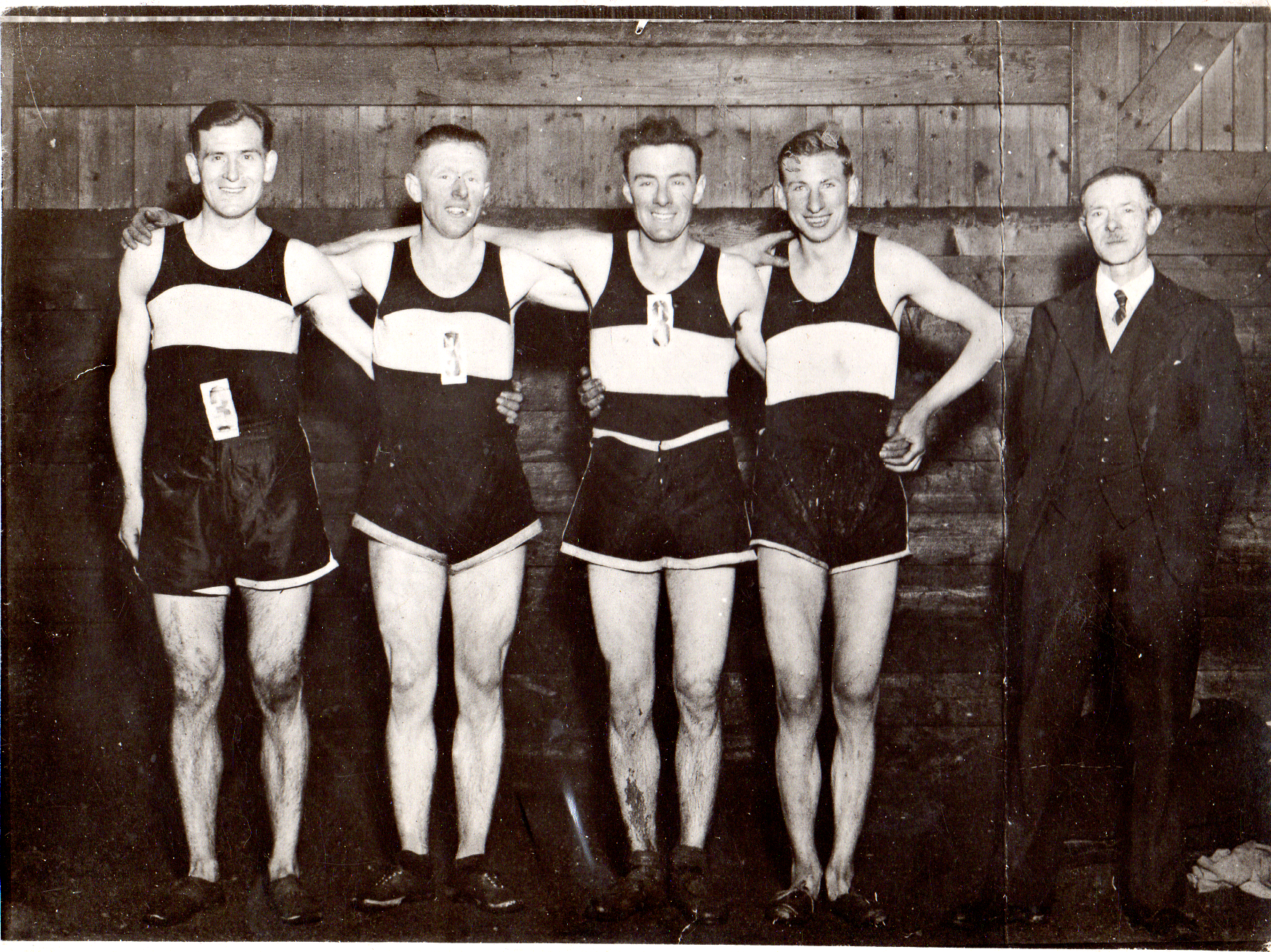 The winning Beith Harriers team in the 1936 Ayrshire cross-country relay championship (left to right): Jim Barr, George Murdoch, Willie Murdoch, Peter Allwell. 
Although this performance was solid enough, it gave little indication of the breakthrough Allwell was about to achieve just six days later in the 1937 New Year's Day race at Beith which was run over a two-lap, six-mile course starting and finishing at Gateshead near Kilbirnie. Allwell went straight to the front and made a hot pace which not even the Scottish champion Jimmy Flockhart, of Shettleston Harriers, seemed able to follow, with the result that he had a 40 yard lead over Flockhart at the end of the first lap. The Ardrossan and Saltcoats Herald explains what happened next: "Although Allwell held a commanding lead at half distance, and still had when crossing the road a mile round on the second lap, few of the spectators considered he would hold it till the finish against the more fancied Shettleston runner who was looked on as a sure winner. When the runners came into view less than half a mile from the finish, it was seen that the local man had increased his lead, and he broke the tape 150 yards ahead of the champion." Individual placings: 1, P. Allwell (Beith H.) 32:56; 2, J.C. Flockhart (Shettleston H.) 33:17; 3, W.C. Murdoch (Beith H.) 33:18; 4, W. Nelson (Maryhill H.) 33:50; 5, G. Murdoch (Beith H.) 33:59
What a turn-up for the books that was! "Allwell's performance," wrote the Herald, "was a revelation of speed and stamina which surprised Flockhart".
It is worth noting that Flockhart would go on to win the International Cross-country Championship a few months later. A crushing defeat on Ne'ers Day at the hands of a relative unknown may have been just the spur he needed!
After that bombshell, Allwell's only early-season result of any note in 1937 was a 15th-place finish for Beith Harriers in the Ayrshire Cross-country Championship at Irvine on 20th February. Beith's Willie Murdoch won the individual title and Ardeer Rec. the team contest on that day. It was to be his last race in the Beith Harriers' vest before he switched allegiances to Ardeer Recreation Club AC because, for some reason, he was not in the Beith Harriers team which finished 5th equal in the national cross-country championship at Redford Barracks the following month.
When the 1937/38 winter season got under way on 2nd October 1937, Allwell led the Ardeer team to 3rd place in the Victoria Park AAC McAndrew Trophy road relay race at Whiteinch. He shared with S.A.A.A. six miles champion Willie Donaldson (Shettleston Harriers) the honour of recording the fastest individual time, both men being credited with 15 mins 53 secs. The much-fancied international champion Jimmy Flockhart was only 10th with 16 mins 32 secs.
On 21st November, Allwell led Ardeer to victory over his former club in the South-Western District relay championship at Stevenston, returning the third fastest individual time.
Then, on 10th December, Allwell helped Ardeer lift the Ayrshire 10 Miles Cross-country Relay Championship title at Kilmarnock. "P.J. Allwell," wrote Ardrossan and Saltcoats Herald , "ran a magnificent race and virtually won for Ardeer, for, when he handed over to his team mate, he held a lead of 300 yards over his nearest opponent. He also secured the fastest lap honour."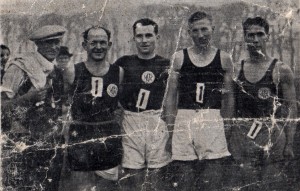 Ardeer Recreation Club, 1937: SW District Cross-Country Relay Champions: Willie Fulton, JG Wilson, Peter Allwell, G Maxwell
 On 1st January 1938 Allwell retained his title in the Beith New Year's Day race, which for the first time since its inception in 1928 was run as an open ballot relay team race. There were 13 teams competing and, in all, 39 runners were engaged. Allwell ran the first lap for his team and, finishing 80 yards ahead of Alec McDonald, Auchmountain Harriers, clocked 12 mins 36 secs for the 2 miles 955 yard (4.1 km) course, to smash the previous record of 13 mins 20 secs, held by George Murdoch, of Beith. As far as is known, his course record was never beaten.
Four weeks later Allwell won his club's cross-country championship at Stevenston, and followed up on 19th February with a hard-earned victory in the Ayrshire Cross-country Championship over a distance of seven miles at Benwhat, the remote hilltop village near Dalmellington where Doon Harriers were based. Beith won the team race and in a close finish Allwell beat 18-year-old prodigy Bobby Reid, of Doon Harriers, for the individual title by the slender margin of two yards. A couple of weeks later, Reid would defend his Scottish youth three miles' championship at Ayr with embarrassing ease. Incidentally, anyone trying to find the village of Benwhat on a current map will look in vain. The villagers were resettled in the early 1950's and later all the buildings including the school were demolished. Today, the only traces of this once thriving mining community are some scattered remnants of building foundations and a war memorial on the hillside above Dalmellington.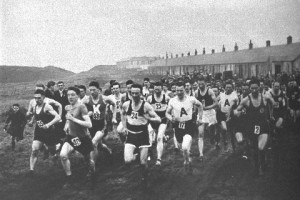 Start of the 1938 Ayrshire Cross-country Championship at Benwhat. Bobby Reid (40) and Peter Allwell (1) are already well to the fore.
 This relatively minor win aside, Allwell sprung a big upset in the Scottish Cross-country Championship at Ayr Racecourse on 12th March. Running with the confidence of a seasoned campaigner, he was in the leading group right from the go and cut out the pace for stretches of the gruelling 9 ½ mile course to claim 3rd place behind Emmett Farrell, of Maryhill Harriers, and Alec Dow, of Kirckaldy YMCA. Allwell was on his last legs at the finish, the distance being the furthest he had ever raced, but what a breakthrough it was!
Result: 1, Emmett Farrell (Maryhill H.) 52:26; 2, Alec Dow (Kirkcaldy YMCA) 52:55; 3, Peter Allwell (Ardeer Rec.) 53:18; 4, Tommy Gibson (Bellahouston H.) 53:25; 5, Tommy Lamb (Bellahouston H.) 53:32; 6, Jimmy Flockhart (Shettleston H., holder) 53:40; 7, James Freeland (Hamilton) 53:44; 8, Archie Craig (Shettleston H.) 53:46, 9, Alex Donnett (Dundee Thistle H.) 54:01, 10, David Cockburn (Dundee Thistle H.) 54:23, 11, Willie Fulton (Ardeer Rec.) 54:28, 12, Jim Ross (Shettleston H.) 54:28
Ardeer Rec. were the surprise package, finishing 4th in the team contest behind Maryhill, Shettleston and Bellahouston and ahead of well-established harrier clubs like Springburn, Plebeian, Victoria Park, Garscube, Edinburgh Southern, Clydesdale etc.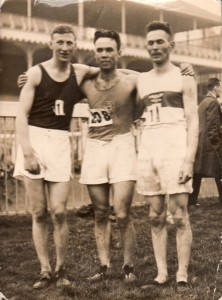 (Left to right) Peter Allwell, Emmett Farrell and Alec Dow (Ayr, 1938).
A couple of days later, Allwell was duly selected by the Scottish Cross Country Union to wear his country's colours in the International Cross-country Championship at Balmoral Showgrounds, Belfast, on 2nd April 1938. A second Ardeer man, Willie Fulton, 11th at Ayr, was named as a non-travelling reserve. The under-strength and largely inexperienced Scottish team went to Belfast with only outside chances of a team medal given the absence of experienced Anglo Scots such as Robbie Sutherland or W.C. Wylie and the fact that reigning international champion Jimmy Flockhart was not fully fit. Scotland, led home by Emmett Farrell in 8th, in fact finished only 5th in the team contest – their worst showing since the inception of the championship in 1903. The performance of Jimmy Flockhart was symptomatic, the Scottish captain running one of the poorest races of his career to finish only 37th. Allwell was said to have been very nervous, which was understandable given the circumstances, but acquitted himself well in heavy conditions unsuited to his loping running action and was the fifth counter for his team. England once again provided the individual champion in Jack Emery , who won by 19 seconds in 49:57.
The placings and times of the Scots were: 8, Emmett Farrell, 50:59; 24, Archie Craig, 51:57; 24, Alec Dow, 52:07; 27, Tommy Lamb, 52:21; 36, Peter Allwell, 52:35; 37, Jimmy Flockhart, 52:38. Unplaced: 44, James Freeland, 53:02; 45, Tommy Gibson, 53:03; 47, Alec Donnett, 53:19. 
When the 1938/39 cross-country season began in earnest on 3rd December 1938, Ardeer were beaten into 3rd place in the South-Western District 10 miles relay championship by Beith and Doon Harriers at Benwhat. Allwell (15:37) returned the second fastest individual time behind Bobby Reid (15:29), the Doon youngster of whom great things were already being predicted.
Allwell had little difficulty retaining his senior club championship at Ardeer House on 28th January 1939. Covering the seven-mile course in 35:37, he defeated Willie Fulton by a margin of 1 min 34 secs. "Allwell is running well at the moment," wrote the Ardrossan and Saltcoats Herald, adding "and on present form stands a good chance of winning the national event in March".
But as Allwell found out in the county cross-country championship at Ardeer House on 11th February, his main rival for national honours was a fellow Ayrshireman. The Ardrossan and Saltcoats Herald takes up the story: "Before the start of the race there were many, including myself, who thought that the individual championship would be won by P.J. Allwell, who has been running very well this year. These ideas were shattered when R. Reid, of Doon Harriers, ran a brilliant race to win comparatively easily from Allwell, who finished about 100 yards after the younger man. Reid`s victory over a runner of Allwell's calibre shows what may be expected from this brilliant youth. He is definitely amount Scotland's best and should win the national title at Lanark to-morrow week. Of course, Allwell will be there also."
The 1939 Scottish Cross-country Championship, held over a course of 9 ½ miles at Lanark Racecourse on 4th March, went by the form book. Allwell produced an outstanding run to finish 2nd behind his new-found nemesis Bobby Reid, who annexed both the junior and senior titles. The young Doon Harrier produced a phenomenal performance, making light work of the heavy turf to win by some 200 yards. It actually was the first time that Reid had raced a greater distance than seven miles and his first test against the entire array of Scotland's experienced distance runners. Allwell in turn passed the finishing post about 200 yards ahead of the holder, Emmett Farrell, and in so doing added a coveted S.C.C.U. individual medal to his growing collection.
Result: 1, Bobby Reid (Doon Harriers) 53:07; 2, Peter Allwell (Ardeer Rec.) 53:44; 3, Emmett Farrell (Maryhill H.) 54:23; 4, Archie Craig (Shettleston H.) 54:27; 5, Jim Ross (Shettleston H.) 54:31; 6, Bob McPherson (Maryhill H.) 54:39; 7, Willie Kennedy (Kilbarchan AAC) 54:45; 8, Jimmy Flockhart (Shettleston H.) 54:46; 9, Willie Sutherland (Shettleston H.) 54:49; 10, Alec Donnett (Dundee Thistle H.) 55:01; 11, Tommy Gibson (Bellahouston H.) 55:05, 12, Alec MacLean (Greenock Glenpark H.) 55:19
After the previous year's 4th-place finish, Ardeer Rec. produced another strong team performance to place 7th out of 23 teams.
"Versatile P.J. Allwell, of Ardeer, who was second," prophesied "D.B.R.", "gave a fine display, and one that deserves high commendation. On track and across-country, Allwell is a power to be reckoned with in Scottish athletics."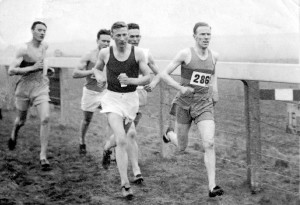 Left to right: Archie Craig, Emmett Farrell, Alec Dow and Willie Sutherland (Lanark, 1939).  
 The first nine runners to finish in the national formed to the Scottish team for the international contest at Cardiff on 1st April 1939. The atmosphere was somewhat more upbeat than in the previous year, with Scots hopes largely resting on the shoulders of Bobby Reid.. "Scotland's men," wrote W.B., "are out to regain prestige after the collapse which last year left them in fifth place. We have a hopeful team, with good leaders and able supports. All are more than plodders, and have the pace for the light going such as the Ely Racecourse is expected to give." Allwell, in particular, found the light conditions to be in his favour and produced a storming run to finish 23rd. The Scottish team, led home by Emmett Farrell in 7th, packed well with all six counters finishing in the top thirty, but were unfortunate to miss out on a team medal by a tantalising five points. Luck was not on their side: unfortunately, Scots prodigy Bobby Reid was well below par after sustaining nasty burns in the Dallmellington Co-op bakehouse where he worked as an appentice and failed to even make the counting six. England's Jack Holden won the individual title for a record fourth time in 47:19.
The placings and times of the Scots were: 7, Emmett Farrell, 48:21; 12, Jimmy Flockhart, 48:48; 22, Bob McPherson, 49:17, 23, Peter Allwell, 49:20; 27, Willie Sutherland, 49:31, 29, Jim Ross 49:35. Unplaced: 31, Bobby Reid, 49:43; 54, Willie Kennedy.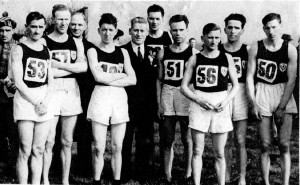 Left to right: Jim Ross, Willie Sutherland (captain), W.S. McCarthy (President S.C.C.U.), Bobby Reid, S.C.C.U. official, Archie Craig, Emmett Farrell, Jimmy Flockhart, Willie Kennedy, Peter Allwell (Cardiff, 1939).
 The outbreak of the war later that year mean that Allwell was regretably unable to gain any further Scottish cross-country caps. Ironically, the 1940 International Cross-country Championship had been awarded to Scotland and would in all likelihood have been decided virtually on his doorstep in Ayr. 
On the track
Despite Allwell's record of success in cross-country, he rarely raced beyond two miles on the track. Nevertheless, his track career merits special attention.
Allwell's earliest track result of any note was a 2nd place finish in the 1936 Ayrshire mile championship. However his track career did not begin in earnest until 1937, and it was meteoric.
On 12th June 1937 he produced an outstanding performance in the Babcock & Wilcox Athletic Club sports at Renfrew. The Scotsman led with the heading "Ardeer man's fast time in the mile handicap" and wrote, "Running off the short mark of 65 yards in the open mile handicap, P.J. Allwell, Ardeer, worked through a large field, to win the fast time of 4 mins 13.7 secs." This incidentally works out at 4:06.4 for 1500 metres.
Two weeks later he made his mark in the S.A.A.A. mile championship at Hampden Park where he ran in the mile representing Beith Harriers, and not Ardeer. There were eleven entries and Allwell finished 2nd sixty yards behind Maryhill`s Bobby Graham in around the standard time of 4 mins 30 secs.  
On 3rd July, Allwell notched up another win in the confined mile handicap in the Ardeer Recreation Club's annual sports with a 4:34.8 scratch clocking in rough conditions.
Then, on 8th July, he took on, among others, James Stothard in a mid-week mile race at Craiglockhart and gave the Scottish half-mile record holder something to think about in returning a time of about 4 mins 28 secs. "Allwell," wrote the Scotsman, "cut out the pace until the last , when Stothard took command to win by about eighteen yards. Time: 4 mins 24 7-10 secs." Two days later, Allwell was back in action in the invitation mile in the Ayr A.C. sports. The Ardrossan and Saltcoats Herald reported: "P.J. Allwell, who has been hitting the high spots of late, ran a splendidly judged race to finish first in 4 minutes 20 1-10th seconds". Then on 19th July he continued his winning form with another strong performance in the Maryhill Harriers' Sports at Largs where he won the 3000m handicap at a canter from Beith's Willie Murdoch in 9:00.5 off 84 yards.
These performances earned Allwell an invitation to run in the invitation mile at Clyde F.C. Sports, held at Shawfield before a large crowd of 12,000 spectators on Saturday 31st July. Allwell (off 20 yards) proved his worth by finishing a close 3rd behind England's Reg Thomas (who ran on to complete the full mile in 4:15.0) and 12 yards behind Bobby Graham (4:18.5) in around 4 mins 21 secs. The invitation events were the feature of the major athletics meetings held in Glasgow between May and September and were run separately from the open races. For Allwell to have reached this standard within such a short space of time was pretty remarkable in itself, but also indicated that there was more to come.
Allwell kicked off the 1938 track season with an impressive win in the invitation three-quarter mile handicap in the Maryhill Harriers' Sports at Firhill on 23rd May. Starting with an allowance of 20 yards, he won by 25 yards from Springburn's W.R. Struthers (38 yds). His time of 3:13.8 was an excellent performance considering the six-laps-to-the-mile grass track. Bobby Graham, making his first appearance in an open meeting since his return from the Empire Games in Australia, was still a little rusty and finished 3rd off scratch in 3:16.8. "Graham showed up well for two laps and at one period looked a probable winner," wrote athletics columnist Ggroe, "but P.J. Allwell, Ardeer, to whom he was conceding 20 yards, opened out over the last lap to finish strongly, fully 25 yards in front of Graham."
Five days later, Allwell posted a 9:10.0 off 45 yards in the two miles handicap in the Monkland Harriers' sports at Coatbridge, prompting speculation that he could be in the running for a Scottish two-mile record. The Daily Record identified Allwell as "the pick of the runners in the two miles," adding: "From the short mark of 45 yards he sailed along with consummate grace to make short work of the generous handicap allowances given to men like J.E. Farrell, W. Sutherland and A. Craig (Shettleston), and J.N. Lapraik (Glasgow University). He had all his field practically at a mile to go, and ultimately raced home a victor from A. Craig (to whom he conceded 105 yards) in the excellent time of 9 min. 10 sec. Given an early opportunity on a good track, Allwell is certain to get close to the present two mile record figures of 9 min. 17 sec." "P.J. Allwell, Ardeen Recreation Club," wrote The Scotsman, "revealed unexpected improvement on last year's form when winning the two miles handicap at Monkland Harriers Sports, held at Cliftonhill Park, Coatbridge, on Saturday. Allowing for his 45 yards start, his time of 9 mins 10 secs is almost equal to the Scottish record set up last year at Cowal Games by Robert Graham (Maryhill Harriers). The Ardeer man's feat was more exceptional in view of the conditions. Rain fell heavily, and the track, on grass, measured six laps to the mile. If he concentrates on the three miles, Allwell holds outstanding prospects in the Scottish A.A.A. championships."
On 2nd June in the Atalanta v Western District meeting at Westerlands, Allwell finished the length of the straight ahead of Bellahouston's Jack Gifford in the mile in 4:33.5.
Two days later he was back in action at the Balmoral Grounds in Belfast, having been invited to run for Scotland at the Royal Ulster Constabulary international sports meeting against athletes from England, Scotland, Germany, Eire and Northern Ireland. The event was broadcast live on radio and Allwell added to his new-found celebrity by achieving the only Scottish victory in the mile in which he defeated, among others, England's Bernard Wright in 4:30.4. The Herald ran its report on the meeting with the heading "Scot's victory at Belfast, P.J. Allwell wins mile race". "P.J. Allwell, the Scottish athlete who recently won the three-quarter mile handicap at Maryhill Harriers' sports and the two miles invitation race at Monkland Harriers' sports, further distinguished himself on Saturday by winning the mile. That was the only Scottish success."
Allwell ran the three miles, and not the mile, in the S.A.A.A. championships at Hampden on 25th June. Despite having no prior form over this distance, he was regarded as one of the favourites alongside holder George Carstairs, Edinburgh University; and the in-form Jackie Laidlaw, Edinburgh Northern, who had clocked a fast 14:41.2, missing Tom Blakely's native record by just 8.2 seconds, at Craiglockhart only ten days earlier. Here is how the race unfolded according to the Herald: "Expectations of spirited challenges and counter-challenges in the three miles were realised for half of the distance, when P.J. Allwell and J.P. Laidlaw endeavoured to outmanouevre G.M. Carstairs, Edinburgh University. Neither of his rivals, however, had the pace to equal the champion, and when he applied pressure in the third mile he soon disposed of his challengers. Running on strongly on his own, he won by fully 150 yards in excellent time indeed, when the force of the wind against him in the home straight is considered." Ultimately, then, it was a cut and died decision in favour of Carstairs, who clocked 14:40.8. Laidlaw was 2nd in 15 mins 6 secs. Allwell, 3rd, gained a standard medal by running exactly 15 mins 15 secs.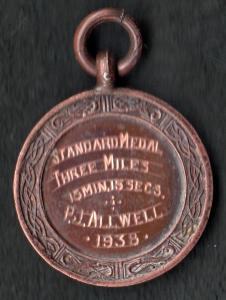 Allwell clearly did not produce his best form in the national championships but rediscovered it three days later in the Glasgow Transport Sports at Helenvale Park where he defeated S.A.A.A. mile champion Bobby Graham for the second time that season to win the mile-and-a-half mile scratch race by five yards from Graham in 6:54.8. But for adverse weather conditions (heavy rain and a sodden track), the British record of 6:36.5 set by Tommy Riddell at the same venue in 1935 would have been in jeopardy.
On 2nd July, Allwell defeated Emmett Farrell, the S.A.A.A. six miles' champion, by almost fifty yards in a two-mile team race at Ardeer Recreation Club's annual sports in a good time of 9:35.5.
On the evening of Tuesday 5th July, after work, Allwell dashed up to Glasgow for the 7 p.m. start and did what he had been threatening to do all year. Running off scratch in the two miles handicap in the Shettleston Harriers' meeting at Helenvale Park, he made up big handicaps on the entire field but was just beaten by Shettleston's Jim Ross, off 120 yards, who produced a great burst approaching the line and just managed to overhaul Allwell. Allwell's time of 9:13.4 was a Scottish record, 3.9 seconds inside Bobby Graham's national record set at Dunoon the previous year.
Allwell maintained his form streak in the invitation mile handicap in the Dundee Police Sports at Den's Park on Saturday 9th July. Running from a virtual scratch mark of 10 yards and conceding Jackie Laidlaw 20 yards, he worked his way through the field to take 2nd, five yards behind Laidlaw, 4:20.6 to 4:21.6. "Considering the five laps to the mile grass track and the stiff wind blowing down the home straight," wrote the Evening Telegraph, "these performances are very good indeed."
On the evening of Tuesday 12th July, he rounded of a few hectic weeks by running a leg in the winning one mile medley relay in a triangular contest at the Ardeer Recreation Grounds between Ardeer Rec., Ayr A.C. and Kilmarnock Harriers.
On the strength of his performances Allwell was subsequently selected to represent Scotland in the mile in the triangular athletic contest against England and Ireland at Dublin on 23rd July. It was his biggest track race to date, and he rose to the occasion by finishing a close 3rd behind England's Jim Alford and Jack Gifford. The times were excellent: 4:20.6 for Alford, 4:22.0e for Gifford and 4:22.4e for Allwell. Despite stand-out performances by Dick Littlejohns in the half-mile, Jackie Laidlaw and Peter Allwell in the mile and an Irish record of 14:29.8 by George Carstairs in the three miles, the Scots team was missing a number of leading athletes and unfortunately finished last.  
Allwell was later invited to run in the Glasgow Rangers' Sports at Ibrox on 6th August, where he started off 54 yards in a specially framed 1500m handicap, which had been billed as an attempt by Sydney Wooderson on Jack Lovelock's world record of 3:47.8. The bespectacled Englishman failed to get the world record after running the first lap too quickly, but salvaged a British record of 3:49.0. Allwell was unplaced.
On the strength of his performances in the 1939 national and international cross-country championships, it had been widely anticipated that Allwell would be a contender for the S.A.A.A. 10 miles' championship. What the pundits didn't know, however, was that Allwell had enlisted with the Territorials – The 6th Battalion, The Royal Scots Fusiliers, to be exact – on 18th March 1939. During the spring and summer of 1939 with war clouds gathering, recruitment drives were a common feature across the country and taking in volunteers in record numbers. It was a difficult decision made by conscience, and it effectively stalled his running career and put paid to any hopes he made have had of winning an S.A.A.A. track title.
Allwell continued to work as normal at I.C.I. after undergoing basic training with the territorials, and attended for military duty as required. Even after his enlistment, he managed to get a few races in before finally being called off to war. His first competitive track outing of any note in 1939 was in the S.A.A.A. three-mile championship at Hampden on 24th June where finished outside the medals behind defending champion George Carstairs, who claimed his 3rd successive title in 14:41.2. As in the previous year, Allwell gained a standard medal by beating 15 mins 15 secs. His only other notable track appearance that year was in the Ardeer Recreation Club's annual sports, held in atrocious conditions at Stevenston on 8th July. Here, Allwell made up some big handicaps to win the confined mile handicap off 5 yards in 4:35.8. Later he placed 2nd behind Bobby Graham in the two-mile team race, where he led until the last lap when Scottish mile champion sprinted away to win by 50 yards, 9:40.4 to 9:50.0. The Herald reported that Allwell had just returned from the fusiliers' annual camp, where he had gained quite a collection of awards at the camp sports, but otherwise gave no details.
The war and after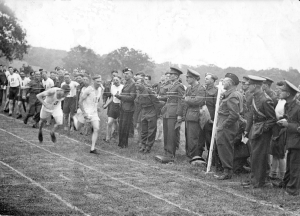 The 6th Battallion, Royal Scots Fusiliers 1939-46 by T.M. Gemmell contains an anecdote about a cross-country run involving Allwell in basic training: "It was decided that with a few hours' training the duplicate Battalion would mount a guard before the end of camp. It must have been the crushing win of a slim young Fusilier from Saltcoats in the cross-country race that gave them this presumptious idea. Long before anyone was expected a figure appeared all by himself on the brow of a hill; "he must have cut a corner" was everyone's reaction, for it was not realised that Fusilier Allwell was a Scottish two mile record holder. Minutes later the rest of the field appeared."
After the declaration of war against Germany in September 1939, the 6th Battalion, RSF were among the first units to see action in France as part of the British Expeditionary Force and fought a rear guard action after the evacuation from Dunkirk in 1940. Allwell suffered a bullet wound which left a nasty scar but otherwise survived unscathed. His skills as a Bren gunner saw him promoted to Corporal in early 1940, and then to Sergeant a few months later. On his safe return to England, he was stationed at Colchester, where he met Prime Minister Winston Churchill, who was accompanied by his wife when he visited the barracks in February 1941. Allwell was subsequently seconded to train the RAF Regiment at Grantham, Lincolnshire, where he spent the rest of his service as a Bren gun instructor. This was a more dangerous occupation than it sounds, because the new recruits trained with live ammunition!
During the last years of the war with the Allied advance well under way in Europe, Allwell represented his battalion with distinction in athletics. There being a keen rivalry between service units, and especially between the British and other Allied Forces, his services as a runner were highly valued; in fact, he was something of a legend within the RSF. His win in the mile flat race in the Infantry Division Army Athletic Championships at Balmoral on 1st August 1945 is particularly noteworthy.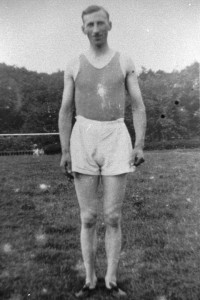 Peter Allwell photographed in c1945  
After he was demobilised, in 1946, Allwell turned professional. In any case, Ardeer Recreation AC was no more. For the next couple of years, he competed variously as "P.J. Allwell, Ireland" and "P. Allwell, Kilbirnie". In these times of hardship and austerity any prize money winnings would have been a welcome addition to the family finances. Even though well into his thirties, Allwell showed that he still had a lot of running left in him. Despite starting almost invariably from the scratch mark, he won a string of races, such as the two miles handicap at the 1946 Strathallan Games. Times were seldom kept, let alone reported, for the footraces at professional meetings, which is a shame because he is said to have eclipsed his Scottish amateur two-mile record. This, incidentally, stood until 30th June 1953 when Alex Breckenridge, of Victoria Park A.A.C., lowered it to 9:05.6 at Helenvale Park.
His great rival Bobby Reid settled in Birmingham after the war, where he joined Birchfield Harriers, and competed for Scotland in the International Cross-country Championship for another seven straight seasons between 1946 and 1952.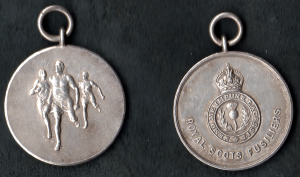 Allwell's Army Medals
In 1946 Allwell began training physiotherapy and chiropody in Glasgow and subsequently opened a chiropodist's salon in Saltcoats, which he ran until the 1960's when he joined the Health Board and became chief chiropodist in Paisley, retiring in 1978.
Even after his retirement from competitive athletics, Allwell kept up an avid interest in the sport and captained the Boys Brigade in Saltcoats in the late 1950's and 1960's, organising races and officiating at B.B. cross-country championships across Scotland until the 1970's.
In addition to his involvement in athletics, Allwell lent his expertise as a runner and physio to training Saltcoats Victoria F.C. and Irvine Meadow F.C. during the 1950's and was instrumental in helping the Saltcoats Vics to lift the Irvine & District Cup in 1953.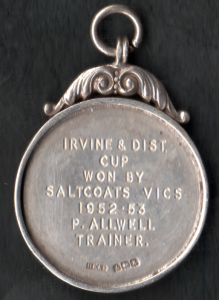 Allwell was married to Dorothy Young at Troon in 1941 and the couple had two children. The sporting gene evidently ran in the family for although neither of his children took up athletics seriously, his son was an international sea angler in the 1970's. A versatile man, Allwell became treasurer of the Saltcoats Sea Angling Association.
Allwell kept his ties with Beith Harriers and often presented the prizes when invited by the club's Secretary, Jim Swindale. The people of Ayrshire never forgot his services to athletics. In 1990 he was invited to attend the centennial celebration of the Scottish Cross Country Union at Irvine as a guest of honour and, despite his failing health, happily attended just months before he passed away at Saltcoats a couple of months after his 77th birthday. Thus ended an eventful life of a man whose meteoric athletics career marked a still under-documented chapter in the history of the sport. 
Alex acknowledges the assistance given by Kenny Phillips of Beith and Peter Allwell, son of the athlete.