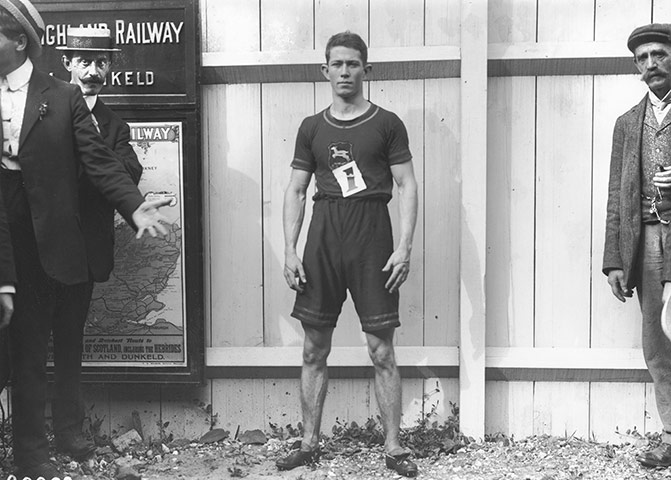 The photograph above is of Reginald Walker, the South African who won the Olympic 100m in 1908 and equalled the world record of 10.8 seconds.    He was only 19 at the time and later in the same year he equalled the world record of 11.4 seconds for the 120 metres.   He wrote the first ever textbook on sprinting in 1910.
Now, in the twenty first century, if a sports meeting gets over 1000 spectators, it is doing well but it was not such a big deal a hundred years ago.  This page looks at the Monday sessions at Ibrox between 1910 and 1915.    Many sports meeting not only held their competitions on a Saturday but held a supplementary event on the Monday evening to which people would come after their day's work in the shipyards, the factories or wherever.   The biggest was usually the Rangers Sports and their meeting on 8th August 1910 had a crowd of about 9000.   The report in the Glasgow Herald read as follows:
"The Rangers FC concluded their sports at Ibrox Park, Glasgow, last night before a crowd that fell little short of that of Saturday, there being 9000 spectators.    The main attraction was a five-a-side football tournament in which eight teams took part, victory ultimately resting with the representatives of the ground club.   There were also two sprints on the card – 100 yards and 220 yards.   In the former both RE Walker (South Africa) and FL Ramsdell (Pensylvania University) ran, but neither of the distinguished strangers gave a very impressive exhibition.   Of the two Walker made the better appearance, Ramsdell being beaten in his heat which was won in 10 1-5th sec.   The winner turned up in AJ Coyle (St Aloysius AC) who,  off the eleven and a half yard mark had a foot advantage in a tight finish over WS Stewart, Glasgow HS, off nine and a half yards.   The 220 heats developed some fine running, the outstanding winner being the Scottish champion, RC Duncan, West of Scotland Harrier, and LJ de E Reed, South London Harriers, the latter of whom was strongly fancied for the Final.    However a surprise came with some strong running by JC Cockburn, Gala Harriers, who won in a time of 22 2-5th sec from WS Stewart.   Duncan was half a yard behind the winner while Reedfound the task too much for him."            

Henry Gissing wearing the 'winged fist' singlet of the Irish American AC
The report on the meeting of 7th August, 1911, read as follows:
"Rangers FC continued their sports last night at Ibrox Park in fine weather and in front of 5000 spectators.   The feature of the meeting was the splendid running of HE Gissing, New York and D McNicol of Polytechnic Harriers, in the Thousand Yards Flat Handicap.   Thirty three started but interest centred on the scratch men.   Entering the last lap McNicol led Gissing by about a yard and this lead he maintained until entering the straight.   The American then made his effort and, going in magnificent style, caught McNicol about 25 yards from the finish, and then caught WF Taylor, Bellahouston Harriers, off 60 yards, a few inches from the tape.   Gissing's time was 2 min 16 3-5th sec, thus creating a new Scottish all-comers' record, beating George Butterfield's time of August 1906, by one fifth of a second.   McNicol who finished third deserves all praise for the pace he set, had the satisfaction of setting a new native record  his time being 2 min 17.0 sec, which is four fifths of a second better than A Turnbull's record set in August 1909.    Another fine finish was witnessed in the 120 yards flat handicap in which HJ Christie, West of Scotland Harriers, off three and a half yards, beat RF Duncan, from scratch, on the post."
Gissing and McNicol had both run on the Saturday where Gissing had beaten J Soutter in the invitation half mile in 1:56.2 and McNicol had been second in that race before winning heat and final of the open half-mile.   Another Monday night supplementary meeting, two more Scottish records.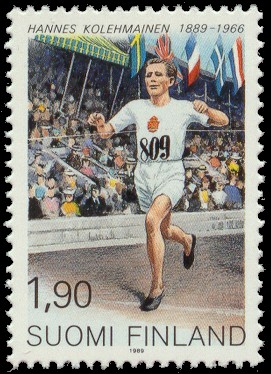 Hannes Kolehmainen
There were foreign stars present at the 1912 sports – H Braun of Germany was out in the half-mile and Hannes Kolehmainen in the Two Miles – as well as the by-now-normal presence of several of the best of English runners as a challenge to the Scots.   Braun had won silver (relay) and bronze (880 yards) at the 1908 Olympics and silver in the quarter-mile at the 1912 Olympic Games, so he was a class act to have in Glasgow.   Class he may have had but he was unable to catch Sam S Watt of Clydesdale Harriers (45 yards) or E Owen of Broughton Harriers who was second from a mark of 20 yards.   Kolehmainen had won three gold and a silver at the 1912 Olympics (5000m, 10000m, individual cross-country + silver for the team cross-country) and would win the marathon in 1920.   Another outstanding talent.   He could only finish fourth in the Two Miles invitation handicap which was won by A Craig off a mark of 160 yards.  Owen,who finished third, had fallen with two laps to go, got up again, and ran on to defeat the Finnish runner who was times at 9:51 against the record of 9:03.6 set by Shrubb in 1904    It was nevertheless a very good meeting on a cold and wet Monday evening before a crowd of 6000 paying customers.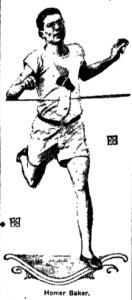 On August 3rd, 1914, there were even more top drawer athletes on the programme including Homer Baker, the American Olympian, AG Hill the Olympic middle distance runner and WR Applegarth, the superb English sprinter, but they failed to draw the crowds as only 200 spectators graced the terraces of Ibrox on a night of 'unfavourable' weather.   Results:
100 yards handicap:   1.   J Cattanach (EUAC – 10y);   2.   JM Harper (Shettleston – 10y)   9.9 sec.   [Applegarth beaten in the first heat].
220 yards handicap:   1.   Applegarth (Polytechnic – scr);   2.   J Rooney (Polytechnic – 4y)   22.8
1000 yards invitation:   1.   H Baker (NYAC – scr);   2.   SS Watt (Clydesdale – 30y);    2 min 16 2-5th sec, new Scottish all-comers' record.
One Mile handicap:   1.   AG Hill (Polytechnic – 10y);   2.   D McPhee (West of Scotland)  4:23 3-5th.
5-a-side:   Clyde beat Rangers by 2 goals and 1 corner, to 2 goals.
*