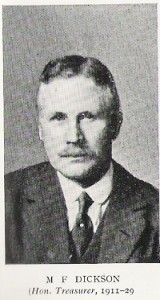 While he was a distinct character and a personality in his own right, his career as an official so closely paralleled that of A Ross Scott that it would be appropriate to look at his career too which is outlined here as well.   Matthew F Dickson appears nowhere in the Clydesdale Harriers club records for 1898/99 but in 1899/1900 as club captain as well as Team Leader for Glasgow District Number 3 and a member of the Finance Committee.   (The club at that time had sections in various areas such as Dunbartonshire, Coatbridge, Renfrewshire and so on but Glasgow was so big that it was in five sections.   Each Section had a team leader part of whose responsibilities was to report their concerns to General Committee.   The District that Matthew Dickson represented was that of Milton, Kelvin, Partick and Maryhill).    By season 1900/01 he was Treasurer plus convener of the Finance Committee which had A Ross Scott as a member.   By now he had moved to Arden Cottage in Duntocher – the house is still there but the area is designated Hardgate with Duntocher being a more restricted area than it was then.   The following year he was again holder of the three offices and doing them very well if the club handbook is to be believed when it commented in the Annual Review "With reference to the club's Financial Position it is pleasing to note a great improvement".   1902/03 was basically the same story before he became Secretary in 1903/04 which he combined with membership of the Finance and Handicapping Committees as well as team leader.
He was still a young man at this point: he had been selected to run for the club in the Scottish Junior Cross Country Championships and the Senior Championships in 1901 and was still eligible for the Junior Championship in 1902 when he was selected to run in both events again.   Incidentally it was quite an honour just to be selected for the Clydesdale Harriers team for the Championships given the strength in depth at the time.
In season 1904/05 the club clearly thought that the secretary's job was becoming too heavy and a joint secretaryship was established which he shared with Willie Gardiner (of Gardiner Quaich fame).   This was combined with convener of the Handicapping Committee, the Finance Committee and Headquarters Representative to the Dunbartonshire Section.   This was another way of keeping the club together: there were a number of these representatives and it was not sensible to have a man now living in Duntocher continuing to represent Milton.   As a bank manager who would probably have to move around during his career he would have found it difficult to be a constant representative for one area anyway.   He was then club vice president combined with the various sub committees until season 1909/10 when he was President plus Handicapping and Finance Committee member but crucially was appointed representative to the West District Committee of the SCCU.   The identical roles were filled the next year and in 1911/12 he was to add the job of SCCU representative to the SAAA.   Thereafter he followed the pattern set by A Ross Scott of making his main contribution to athletics at National level while maintaining a working role in the club.   General Committee Member plus Finance Committee Member were his contributions to the club.   There were two key differences to the career of his illustrious predecessor:  One was the fact that he restricted himself to the SAAA: he did have a longer career at National level working on until 1931.   He died in December of that year.   The other was the 1914-1918 war and the effect it had on club and country.   As in the country at large the club suffered huge losses with over two hundred members lost.   Matt Dickson put his shoulder to the wheel and did his bit for the club while still working away at the SAAA.  In season 1920/21 for instance he was on General Committee, Finance Committee and was one of the club's two auditors and, of course, representative to the SAAA.
He stayed at the SAAA and was made President in 1930 and 1931 working right up to the end.   He died in December 1931 and the obituary by his friend Tom Millar in the 'Clydebank Press' in January 1932 is reproduced below.   But first just take a look at his service to Scottish Athletics.
| | | | |
| --- | --- | --- | --- |
| | SAAA | CH | |
| 1902 | – | Secretary | 1902 |
| 1903 | – | Secretary | 1903 |
| 1904/07 | – | Treasurer | 1904/07 |
| 1908 | – | President | 1908 |
| 1909 | – | President | 1909 |
| 1910 | – | President | 1910 |
| 1911 | Treasurer | – | 1911 |
| 1912 | Treasurer | | 1912 |
| 1913 | Treasurer | | 1913 |
| 1914 | Treasurer | | 1914 |
| 1915 | Treasurer | | 1915 |
| 1916 | Treasurer | | 1916 |
| 1917 | Treasurer | | 1917 |
| 1918 | Treasurer | | 1918 |
| 1919 | Treasurer | | 1919 |
| 1920 | Treasurer | | 1920 |
| 1921 | Treasurer | | 1921 |
| 1922 | Treasurer | | 1922 |
| 1923 | Treasurer | | 1923 |
| 1924 | Treasurer | | 1924 |
| 1925 | Treasurer | | 1925 |
| 1926 | Treasurer | | 1926 |
| 1927 | Treasurer | | 1927 |
| 1928 | Treasurer | | 1928 |
| 1929 | Treasurer | | 1929 |
| 1930/31 | President | – | 1930/31 |
| 1931/32 | President | – | 1931/32 |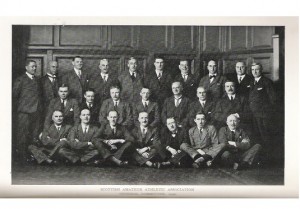 SAAA Committee, 1930: MF Dickson third left, centre row
(By the way, do you see any of the present Scottish Athletics executive sitting cross legged on the floor for an official photograph?)
Given that A Ross Scott had held the post of Treasurer from 1899 to 1911, two Clydesdale Harriers were in that post for 30 years between them.   It should be noted that although he was serving the governing body for such a long time, he still attended many Clydesdale Committee Meetings.   When the club needed him most – after the Great War, he was there.   Particular mention might be made of a report in the 'Evening Times: "There was a splendid turn –out at the annual meeting (adjourned since September 1914) of the Clydesdale Harriers.   Owing to illness the club president Mr William Gardiner was unable to take the chair and this duty was taken by Mr MF Dickson."    At the meeting MF Dickson was elected as an honorary president of the club.   He attended Committee Meetings for many years and was auditor of the club's books until 1930.    In November 1931 the club decided to buy a new stopwatch.   At the meeting on 7th December it was announced that Mr MF Dickson had donated a stopwatch to the club.   This was just over a week before his death.   The Committee Meeting Minute for 16th December 1931 said: "Obituary:   Previous to the business of the Meeting being carried through Mr J Kirkland, President, referred to the loss the club had sustained through the death of Mr Matthew F. Dickson one of our Honorary Presidents and Auditors and our representative on the Scottish Amateur Athletic Association     of which body he was President.    It was agreed that a Minute be made of his passing and our thanks for the many services he had rendered the club.   Mr J Kirkland represented the club at his funeral to the New Eastwood Cemetery."
Let the last words be Tom Millar's report of 18th January 1932:
"Last week the club suffered a severe blow through the passing of Mr MF Dickson, for many years our representative on the council of the SAAA.    He was latterly entrusted with the highest of all honours of that body – namely Chairman and President and his passing is mourned by all followers of athletics.   Manly dignity was a characteristic of the late Mr Dickson who had a Hardgate connection but as a bank manager had resided away from the district for some time.   Thirty years ago he was recognised as one of the best track distance men in Scotland and wore the CH colours with great credit to himself and the club.
In 1900-01 Mr Dickson was elected treasurer of the club and in 1911 he took charge of the finances of the SAAA.   That office was relinquished only in 1930 when he was elected President of that body.   Till his death Matt Dickson was in harness and was a proof of my words of a week ago* regarding the men who have given ungrudging service to the sport which they loved.   Mr Kirkland, President of the club, travelled to New Eastwood last Sunday to pay the last respects of the club to a comrade who has served us well."
(* In his column of 11th January he had written in an attempt to analyse what made the sport appealing and included the following short paragraph:  "Another instance which may be cited is that today we have conducting the affairs of the running world men who shone in their day and who have continued to be associated with the sport long after they considered themselves "back numbers".   They have given good service ungrudgingly to the sport which they love."     Tom Millar's amateur columns of almost 75 years ago look more professional than those of many who are paid for their opinions in the twenty first century.)
Even obtaining the highest honours in athletics over an extended period was no deterrent to continuing to work with and for the club.