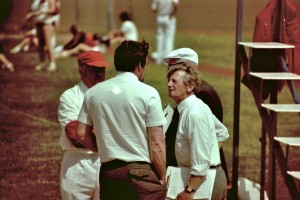 Jimmy, centre with clipboard
Jimmy Campbell was a great character who had led a wonderfully varied life – even within athletics he was a grade 1 official, a mastercoach and a top-notch administrator.    Always busy, always organised and always willing to help: on one occasion I decided that my middle distance squad needed some specialist speed input from specialist sprint coaches and Jimmy was one that I spoke to.  He was very helpful, willing to take a session with a small group and during the session he was only interested in them and the session.   On another occasion I mentioned speedball training and his enthusiasm was such that I received a full lecture – almost a master-class on the topic in the cafeteria at Crown Point!    When coaches travel with athletes to championships all over the United Kingdom, they invariably become friends and I remember there were four of us having dinner in a Chinese restaurant in Bedford and Jimmy started talking about his footballing before and during the war – one of the company was all for getting his wife, a professional writer, to do his biography.   Jimmy was having none of it.   We could all learn something from watching him work with children at coaching sessions he was in his element.   I , and I suspect that I am not alone in this, often used phrases that we had heard for the first time from Jimmy – "The baton lives in the midle of the lane" is one that GB Men's 4 x 100 teams could well take to heart!   At the other end of the scale, he could talk to international athletes and they would listen and take on board what he had to say: unlike many he would actually listen carefully to what they were saying, and address his reply to their remarks and concerns.
He was always active in the field of coach education: he had an article in the excellent but unfortunately short-lived magazine "Athletics in Scotland" explaining the coaching of sprinters with drills described, sessions given with their purposes clear which was a model of its kind.   I had it re-printed and gave many copies to athletes and other coaches.   Thre was apparently an introductory lecture to beginner athletics coaches at which he took the chalk broad-sided and wrote on the board DIVORCE and said that if they did their job properly, that was where it could lead!   Coaching is very rewarding but not an easy option and he made that clear.
Jimmy became a Master Coach – a title awarded rather than studied and examined for – and I can think of no one better qualified.   What follows is his obituary from the 'Glasgow Herald' on 24th November, 2011.
Jimmy Campbell who has died aged 92 was a dentist and sportsman for whom life was a continual process of betterment and a series of fresh challenges to be relished.   Torn between dentistry and football, he successfully combined both, signing for Celtic on the eve of the Second World War, the advent of which saw him train the guerillas of the French Resistance for action behind enemy lines and act as bodyguard to Lt Colonel Hardy Amies, later to become the Queen's couturier.
He went on to play for Leicester City, establish his own dental practice back home in Bothwell Street, join Glasgow Dental Hospital and take up marathon running as he retired while continuing to coach ghenerations of schoolchildren, runners and footballers.   Throughout it all he was supported by his wife Maryin a partnership that endured for 70 years.
He was born in Bridgeton, in the East End of Glasgow, to Annie and James Campbell, a turner in an engineering works and a former professional footballer with Reading.    Educated at Bernard Street School and Whitehill Academy – where his stammer was cured by an astute teacher who cast him as Puck in "A Midsummer Night's Dream" – his schooldays came to halt when his father arranged for him to become an apprentice dental mechanic.   Apparently he was given no choice in the matter: his family needed the income, 5/- a week initially, rising to 7/6d.   His employer was his father's friend, George Boreland, also a professional football player who had played for Hibernian and who understood his passion for the game.
The young Campbell played for St Mungo Juniors and pined to get out on the pitch on Saturdays, which was a working day at the dentist's.   His boss eventually relented and as his apprentice moved through the amateur ranks he was spotted by Celtic.   He also had offers from Aberdeen and Hearts but opted for Celtic with a signing on fee of £20 and a weekly wage of £5.
He had been encouraged by Boreland to go to nightschool and gain the qualifications required to study for the Licentiate in Dental Surgery.   The studies deferred his army call-up but only until after Dunkirk in 1940 when he was enlisted into the Royal Army Dental Corps training school at Aldershot.   He immediately won a place in the RADC football team and later made guest appearances with Aldershot, Folkeston Town, Leyton Orient and Chelsea.    Within six months of joining the Corps he took a PE course and was promoted to Corporal.   He tried to flunk his Laboratory Aptitude Test in a bid to be transferred to the Army Physical Training Corps but the move was resisted because there was a pressing need for dental technicians as many of the recruits had such appalling dental health that they needed dentures before being passed as fit for combat.   He was eventually moved to the APTC in 1942 and became a Sergeant Instructor, posted to an artiullery regiment manning the South Coast defences where he organised morale-boosting inter-battery athletic and boxing competitions and met famous footballers including Denis Compton and Stan Cullis.
Ordered, unexpectedly, to report for an interview in Montague Mansions, Baker Street, London, one of the bases of the Special Operations Executive, he was recruited and sent to its training school in Berkshire.   Having a knowledge of French he was attached to its Belgian group, under the command of Hardy Amies, and instructed members of the Maquis in  parachuting and one-to-one combat.   His final posting was to the Infantry Training Battalion of the Parachute Regiment, an experience he described as the best year of his Army career.
He had married his wife Mary whom he had met at a party in Dennistoun in 1943, and by the end of the War he was a father with responsibilities.   He had set up terms to play for Leicester City, which had provided a means of earning, but he also wanted to pursue his studies and was accepted by Birmingham University on the strength of an interview.   He graduated as a Bachelor of Dental Surgery in 1952 and returned to Glasgow, working initially as an assistant in Greenock before moving to Paisley.   In 1954 he bought the practice in Bothwell Street and was supported by Mary as his receptionist, surgery assistant and book keeper.   The practice moved to Douglas Street in 1965.   He was appointed Assistant Dental Surgeon in the Glasgow Dental Hospital's oral surgery department in 1970, initially on a part-time basis but became a full-time associate specialist in 1975.    
Meanwhile he was coaching Bellahouston Harriers and was a key figure in the Maryhill Ladies Athletic Club, coaching runners to British and Olympic standard.   He took up marathon running when he was 64 and in retirement coached footballers at Motherwell and St Johnstone, who allegedly had trouble keeping up with him on training runs.  
His contribution to sports was  marked with a special recognition award from the then Scottish Sports Council and even into his 90's he still remained active.   "He was never content to sit back," said his elder daughter Mary.   "He was always striving to move on to something bigger and better."   Campbell is survived by his wife Mary, daughters Mary and Anne, grandchildren Tracey, her brother, the US based actor Scott Speedman, Kate and Campbell and two great-grandchildren.
That's the end of the obituary and it gives a full account of his life in every sense.   The note about his active life style is well taken – someof us were talking at a West District Cross-Country Championhip at Rouken Glen in Glasgow and Jimmy had already told us that he was 77 years old at the time.   Further through the conversation he spoke about the mini circuit that he was doing every day: he emphasised that the press-ups he did were not from the floor but from the side of the bath and on occasion from the wash basin "because you can make it more dynamic from the higher position!"
Jimmy was one of the very best coaches I have ever known.   The very first issue of  'PB', the very glossy quarterly put out by Scottishathletics, in 2011 had some tributes from John Anderson, Frank Dick and Sandy Sutherland and they are reproduced below.   The article was written by Sandy who incorporates John's and Frank's remarks into it.
"Jimmy Campbell was one of those people I am glad to have known because he made me feel better about life every time Imet him; always cheery, witty, full of stories; yet such was his modesty that I never knew about his multitude of achievements, including courageous wartime service, which have been covered elsewhere far better than I could.   Who knows where his football career might have taken him had not |World War II not intervened in 1939 just after he had signed for Celtic – he went on to play for Leicester City at the end of the War – but his war-time experience as a PTI during which time he organised athletics and boxing competitions must have contributed to his later heavy involvement with our sport.   Much later, after he had moved back to Glasgow Jimmy began coaching at Bellahouston Harriers and even as late as 1994 he was assisting the Scottish men's sprint relay squad, but it was through his involvement with Maryhill Ladies AC that he really made his mark.   Two former Scottish National coaches who worked closely with him have paid these tributes:
John Anderson said: "I brought Jimmy into coaching at Maryhill Harriers when he took his daughter Mary (Speedman – a noted 800m runner who represented Scotland at the 1970 Commonwealth Games) to the club and he took over the running of the club when I moved south.   I thought I knew him well but had no idea what a rich life he had enjoyed – he was a remarkable man."
Frank Dick, who succeeded Anderson, said:  "Jimmy Campbell may not have been a physical giant but my goodness he was a thinking colossus as a coach and an inspiration and role model for many other coaches.   Countless young women achieved athletics success through his guidance at Maryhill AC head coach and there was not one sprints or middle distance coach in Scotland who did not benefit from his advice.      My personal debt to him is giving me the chance o grow as a young national coach and keep me on track when I could often have got things wrong."