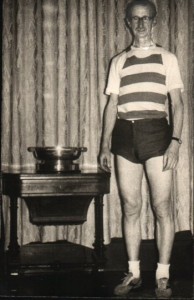 Jim Logan in 1968 with the VPAAC Christmas Handicap winner's trophy
When I started on the centenary history of Clydesdale Harriers in 1985, I was advised to contact three people for information, advice and guidance – Jim Logan was one of them.    Despite the fact that our clubs were based only three or four miles apart and our territories overlapped considerably, I had never met him.   In the event he was very helpful with a degree of insight and knowledge that I did not possess.    When I was given a collection of 'The Scots Athlete' magazines, I immediately recognised the name on many of the articles contained therein and would like to comment on his contribution to that very important publication.
The editor Walter Ross persuaded many involved in the sport to contribute to the publication and names like Emmet Farrell, George Dallas, Eddie Taylor, George Barber and Jim Logan were all frequent contributors.   Emmet Farrell was the first and best known but Jim Logan was not far behind.    The first issue appeared in April 1946 and James L Logan contributed his first article in August 1946.   His last article for the magazine was in the penultimate issue of March 1958.    For twelve years he contributed considered, thought provoking articles on a vast range of topics.   Some of the topics in his first year –
* Plea For The Pole Vault
* Specialisation Should Begin In School
* Importance Of Minor Clubs
* To Pay Or Not To Pay
*Incentive of Club Standard Awards
* The Distance Track Race
* Raise Your Sights
The one which elicited the biggest response was the one on 'To Pay or Not to Pay' on the topic of broken-time payments to athletes on international duty.   He wrote almost as many articles and wrote every bit as as well as Emmet Farrell but is not as well known.   Why is that?   Almost certainly because his friend wrote principally on cross-country and road running which was where the main interest lay in  the post war period and because Emmet could cover many items in his columns.   Jim had to do one article, one topic.   His writing was clarity itself – for example:
Look back on your own activities in the past season (and this is also addressed to those who have long since said good-bye to their teens).   Did you improve on your best performance?   If the answer is "no", then you have a worthwhile job on your hands for next season, or better still during the winter months if facilities are available then, for practice.  Unless of course you are satisfied  that you have reached your peak: that is, you have added to your natural ability the maximum of technical efficiency.   And I doubt if there are half-a-dozen athletes in Scotland who can lay claim to that." 
or
The  pole vault demands pace, spring, agility and body-power – and a dash of daring.   The man who, by some wonderful work of nature, has been gifted with all of these attributes in a superlative degree is indeed a superman: in fact another Warmerdam.    But we are not concerned with supermen.   We are considering the opportunity which exists for a young Scotsman to make his mark in home athletics.    The important factor in the pole vault is the co-ordination of the athlete's resources.
It is all so clear that it appears obvious – and that's the quality of his writing.    Logan the writer will be mentioned below in other contexts but the essential facts were there, and amplified, in his early writing in The Scots Athlete'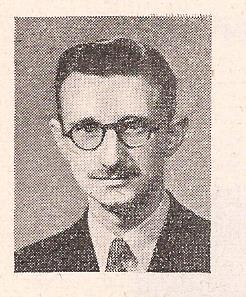 Jim's 'Scots Athlete' photograph
Colin Youngson was a friend of Jim's when he ran with Victoria Park.     He contributed the following profile.
When he died on 28th February, 1974 at Gratnavel Hospital, Jim Logan was only 56.    He had been active in Scottish athletics for over thirty years as a writer, coach, judge and, as a veteran, competitor.   As an athletics writer, Jim enhanced the pages of many national and local papers, 'The Scots Athlete', 'Athletics Weekly' and 'Athletics in Scotland'.    His name was synonymous with scrupulous accuracy, perception and entertainment.    A more knowledgeable writer on the subject of athletics (particularly Scottish athletics) would be extremely hard to find.   Jim wrote club articles in the local 'Milngavie and Bearsden Herald', reports on meetings, athlete profiles and technical coaching articles for the 'Scots Athlete', reports, factual articles and thought-provoking pieces for 'Athletics Weekly'     He also wrote fiction as one of D.C. Thompson's anonymous writers of sports stories for the boys' papers 'The Hotspur' and 'The Adventure'.
As a coach of long and triple jumping, Jim not only recruited, coached and trained athletes for his club, but also supervised SAAA coaching sessions for many years at Nethercraigs.   These were excellent sessions staffed by many of the best coaches in the land with guest coaches travelling up from England to contribute their knowledge.    Jim's lifetime of service to athletics as coach and official was rewarded in 1970, when he was appointed as a long jump judge for the British Commonwealth Games in Edinburgh.
It was due in no small measure to him that Victoria Park AAC emerged as a formidable force in horizontal jumps during his time.    Athletes like David Hay, Ron Fullelove, Colin Watson and Peter Cameron all reached top class under Jim's guidance.
 Then at the age of 50, he took up active athletics and actually won his club's Christmas Open Handicap for the Jimmy McClure Trophy. He took pride in completing the course in a fifteen mile road race and at one stage had a secret ambition to run a marathon in 4 hours.   
Colin  Youngson adds: I ran for Vicky Park between 1971 and 1973. As an improving young senior distance runner, it was a novelty to find that a reasonable race performance could be applauded in print! I remember Jim Logan as unfailingly polite, interested, sympathetic and very encouraging. His athletics column in the local newspaper – The Bearsden and Milngavie Herald – regularly praised VP members to the skies, when even good Scottish-standard results might earn a grudging aside in The Glasgow Herald and be totally ignored elsewhere. Yes, at times the B&MH seemed to be a VP fan mag, but we all secretly enjoyed a little publicity and were motivated to earn more!
Jim also contributed to the VPAAC club magazine. I have two editions: one (1971) containing a short but fascinating article about cross-country running from Milngavie, from its origins in 1885, tracing its development up to the feats of current stars like Andy Forbes, Ronnie Kane, John McLaren, Bobby Calderwood and Pat Maclagan.
The other James Logan piece that I have kept is from the local newspaper in 1973. Jim was kind enough to name me 'Victoria Park Athlete of the Week' when I first won the classic Drymen to Scotstoun 15 Miles Road Race and was awarded the 'Dunky Wright Trophy' by the great old runner himself. The event was run in conjunction with the Glasgow Championships – mainly athletics but including 7-a-side football and gymnastics (vaulting and tumbling)! Jim wrote: "There are some good names inscribed on this handsome cup, including Commonwealth Games gold medallist Lachie Stewart and multiple Scottish marathon champion Alastair Wood, who is off to South Africa today to compete in the famous Comrades Marathon from Pietermaritzberg to Durban." (Cramp may have put paid to Alastair's attempt over there, but his outstanding Drymen record of 1 hour 17 minutes 55 seconds was never beaten.) "Colin, who hails from the North of Scotland and is still a second-claim member of Aberdeen AAC, was recently a running-mate of Wood and others in an epic John O'Groats to Land's End Relay record by the Aberdeen club, and was third to Alastair, one of Scotland's all-time greats, in last year's Scottish marathon championships. The greatest name on the cup, of course, is that of the man who made this race over the Stockiemuir his own in the days when it finished at FirhillPark. It was fitting that the trophy for the modern race should bear the name of Dunky Wright, who was on familiar territory as he sped past Bearsden Cross. Dunky was a pupil of the school there when it was known as NewKilpatrickAcademy." Such an article certainly helped me to increase my training in the hope of faster racing, which might earn further good reports by Jim Logan!
Later on when I moved to to Edinburgh and joined Edinburgh Southern Harriers, Jim Logan's equivalent was Jimmy Smart, in his youth a good middle-distance athlete, but thereafter an invaluable, one-club man who did all he could for ESH – official, coach, journalist, motivator – and also died too young, to be sadly missed but leaving behind a fond, grateful memory in the minds of all who knew him.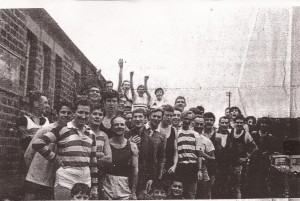 The picture above was taken at an inter-club run at Milngavie in November 1969   In the picture you might spot
John McLaren, Wallace Crawford, Emmet Farrell, Andrew Forbes, Peter McGregor, Pat Maclagan – and Jim Logan (fifth from right in club vest)
The comments above are from a man who ran well for Victoria Park for a short time and knew, liked and respected Jim – what follows comes from a VP member of much longer standing, Pat Maclagan who knew Jim well and profited from his knowledge and advice.   He writes:
Memories of Jim Logan
Jim Logan was above all an enthusiast. The uncle of Wallace Crawford, a long-time member and official at Victoria Park AAC, he regularly attended events – track and field, road and cross-country – as often as not with his camera.  On Victoria Park club training evenings, and for many local competitions, he would turn up on his bicycle, having pedalled (or freewheeled!) downhill from his home at the top of Great George Street in Glasgow's Hillhead district. A spare, rangy figure, I can clearly recall his cycle clips round his ankles as he proceeded to dismount.
Jim had a serious interest in what these days we would call sports science. Matters of nutrition and physiology, and their relation to athletics performance, fascinated him. He was a regular contributor to Athletics Weekly, covering Scottish athletics. His ability as an articulate wordsmith can be seen in a piece he wrote on Bill Stoddart in AW 23rd October 1971. He also wrote a weekly column (actually much more than a column!) for the Bearsden & Milngavie Herald, where his reports on the achievements of Victoria Park athletes exploited to the full the fact that the Scotstoun club had its cross-country base seven or more miles away at the Milngavie Community Centre in Clober Road!
Peter Macgregor tells us that when Ronnie Kane took him to Scotstoun for the first time, he was greeted by Jim, who took one look at Peter and said  "Ah, so you've brought me a high jumper!"   (Peter would go on to be a sub 2:30 marathon runner)   Peter also spoke highly of Jim's friendliness, deep knowledge of athletics and readiness to share information at all times.
The career summary above was based on the obituary printed in the excellent 'Athletics In Scotland' magazine published by George Sutherland for April 1974.    The photographs were supplied by Colin Young and Peter Macgregor.