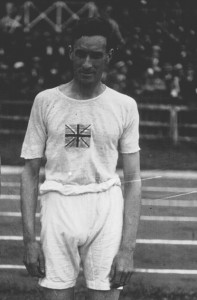 James Wilson in Paris
James Wilson was a truly outstanding Scottish runner of whom lamentably little is known in today's Scottish athletics. Alex Wilson has written this excellent profile of a man unique in Scottish distance running.
Anglo-Scot Jimmy Wilson has the distinction of being Britain's first and, so far, Scotland's only medallist in the Olympic 10,000 metres. It would be another fifty-six years until another Briton – Brendan Foster – repeated that feat in Montreal. Since then, two more Britons have made the podium in the Olympic 10,000 metres, these being Mike McLeod, who won silver in Los Angeles; and of course Mo Farah, who by clinching gold in London brought Britain's grand total to just four in the hundred-year history of the event.
Whereas Jimmy Wilson's athletic achievements are documented well enough, it has always been something of a mystery as to why this rising star of English athletics switched allegiances to Scotland. This mystery can now, at last, perhaps be cleared up.
James Wilson was born in Windsor, Berkshire, on October 2, 1891. He and his twin brother, John, were the youngest of the five children of Isabella and Robert Wilson. His parents were Scottish migrant workers. His father hailed from Aberdeenshire and was the herdsman at the Prince Consort's Shaw Farm in New Windsor, where he was responsible for Queen Victoria's award-winning pure-bred cattle stock. This position came with privileges that included living at the Shaw Farm Lodge on the grounds of Windsor Castle. Children of Crown estate workers were eligible to attend Windsor Park Royal School, where in addition to the 'three R's' the boys were taught farming and gardening. Every year on Christmas Eve the royal employees and their wives and children were invited to a banquet at Windsor Castle where Queen Victoria personally handed out presents and gifts of toys, clothing and books to the children. Jimmy Wilson's upbringing was, therefore, not exactly what you would call run-of-the-mill. After leaving school, Jimmy did an apprenticeship with a local blackmith.
A life-changing event occurred in the summer of 1908 when the Olympic Marathon started from the East Lawn of Windsor Castle just a mile from the Wilson home. Like all the residents of Windsor that day, Jimmy was given the afternoon off to cheer the marathon runners. Jimmy and his twin John must have been inspired by what they saw, because soon afterwards they joined local club Slough Harriers as novices.
Within months of joining Slough, Jimmy began to show great promise in the club's regular muster runs from The Reindeer Inn and the Prince of Wales Public House and was selected to run in the 1910 North of the Thames Cross County Championship at Eastcote where he finished 59th. The following month, he lead his club's team home in 67th place in the Southern Counties Cross Country Championship. Slough Harriers in their 1910 Annual Report referred to this as a "very creditable performance for a first-year man".
After showing continued promise in 1911, Jimmy made a real breakthrough in 1912 when he won North of the Thames Cross County Championship at Wembley Park and led his club to a surprise team victory. Shortly afterwards he was guest of honour at a celebratory dinner held by Slough Harriers to mark the club's historic double. Asked by the reporter for the Slough Chronicle for "training and dietary hints that might be useful to others wishing to emulate his feats", he had little to divulge save that hard work was, he reckoned, the "best training a man could have". He had apparently spent the fortnight before the race working from seven in the morning till nearly eleven at night. For all his reluctance to talk, however, Jimmy exuded a quiet confidence. Asked whether his success was unexpected, he immediately replied "Oh, no, I was pretty sure of winning".
Jimmy continued to progress in leaps and bounds in 1913, finishing an unlucky runner-up the Southern Counties Cross Country Championship and 13th in the National Cross Country Championship at Wolverhampton whereupon he was selected as an English reserve for the International Championship but did not compete.On the track he showed his paces that year by finishing 6th in the AAA 4 mile championship at Stamford Bridge in 20:40.0.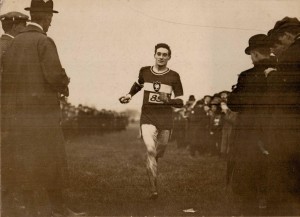 James Wilson in the colours of Slough Harriers
Picture from Greenock Glenpark Harriers and Alex Wilson)
Jimmy finally came of age in 1914 when he came 3rd in the National at Chesham Park behind AAA steeplechase champion Charlie Ruffell and Ireland's Frank O'Neill over a course acknowledged to be one of the longest and toughest in the event's history. Selected to represent England in the International Championship, which was also held at Chesham Park, he justified the selector's faith by finishing 6th and earning himself a winner's medal in the team contest.
That year it came to the attention the membership of Greenock Glenpark Harriers that Jimmy was of Scottish extraction and, perhaps, not averse to the idea of running for them. George Wallach might well have had something to do with this for he , like Jimmy, was an Anglo Scot, being a second claim member of Greenock Glenpark Harriers. No doubt the enterprising Willie Struthers, club president and senior S.C.C.U. official, also had a hand in recruiting Jimmy.
Jimmy made his first appearance on a Scottish track in the Scottish championships at Powderhall on 27th June 1914 when he outsprinted Wallach to win the 4 mile championship in 20:30.0. To give an idea just how much of an unknown commodity he was at the time, Scottish sports journalists expressed surprise at his win. A week after becoming Scottish champion Jimmy finished 4th in the AAA four mile championship in 20:01.0 having had the misfortune to be spiked after leading the way for three miles. Afterwards Jimmy was invited to run for England in the inaugural Triangular International between England, Ireland and Scotland at Hampden Park on 11th July but, significantly, declined as he had already accepted Scotland's invitation.
The Slough Chronicle reported that Jimmy had "the rather unique record of being both an English and a Scottish international," adding, "It should be explained that he is qualified to represent England by residence and Scotland by birth."
However something evidently tipped the balance in favour of Scotland. One could speculate as to why, but perhaps he just got on better with his Scottish friends.
After war broke out, Slough Harriers saw their numbers decimated by the members joining the military but initially kept up their winter fixtures and training runs as it was still widely thought that that the war would be won by Christmas. This was not to be and by 1915 however Slough Harriers were haemoraging members and forced to disband.
Jimmy did not enlist, unlike his twin brother, who was sent to the front and died in 1916 after contracting peritonitis. Through his contacts in Greenock, Jimmy was able to spend the war in Greenock where his metalworking and fabricating skills made him eligible for an essential occupation, be it building dreadnoughts or submarines or manufacturing torpedoes or munitions. While living in Greenock during the war Jimmy kept himself fit , appearing in various sports meetings in aid of war charities. Even in 1915 some still thought that the 1916 Berlin Olympics could go ahead as planned and a series of Olympic trials was held over metric distances at Ibrox Park.
After the war Jimmy quickly regained his foothold running a close 2nd to Willie Ross of Edinburgh Northern Harriers in the Scottish 10 mile championship on 5th April 1919 in 56:12.4 and following up with a successful defense of his Scottish 4 mile title at Parkhead on 28th June in 21:01.0.
He kicked off his 1920 season with a comfortable victory in the Scottish Cross Country Championships at Rouken Glen, leading all the way and passing the finishing post quarter of a mile ahead of Alex Craig.
The following week Jimmy made the trip south to compete in the English National Cross Country Championships on his old home turf at Windsor Great Park. Although still a first claim member of Slough AC he was not allowed to run for the club at Windsor as, it was argued, he had not put in the necessary three qualifying runs. He was, however, allowed to compete as an individual for Greenock Glenpark Harriers and did well in the circumstances to finish 4th in a race won, notably, by France's Joseph Guillemot.
Jimmy spearheaded the Scottish cross country team in the I.C.C.U. championship at Belvoir Park by Belfast on 3rd April. Rain during most of the week rendered the going heavy, which suited Jimmy to a "T". A crowd of 3,000 spectators watched in awe as he raced into an early lead and eventually won by a clear 150 yards from England's Chris Vose. He of course also ran his way into the history books by becoming Scotland's first ever winner of the international contest. But despite Jimmy's commanding win, the Scottish team without the injured George Wallach too depleted to challenge for the Lumley Cup, the second Scot home being Angus Kerr in 18th place.
On 17th April Jimmy made short shrift of a domestic field in the Scottish 10 mile championship at Celtic Park, where he showed he meant business by racing through the first mile in well under five minutes and lapping the entire field after just four-and-a-half miles. His ground-eating stride and textbook running action eventually carried him to an easy win some two and a half laps ahead of an up-and-coming Dunky Wright. His time of 52:04.4 lowered George Wallach's Scottish record by more than 44 seconds. Not only that, all of his intermediate times from five miles and up were also better than the previous marks.
On 26th June Jimmy made an impressive imperious defence of his 4 mile title, overcoming a stiff breeze to win by 500 yards in 20:22.4. Though Jimmy did not contest the AAA 4 mile or 10 mile championships, he was selected to run in the 5,000 metres, the 10,000 metres and in the cross-country team contest at the upcoming Olympics in Antwerp where the Olympic flag with its five rings symbolising the participating continents made its first appearance.
An incredibly demanding timetable prompted Jimmy to opt out of the 5,000 metres and concentrate instead on the 10,000 metres and cross-country race. The heats of the 10,000 metres were run on Thursday 19th August in heavy rain before paltry crowd of spectators. Jimmy used his front running tactics to good effect, breaking away on the first lap and winning by about 60 yards from Finland's Paavo Nurmi in 33:40.2. Jimmy was incidentally the only Briton who ever defeated the Flying Finn in any race whatsoever.
The 10,000 metre runners had just one day to recover because the final was held the following day. The favourites were France's Joseph Guillemot and Nurmi, the latter looking to avenge his defeat at the hands of the Frenchman in the 5,000 metres final three days earlier. Jimmy raced straight into the lead and set about carving out a fast pace which carried him clear of everyone except Guillemot, with Nurmi and Italy's Augusto Maccario running together in close order. Jimmy was left to do all the donkey work until five laps to go when Guillemot made a break which Jimmy and Nurmi , unlike Maccario, were able to cover. For the next four laps the lead swung back and forth between Guillemot and Jimmy with the Nurmi drafting in their slipstream and poised to attack. When the bell rang Nurmi hit the front for the first time and utilised his superior stamina to win comfortably in 31:45.8. Extant footage shows an exhausted Guillemot staggering over the finishing line in 31:51.0e and Wilson finishing third about 30 metres ahead of Maccario in 31:56.0e.
Three days after the 10,000 metres final Jimmy was back in the Olympic Stadium for the cross-country race which was again witnessed by just a sparse crowd. The event followed the usual cross-country format of being both an individual event and a team event with separate medals awarded for each. The British team started with its full complement of six. In all, 48 runners faced this starter. Though advertised as 10 km the course was only about 8 km, starting and finishing in the Olympic Stadium. With lingering fatigue in his legs Jimmy was for once unable to take advantage of the heavy conditions; unlike the indefatiguable Nurmi , who despite running his fifth race in seven days looked remarkably fresh throughout and easily saw off the challenge of Sweden's Eric Backman to claim his second individual gold of the Games. Nurmi's principal rival Guillemot was forced to abandon the race after spraining an ankle at a level crossing a kilometre from the finish, allowing Jimmy to finish 4th 30 seconds behind Nurmi and just 8 seconds behind bronze medallist Heikki Liimatainen of Finland. With three to count, the British team, which also included Frank Hegarty and Alf Nichols, won silver behind Finland in the team contest.

Jim Wilson's 1920 Olympic Medals
(Participation, silver and bronze)
By winning bronze and silver in Antwerp, Jimmy Wilson belongs to the elite band of British distance runners to have won multiple medals at a single Olympics, the others being Sid Robinson (1900), Jack Rimmer (1900), Arthur Robertson (1908) and, most recently, Mo Farah (2012).
On his return to Britain Jimmy detoured via Paris to compete in an international meeting at the Colombes Stadium on Friday 28th August. He ran in the 3000 metres and showed continued good form, narrowly losing to England's Jim Hatton in a personal best of 9:01.4.
After the 1920 Olympics Jimmy relocated to London and found work with London Transport as a mechanical engineer at the Neasden Power Station, the coal-fired power station built by the Metropolitan Railway for its electrification project. The Evening Telegraph lamented, "He will be a loss to Scottish athletics, as Wilson has given distinction to distance running the few years he has been in Scotland".
Ill health, injury and work commitments kept Jimmy away from athletics for a few years but he returned to competitive action in 1923 and joined Surrey Athletic Club.
On January 5 1924 Jimmy helped Surrey AC to victory in the inaugural ten-stage London to Brighton relay race, which was to become the most prestigious inter-club fixture in the UK race calendar until it was replaced by the National 12-Stage Road Relay in 1965.
After finishing 12th in the National at Doncaster, Jimmy was again nominated to run for Scotland in the International at Gosforth Park. He placed 19th behind team-mates Archie Craig (16th), James McIntyre (17th) and Dunky Wright (18th), the Scotttish team packing well enough for 3rd in the team championship.
Wilson opened his 1924/25 cross country campaign win a comfortable win in a match between Surrey AC and Oxford University at Wimbledon. He was slighted by The Times as a "former Scottish international" but that did not stop him from finishing a creditable 14th in the I.C.C.U. championship at Baldoyle. The 1925 season was however to be his last, the highlight being a 6th place finish in the AAA 4 miles championship at Stamford Bridge.
A lifelong batchelor, Jimmy was a celebrated and upstanding citizen of Neasden until his death in 1973, aged 82.
After the profile was completed Jimmy's grandson, Graham, sent more information about his grandfather. He married Annie Williams who was also known as Marge. Unfortunately later in life he contracted bowel cancer which proved fatal after it ultimately spread to his spinal cord. He had had an outstanding career being one of the top runners of his generation.
Personal bests:
| | | | |
| --- | --- | --- | --- |
| 1 mile | 4:35.8 | Maidenhead | August 2, 1914 |
| 3000m | 9:01.4e | Paris | August 28, 1920 |
| 3 miles | 14:49.4 | Cappielow, Greenock | July 3, 1914 |
| 4 miles | 20:01.0 | London | July 21, 1930 |
| 5 miles | 25:26.8+ | Glasgow | April 17, 1920 |
| 6 miles | 30:45.0+ | Glasgow | April 17, 1920 |
| 10,000m | 31:56.0e | Antwerp, BEL | August 20, 1920 |
| 10 miles | 52:04.4 | Glasgow | April 17, 1920 |
James Wilson has been inducted into the Scottish Athletics Hall of Fame.