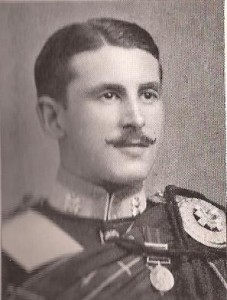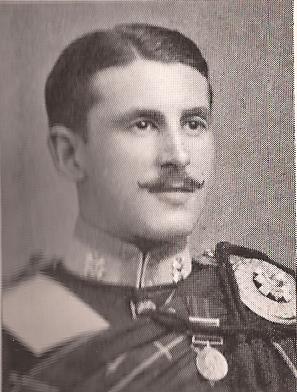 The name Halswell is enough for any athletics lover in Scotland and further afield to know who exactly is being talked about.   The extract below, from "50 Years Of Athletics"(published 1933)  was part of a longer chapter by William Reid, who wrote under the pen name of Diogenes.  It does not include the story of the Olympic 400 metres event for which, in some circles, he is best remembered but speaks of his introduction to the sport and his last race.    It reads
A short time ago I got a letter from Jimmy Curran, a Galashiels man, who has for almost a quarter of a century been one of the most distinguished athletic coaches in American School and College athletics.   He was in South Africa with the HLI during the Boer War, and when out there, he found the young Halswell.   When the battalion came home and was brought to Edinburgh Castle, Curran induced the then Lieutenant Halswell to get into training and, running in the 440 yards championship in the Championships of 1905, Halswell revealed a bright and shining star had arisen in the Scottish athletic firmament in the person of this gallant son of an English father and Scottish mother.   I went to Edinburgh Castle to interview the young officer.   He refused to talk.   It was not the thing to do on the part of an officer.   But, with a quiet chuckle, he handed me a scrapbook, sent him by a relative of his mother, in which he said he would find everything there was to know of him athletically.   "I must return it," he said, bidding me good-bye.    This little action was worthy of a man who, when appealed to be a Press representative as to how he spelt his name – Mr DS Duncan refused to acknowledge a final "e", and I took my cue from the SAAA Secretary – wrote that he spelt his name this way.   But the recipient of his letter to this day cannot determine whether it is a final "e" or a flourish of the pen.
HALSWELL'S LAST RACE
Halswell "made history" in Scottish athletics in 1906.    He won four running titles in one afternoon.   It was freely prophesied that the like would never be seen again.   It has never been attempted, and may stand as a record for all time.   The last time I spoke to Halswell was to commiserate with him on the unseemly proceedings in connection with the Olympic Games 400 metres race.   The entire circumstances distressed the high-minded military athlete.   He hated the idea that a conspiracy had been engaged in, and he hated still more the fact that the re-run was not taken part in by the American athletes, acting under orders.   The fact was Halswell cared far more for athletic expression than for  results.   It was felt in the battalion that his reputation was being, as it were, traded in by sports promoters.   He said he would end his career with the quarter mile in the Scoto-Irish International, and did so.   Some one gave me a copy of a photograph of Halswell starting in this race.   I had it copied and mounted, and many years after EH Liddell took away the second copy as one of many souvenirs of his stay in this country.
*
And that's where the extract ends.   The four titles in one afternoon referred to above were at the SAAA championships held at Powderhall on 23rd June 1906 and the events were – 100 yards in 10.4 seconds, 220 yards in 23.2 seconds, 440 yards in 51.4 and 880 yards in 2:00.4.   The Scoto-Irish International where he ran his last race was on 11th July, 1908, at the Exhibition Grounds, Saughton, and he won the 440 yards in 51.8 seconds.
As a matter of interest, his victories at Powderhall in 1906 were reported in the 'Glasgow Herald' as follows (taken from a much longer article):
"Taken as a whole, the twenty-fourth annual championship meeting was a great triumph for the Association and amateur athletics generally.   The number of spectators, ana consequently the excellent financial result, made it clear that when genuinely sound athletics contests are provided, and the voice of the "bookie" is stilled, enthusiastic and intelligent public support will not be lacking.   Better weather could not have been desired by either competitor or spectator.   No wind, no rain, no broiling sun and yet a trace of freshness in the air made the day ideal. 
Sharp to time, the seven sprinters rose to a good start.   Macleod, the Cambridge crack, showed first in front.   Soon Stark was leading, and last year's victory promised to be repeated until about a dozen yards from the judges, Halswell with a powerful dash rushed forward and won by fully two feet from Stark, closely followed by Kitson and MacLeod. …
In the half mile, McGough, with Vallance at his heels, made the pace, Halswell and Anderson in pursuit.    The leader's first lap took 60 1/5th seconds.   Down the back straight McGough still led.   Entering the finishing straight, Halswell drew up, and finished strongly ten yards in front of McGough. …
In the 220 yards JP Stark (the holder) defended his title, but the all-conquering Lieutenant was not to be denied and, shaking himself free before entering the straight, finished a yard and a half ahead of Kitson. …
The last event, the "quarter", was won, amidst ringing cheers from all sides by Lieutenant Halswell  in 51 3/5th, a great performance in view of the previous demands on his energies. "  
  The question was prompted by the brilliant running of Lieutenant Halswell at the Clydesdale Harriers meeting.   We said that any man who could 600 yards in 1 min 12 4/5th seconds was capable of winning the quarter and the half mile.   We had evidence of his gifts in the 220 yards, and there had been reports of practice hundreds in 10 1/2 seconds.   On June 9th Lieutenant Halswell did the quarter in 49 4/5th seconds and 600 yards in the time of 1 min 11 4/5th seconds.   We are therefore not astonished that this marvellous runner should have replied to our query by winning on Saturday the 100 yards, the 220 yards, the quarter and the half mile, and so achieving the unprecedented honour of quadruple champion.   It would be hard to analyse all the qualities possessed by the Lieutenant which contribute to his marvellous energy and speed.   Scotland is proud of him and the SAAA must feel considerable satisfaction in that Lieutenant Halswell should have found it possible to take part in this championship meeting.   His services in the coming international with Ireland will be of great value."
I'll leave it there – it is not a proper profile, just some information about a wonderful athlete who also seems to have been a really good man as well.    Many know a bit about the Olympic fiasco which is not recounted here but perhaps this rounds out the perception of Lieutenant Wyndham Halswell.