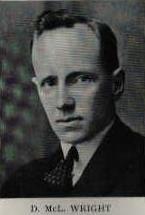 Duncan MacLeod Wright was universally known as Dunky Wright. No matter how many titles or medals he won nor how many roles he filled within the SAAA he was still the same Dunky. A very controversial character, there were differing views within the club about him and I spent a lot of time wondering whether to include him here or not but in my time there was no animosity towards him from respected club men such as David Bowman or James P Shields and this decided me. In the course of his career he ran for Clydesdale Harriers, Shettleston Harriers and Maryhill Harriers. Older members had divided opinions about Dunky – some were even divided within themselves about him. Between Shettleston and Maryhill he tried with the assistance of WS Unkles (who had a well established and very successful fishmonger's business) to found a club of champions to be called Caledonia AC. After his running days were over he became an official and spent a lot of time on the Coaching Scheme of the ruling body; he also worked as an administrator and was manager of the Scottish team at the Commonwealth Games in Edinburgh in 1970 where the team coach was Frank Dick. The mascot for the team was a teddy bear dressed in Scottish colours and called Dunky Dick. It was carted on to the track whenever a Scot won a gold medal. Having started his career with Clydesdale he was always interested in the club's progress and spoke at the club's 90th Anniversary Dinner in 1975. I will limit this section to his membership of the club rather than go into his long and distinguished career in its entirety since it is dealt with in detail elsewhere.
He joined the club towards the end of the First World War as did Jock Semple but although they were contemporaries they were very different. Jock said in a letter to me "I received my first advice on distance running from Dunky Wright who was running for Clydesdale Harriers back then in 1917. He was in the same Department as my father (Gauge Shop) with the Singer Co. and he and Alex McGregor, who I think was in charge of all activities at Singer's Hall when it was built, influenced me to join the club." At the first AGM after hostilities ceased Dunky was elected captain. Unusually there were three nominees – two established international runners from before 1914 (R Frew and SS Watt) and Dunky. The club minute reported that "Mr Wright had a clear majority." Jock Semple was elected Junior Captain at the same meeting. Dunky was always said by the old timers to be interested in what he could win and in that context the following exchange might be instructive (equally it may be misleading!) After being elected captain and various items of business dealt with …
"Mr D Wright raised a point in connection with a note on the programme of runs during the 1918-1919 season when the club was running unofficially. The note referred to reads:- "No club trophies will be competed for during the continuance of the War and during this period, no prize winners will lose their Novice status."
Mr Wright stated that he had won prizes in Open Cross Country Races outwith the club's jurisdiction during the period referred to and asked if this deprived him of his eligibility to run in the Novice Handicap. Ex-President Gardiner in giving opinion stated that the above note only referred to competitions within the club and that Mr Wright has forfeited his Novice status. Mr Wright disagreed and considerable discussion took place but no decision was arrived at the majority of the members having to leave to get their train connections."
The 'rule' referred to is shown below as it appeared on the back page of the war time member's card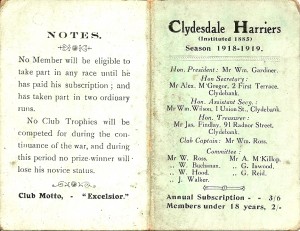 Dunky did not let it lie there because at the next Committee Meeting he brought it up again but the verdict was against him. Given that a novice runner was one who had won no prizes he was clearly out of that category. There were no bad feelings and he continued to race on the club's business and to take an active part in the running of the club. Nevertheless his running did not suffer – he was second in the West District Championships at Rouken Glen Park.
The 1918/19 season ended with two handicap races at IbroxPark and was reported as follows: "Clydesdale Harriers finished their winter season on Saturday afternoon at Ibrox Park with two handicap races, one for junior members over a mile and a two mile one for seniors. In the junior race the two scratch men, Wm McIntyre and John Semple gave starts up to 80 yards and an excellent race resulted as follows: 1st Robert Patterson (30 yards); 2nd: John Semple (scratch). Time 5 mins 14 secs. The winner showed good judgment and should do well in future. The senior handicap was also a great success. Duncan Wright, virtual scratch off 20 yards conceded starts up to 380 yards. A fine ding-dong battle between Andrew Mair and Wright finished thus: 1st Andrew Mair (50 yards); 2nd Duncan Wright (20 yards). Time 10 mins 22 and 1/5th seconds. A social evening was held in the evening when the prizes won during the season were presented. These included a special gold medal for meritorious performances during the season won by Duncan Wright who is rapidly coming to the fore in distance racing." This race is commented on elsewhere – the prizes at the function were presented by John Mellish. Dunky was always well treated by the club: his good performances were recognised and the club always took hid part in any dispute such as the following.
In 1921 the Committee was incensed that he had not been selected for the international cross country fixture and the following appeared in the club minute: "Scottish International Team: Re Duncan Wright: The feeling of the meeting was that the NCCU Committee had acted unjustly in not selecting Duncan Wright for same and it was agreed to write that body regarding same." Came the Half Yearly General Meeting in April that year and after Matthew Dickson had presented the prizes to the cross country award winners, Dunky proposed a series of weekly training races or runs on the points system at Scotstoun for the Western members and at Airdrie for Eastern members. (The club was in two sections at that time one based in Dunbartonshire and one in Airdrie and they were referred to the Western and Eastern Sections.) First (gold) and second (silver) aggregate prizes were to be given in each district. The Committee agreed and a committee of Wright, Semple, McIntyre, Lamond, McElroy and Bowman was appointed to organise it. It went well although neither Dunky nor Jock won any of the awards.
His first real cross country victory was in the 1923 Scottish CC Championship over a 10 mile course at Bothwell. Colin Shields in the Centenary History of the Cross Country Union comments that " it is worthy of note that Wright in his assiduous chase of individual and team medals, was a member of four different clubs during a short five year period. He ran for Clydesdale up to 1923, for Shettleston in 1924/25, for the short lived, ill fated Caledonia AC in 1926 and finally joined Maryhill in 1927".
Back to 1923, the course was over three 3 mile laps with flags at important turning points and he won by 100 yards. On 7th February the club agreed to award a special badge to Mr D Wright for being first man home in the National Cross Country Championship.
He worked well in the post of President for most of the year and then the Minute of 17th October contained this comment under the heading 'Mr Wright's resignation': Mr Wright's resignation was submitted and accepted. Mr A McGregor was appointed President and Mr W Ross Vice President." That was it – saying a lot in a little. Less than two months later the matter appeared in the 5th December Committee Meeting Minute. "Arising out of a few letters received by the secretary from Mr Wright our late president he maintains that although he resigned the presidency he still holds office on our Committee. After some discussion on the matter Mr Bowman moved that we ignore these letters. There was no seconder. Mr Ross moved that we inform Mr Wright that he having resigned the presidency, he no longer holds a position in the club. Mr McCormick seconded."
Whatever the content of the letter, and we will never ever know, the upshot was that Dunky Wright had severed his ties with Clydesdale Harriers. I, and many others, asked him several times why he left the club and never ever got an answer – I usually got a laugh, a smile and a joke but no answer. Always leave them laughing, seemed to be the motto. Some in the club when I joined were still bitter about him leaving when he did. Jock Semple who had left for America shortly before the resignation and knew Dunky well thought Dunky was wrong to leave. He said when asked that he thought Dunky did not get on with the McGregor brothers who were on the Committee at the time. According to Jock they basically ran the club between them. Alex McGregor was President for three years (1924, 25 and 26), secretary for two (1918, 1919) and treasurer in 1913 when war broke out. He served on all committees and was representative to the governing bodies. Even after his active period in the club he was able in his position of Sports Superintendant at Singer's to assist with training facilities and holding meetings for special occasions. He also supplied the paper trimmings for the paper trails used in the Hares and Hounds runs still held at that time. He was still coming about the club at the 50th anniversary in 1935. He had a brother who was also on the Committee and was a sergeant in the Glasgow Police Force. Although not as active as Alex he nevertheless served two years as Assistant Secretary (1927, 1928) and one as Secretary (1930).
Jock was always very bitter about poaching, a bitterness which seemed contrary to his nature – he wasn't bitter about anything else. He kept telling club runners to stand by the club and gave them tangible incentives to do so. George Cowieson who was a club member at the time, spoke about Dunky's departure to Shettleton and the Caledonia AC club. He wrote about it in a letter to me in these terms: "This club (Caledonia AC) was started by Mr WS Unkles, a Glasgow fishmonger. He recruited top class runners from different clubs. Wright and Freshwater went from Clydesdale. But the club did not last long and that was when Wright went to Shettleston……….. The striped singlet that Jock Kirkland is wearing in the club photograph was the club colours for a while. Wright somehow persuaded the Committee to adopt them. Then he sold us the singlets." It is an interesting letter – WS 'Sans' Unkles was a very well known football player as well as a fishmonger and he would certainly have had the wherewithal to help start a new club; the striped vest/jersey appears in several photographs but not in races: it might have been used for training and I can't find any record of a change of uniform in the club minutes. Charlie Freshwater was a very good runner who ultimately ran for West of Scotland Harriers and picked up two Scottish International Cross Country vests. The talent lost at this time was considerable! No wonder Jock was so anti-poacher.
But the club was not yet finished with Dunky!
There was the unfortunate affair of the Dunbartonshire Cup to sort out. In the Minutes of 4/10/26 the following appears:
"The question was asked regarding the Dunbartonshire Cup. Hon President stated that he had met D McL Wright and that D Wright promised that he would come down and see the President, and asked permission that it be left in his hands. Failing Mr Wright not turning up he would instruct Secretary to write to him. This was agreed to." It next appears in the Minute Book for the Meeting of 1st November 1926: "Hon President moved that as D McL Wright had not come to see him as arranged, the Secy should be instructed to write to Mr Wright very strongly on this matter. This was agreed to." On the 27th December it came up again: Pres asked if Sec received any word from D McL Wright regarding the Cup. Sec replied that he had now written to Mr Wright five times stating in last letter that the Club intended taking other action but had not received a reply to any of them. Mr A McGregor moved that Sec write NCCU regarding Cup and that our delegate bring it up at next NCCU Meeting. This was seconded by A Gailey."
The trail can next be picked up in Colin Shields Centenary History of the Cross Country Union of Scotland "Whatever the Weather" as follows: "In January 1927 General Committee received a letter from Clydesdale Harriers requesting assistance in gaining the return of the Dunbartonshire Cup from Duncan Wright. Wright had not returned the cup in spite of repeated requests from the cup owners. A letter was received from Wright acknowledging possession of the Cup but stating that' he had inadvertently packed the Cup in his luggage for a trip to visit relatives in Australia and had left the Cup by mistake in Australia on his return to Scotland,' He agreed to contact his relatives in Australia to arrange the return of the Cup but, to this day, Clydesdale Harriers have never regained possession of the Cup." The Union replied and the Club Minute for 1st April recorded the following: Question was asked re Dunbartonshire Cup. This was stated to be in Australia. NCCU were dealing with it." The important phrase here is 'Wright acknowledging possession of the cup'. Otherwise Colin was basically wrong.
9th September 1927: "Western District Committee Report: J McNamara reported that when a letter was read from Secretary Millar re Dunbartonshire Cup he was asked to say something on the matter and after having what he had to say combined with the information they already had, the Committee decided that D McL Wright must return the cup to Clydesdale Harriers within two months from the date of first General Committee Meeting or pay £5. At an Executive Meeting of the NCCU both J McNamara and D Wright were present. "J McNamara reported on a meeting in connection with the Dunbartonshire Cup. Mr D McL Wright was also present. The latter denied all knowledge of the cup and the NCCU Committee did not think that Clydesdale Harriers had brought forward sufficient evidence against Wright. The matter was passed over until the next meeting when we are expected to provide further evidence." This reads rather strangely to me following his earlier remarks about packing it for Australia, etc. The change of tack by the NCCU is also baffling.
At the Committee Meeting on 5th December 1927: "J McNamara asked it there was no communication re cup in the hands of G Inwood, late secretary. After a great deal of discussion and determined voice from each member it was proposed by T Thursby seconded by A Gailey that a committee be formed to enquire into the case. J McNamara moved a direct amendment that we drop all proceedings regarding the cup. There was no seconder for the amendment and a sub committee was accordingly formed as follows: A Gailey, G McQuattie and J McNamara." Exactly one month later the matter appeared again on Committee Agenda. "Dunbartonshire Cup: The convener of the committee, G McQuattie, stated that they had questioned the various officials who were in office at the time of the disappearance of the cup but nothing definite had been gathered. However the secretary from information received had written to Mr Geo. Malcolm, E.S.H., who was supposed to know something of the cup. So far no word had been received. Finally it was decided that should the opportunity occur at the next meeting of the WD Committee our representative should place the rest of our fresh evidence before them." After the meeting on 9th January 1928 the committee agreed to await the results of correspondence entered into on the matter
Then came the bombshell meeting on 5th March 1928:
"Dunbartonshire Cup: The Secretary reported that this cup had been recovered and was now in his possession. He detailed correspondence, etc, leading up to the cup's recovery and stated that he had notified the NCCU on the subject. Satisfaction was expressed at the settlement of this long drawn out case. J McNamara moved, seconded by E Cavana, that Mr JCA Bogie, Chairman of the NCCU should see the letter sent by D McL Wright to the Secretary. It was agreed to do so on condition that Mr Bogie took no steps to re-open the case but considered it a private matter." At the meeting on 2nd April it was asked whether Mr Bogie had returned 'the famous Wright letter' but Secretary stated that he did not have it but would write to him. The affair ended quietly at a meeting on 4th June 1928: "The president and Mr J McNamara reported in a very concise manner the recent 'Bogie' case meeting."
The trophy was eventually collected from Maryhill Baths, Dunky having written to the club in a friendly, jocular and affable fashion advising them to collect it therefrom.
The trophy was awarded again in 1928 and has been in every year since.
Dunky's athletic achievements while in the club were considerable: The major victories were:
Club Championships
1920: Championship Challenge Cup; 1921: Championship Challenge Cup
1922: Championship Challenge Cup; 1923: Championship Challenge Cup
Scottish Cross Country Championship : 1923
International Cross Country Championships:
1920 22nd
1921 9th
1922 11th
193 24th
However the main point in the affair is the disappointment of club members at the departure of the one talent since 1919 who could bring back the 'glory days' again. He was the club star and a very personable one at that – everybody liked Dunky and when he had won the championship four times, was serving a second term as President and had won the National Championship he looked like a fixture. He could have been a good 'recruiting sergeant' for the club and the departures in the 30's would have been fewer in number. His departure was very ill timed – if he had to go, doing it at just that point was rather ill judged. Whatever the reason – a fall out with Alex McGregor and family, or whether as Colin suggests and some others say out loud, Dunky was just a pot hunter and other clubs were winning more than Clydesdale at that point – it was not a good day for any of the parties concerned.
At the end of his athletics career he was always telling us he was still a friend of Clydesdale Harriers and he certainly helped us on several occasions. He was present at notable club functions and in 1972 he presented the Dunky Wright Trophy to the club for annual competition in an open road race. It is a race that has always attracted a very high class of athlete and Dunky was delighted that the first race was won by Clydesdale Harrier Allan Faulds from marathon internationalist Pat McLagan of Victoria Park AAC. The club also won the team race. There are several Dunky Wright Memorial races on the calendar now but ours is the only one for which Dunky himself donated the trophy.