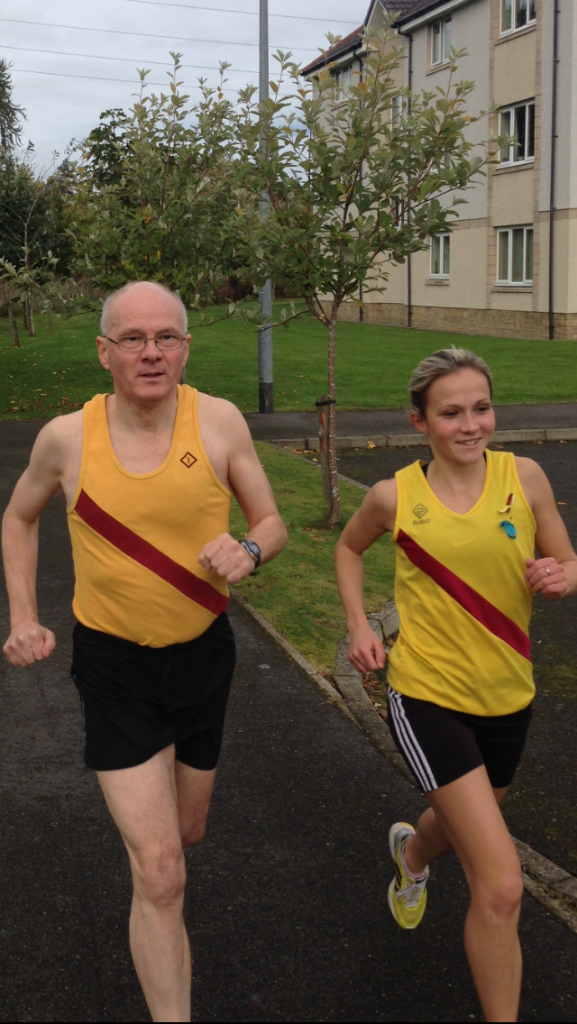 Charles with daughter Jenny – in Inverness colours, of course!
Charles Bannerman is a name known in Scottish athletics for many things including coaching, journalism and broadcasting on sport, but these days possibly as a prolific poster on internet forums with insight, opinions and comments on all issues to do with athletics.   There is a lot more to him than that and he is living proof of a truth not often mentioned in the Press which is that Scottish athletics extends beyond the central belt although that's not how those from the central belt usually see it.
When it was decided to hold the Scottish Cross-Country Relay Championships at Kinmylies in 1980 there were many who thought it was asking too much.   There were discussions, special club committee meetings and articles in the papers about why go all the way up there, how could they manage it, there should be a special train, team selection was difficult because a key runner had to work on Saturday morning and so on.   The event went off really well and was enjoyed by all those who were there.   Mind you, it didn't go back there until 1989 and it hasn't been back since.   This of course body swerved the question of how those from Inverness and further North managed to come to races in Glasgow, Edinburgh and their environs week after week for the entire year, every year.   Both these championships were organised by a man whose name is well-known in cross-country circles nationwide – Walter Banks, president of the SCCU in 1981/82.    Charles was asked about Walter whom he had cited as one of the men who had a big influence on him.
"The Banks had been close family friends for as long as I could remember and when Walter realised that I had a growing interest in athletics, he did a huge amount to encourage that in very many ways. That was tremendously influential.  I worked very closely with Walter for about 40 years and his input to athletics in the North was enormous.   At the 1980 national relay championships he put me in charge of the course and in 1989 the results. He attended his last meeting when he was in his mid 80s and not long retired from official duties, which included timekeeping.  I sat with him in the stand where, just for fun, he was taking his own times.   I unobtrusively scribbled down what he had for one 400 metre race to check it against the automatic timing.   The average error across the entire field was a mere 0.04 seconds!"
This all confirms, if confirmation were needed, that those outside the central belt are as enthusiastic about our sport as anyone in the land and work extremely hard not only to keep it alive but to develop it.    For those from the area who want to progress in the sport there are many hurdles to overcome and we can see from  Charles's career in the sport what these hurdles are and how he overcame them.
In a very good article in the "Inverness Courier" he is described as "the ultimate multi-tasker" and it is probably how he manages to fit in everything he is involved in and still make an impact at national level.   As we look at his career it becomes clear how many strands intertwine all the way through.
Charles was brought up in Dalneigh in the west of Inverness and his career in athletics did not have an auspicious start. At primary school he was consistently last in the sports, even trailing in, he says, behind the lad who had a mild case of polio and wore a light caliper!   But athletics was appearing regularly on television where people could see top class athletics unavailable to them locally.   Charles's developing and fundamental fascination with athletics, was fanned by the 1964 Tokyo Olympics, live by satellite for the first time.   That was the year of course that Scotland's Fergus Murray and Ming Campbell competed for the British team.   Whether it was the impetus provided by the Games and other meetings shown in black and white on television, or simple maturity, or more likely a combination of both, Charles tells us that  "For some reason during early secondary, I acquired a modest athletic ability and eventually settled down at 400/800 (OK – 440 and 880 to start with!) although I competed at all distances in the 100 – 1500 range plus a little cross country and road racing. I first joined Inverness Harriers in 1969, I am now its longest serving member and have been a life member since 2007."
Charles sat his Highers at Inverness Royal Academy in 1970 which was an auspicious year for Scottish athletics – the Commonwealth Games came to Scotland, to Edinburgh which was to be his choice of University.   It is impossible to think that he was not as inspired as the rest of Scotland by this event.   There was even an Inverness input.   In a report on the www.scottishdistancerunninghistory.scot website we read that
"There was an interesting Highland prelude to the 1970 Games when eleven athletics competitors from four Commonwealth countries took part in the Inverness Highland Games on Saturday, 11th July, as part of their preparations for the Meadowbank event.   The appearance was negotiated by the North of Scotland AAA officials including the late Donald Duncan, President of the SAAA in 1957.  
The squad was managed by former 440 yards world record holder Herb McKenley who was then Jamaican team coach.   From Jamaica there were 400m runners Leon Priestley and Eshinan Samuel and high jumpers Yvonne Sanders and Andrea Bruce.   The Canadian contingent consisted of endurance athletes Ray Verney, Andy Boychuk and Dave Ellis along with shot putter Brian Caulfield, while reigning Empire and Commonwealth decathlon champion Royal Wiliiams and hammer thrower Warwick Nicoll represented New Zealand.
Completing the eleven strong squad was Scotland's own 800m specialist Mike Maclean who returned a time of 3:57.2 in the 1500m to defeat Verney.   Maclean also returned a surprisingly modest and comfortable 52.8.  
North distance running legend Alastair Wood moved to the very bottom of his range to take on Canadian opposition in the 5000m where he recorded 14:56 on a grass track whioch had suffered from an extremely wet summer.   He eventually conceded defeat to Boychuk and Ellis who crossed the line together in 14:41.  
The turf was wet enough for Saunders and Bruce not to risk High jumping but they instead contested the 200m which Saunders won in 25.8.  
Nicoll won the wire hammer, the only event of its kind on the North Amateur games circuit at the time, with a throw of 56.29m, nine metres clear of former Scottish internationalist Alex Valentine of Elgin AAC and RNAS Lossiemouth.
However the technical departure to the Scots hammer appears to have got the better of Nicoll who, deprived of the capacity to turn, had to concede defeat to Tony Cohen of Inverness Harriers."
The next day, the NSAAA officials acted as 'taxi drivers' to get the athletes back down south where they were due to compete at another meeting over the then customary pre-Games distances of 150, 300 and 600m on the black Rubkor track at Grangemouth.
Ian Tasker, who wrote the "Courier" report,  was at that time a competitor himself but has just retired from handicapping after 43 years in the job.
After leaving the Academy in 1971, Charles went to Edinburgh University where he gained a first-class honours degree in chemistry.   The Courier reports that his multi-tasking skills were in evidence when at University; he told them "I'm quite good at using a lot of short spaces of time to do different things. For instance, when I was at university and exams were coming up, if I was waiting for a bus I would just open up the folder at the bus stop and revise a couple of lectures."    The University experience was important, he says, in that  "I realised that there was a whole world of athletics outside the circuit of Highland Games which used to be such a limiting influence in the North. It is that limiting influence, which held back North athletics for so long, which has left me with a lifelong wariness of over exposure to Highland Games.
However I never really surpassed mediocrity in performance, failing ever to reach the finals of the Scottish Schools or SAAA senior championships and ending my track career with PBs of 52.4/1:58.7 plus a single North District and a single EUAC 400m title.   When I returned to Inverness to teach Chemistry in the mid 70s, I immediately acquired a desire to coach and this happened to coincide with very rapid development at Inverness Harriers.   There was a mission underway among four or five of us to modernise the sport in the North by removing it from the backward influence of the Highland Games and instead applying the likes of what I had learned in my Edinburgh years.
 In 1980 I stopped running completely in favour of coaching and administration and remained totally inactive for almost the entire decade."
This was an important decision because he could now influence many more athletes than he could ever have done as a runner, and this was to the benefit of Inverness Harriers, the North of Scotland and Scottish athletics generally.   The coaching talent revealed itself fairly quickly.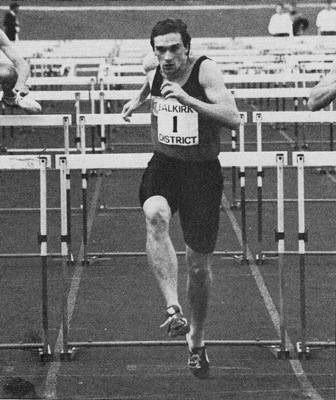 Neil Fraser
Charles coached his first Scottish champions, including Neil Fraser (Senior Boys' high jump), in 1978 and Neil was also the first schools internationalist he worked with when he gained representative honours in 1979.    In 1981, and by then a hurdler, the future national record holder was one of his first two senior internationalists.    Neil's conversion from high jump to hurdles, which in the pre-Queens Park track era involved paving stones and a soft blaes surface, was interesting!   In 1981 Neil began a course at Heriot Watt University and Charles, while still retaining some input, was pleased to have his old coach Bill Walker to pass Neil on to.   By the time he had finished competing, Neil had won the SAAA 110 metres hurdles in 1983, 86, 87 and 88, been second in 1981 and 84 and third in 1991, he also had a full set of gold, silver and bronze for the indoor 60m hurdles and set a Scottish record for 110 hurdles in 1987 with a time of 14.11 seconds which stood until 1994.
Charles points out that he learned a lot about events he had never contemplated coaching from following the demands of athletes he was coaching.   This is almost identical to the coaching career pattern of many top class coaches who utilise every means of improving their knowledge of the sport by every means possible – reading, talking and discussing the events for which they are responsible, attending meetings and responding to situations that arise.   By 1981 he had a group of over 20 sprinters, hurdlers and high jumpers.   And in 1981 one of the new arrivals was Jayne Barnetson who would go on to become one of the country's best ever athletes.   Four years later, Jayne became National high jump record holder and, 30 years on, still holds that record.   Jayne cleared 1.88 three times while Charles was coaching her and 1.91 in 1989 after she had started training with Scottish National Coach David Lease.    Jayne was also his first GB internationalist.   If we look at her record while she was with him, we note that she won the SWAAA High Jump in 1985 and 87 and was second in 1984, 86 and 88, took second in the WAAA's Junior High Jump in 1985  and also won the heptathlon in 1988.   Jayne's 1.88m in 1985 was a new Scottish record,  and the  1.91m has yet to be beaten by any Scottish high jumper.
His other Scottish senior internationalist of 1981 was high jumper Tommy Leighton and Charles also coached the first Scottish club Junior Women's Under 15 team to break 50 seconds in the 4 x 100m (49.9 twice in 1980) as well as the Inverness Harriers club team which won the senior women's title in 1981.   When asked about it, he points out that  "the leading light of that senior team was one of my very first sprinters who is now Dianne Chisholm whom I have mentored as a coach as and when over the years. Dianne had the distinction of coaching her own high jumper daughter Rachael MacKenzie to Glasgow 2014 so I therefore class myself as Rachael's athletic grandfather!"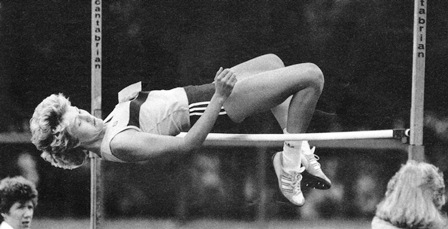 Jayne Barnetson
By now Charles was established in his career as a science teacher, coaching and learning about sprinting, hurdling, high jumping and  other events as well as being a member of the club committee and became chairman of the North District of the SAAA in 1980, an office he held until 1986 which he says  enabled him to play a role in modernising athletics up here.    In addition to the coaching and administrative involvement, he qualified as a Grade 2 starter and marksman, held various club committee posts and founded the Inverness Harriers Open Meeting in 1976, the year he also became athletics correspondent for the "Inverness Courier.  If you want a job done, ask a busy man!  A wee recap in case you missed it:
Coach of international standard athletes – fairly senior administrator at district level as well as locally – official as starter and marksman – club committee worker – sports journalist – and organising the Inverness Harriers Open Meeting.   All at the same time.
None of this went unnoticed south of the highland line: in 1985 Charles was approached by Scottish National Coach David Lease who offered him the post of Staff Coach for high jump.    Of this, he says  "That was an interesting offer since, due to a combination of work commitments and remoteness from Largs, my formal qualification never actually progressed past Assistant Club Coach for which there wasn't even an exam! However I have always maintained that you learn far more during a couple of hours in the pub with people like Frank Dick, Bill Walker and David Lease, my own three biggest mentors, than you will at any official course.  I turned down David's offer since my son was expected and I had therefore decided to wind my group up and withdraw from more or less all athletics commitments at the end of the 1985 season.   I was probably by this stage also suffering from a bit of burnout.   The one exception was that I continued with Jayne to the 1986 Commonwealth Games and World Juniors."
David Lease was a Welshman with a very quiet demeanour who was known and respected by all Scotsmen.   On one occasion when he was with a Scottish team which had lost the pole vaulter, David filled in and competed for Scotland.   He knew what was happening in athletics all over Scotland better than many who had lived here all their lives and it was indeed an honour when he approached Charles.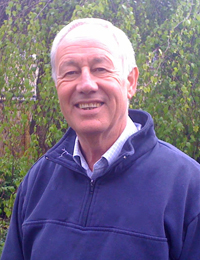 David Lease
Charles became a freelance sports reporter for the BBC in 1985 but only had limited involvement in active athletics when his two children were very young but began to train and compete again in 1989.   This involved a combination of track and road 10Ks where, about to become a Vet, he managed 37:36.    (which is incidentally two and a half minutes slower than his daughter's current PB).   You can turn runners into coaches but you can't stop them wanting to run and Charles still runs as frequently as his aching connective tissue allows.   He would, he says, love to dip below 50 minutes for 10K once again (best for 2015 is 51:31).
His broadcasting career continued to develop and in 1994, when Inverness Caley Thistle and Ross County joined the Scottish Football League, he began to do live match day radio and television reports.
He couldn't stay away from coaching for long and during the 90s he dabbled in short term coaching projects such as advising Mel Fowler on how to prepare for the European Police 400m championships whilst based in darkest Skye and helping David Barnetson with an experiment in 400 hurdles.   Mel was an interesting athlete who had started his career as a long and triple jumper with Victoria Park AAC and was already an internationalist when he joined the police and went north.   David was Jayne's brother and a top athlete in his own right, winning the SAAA high jump three times, being second five times and third twice, with victories indoors and in the pentathlon.   His best 400m hurdles was 52.6 seconds in 1996.   So, although not responsible for their entire careers he was working with top quality athletes and, basically, taking up where he had left off.   He was however not involved in the nitty-gritty of full time coaching and came back into coaching in 1998.
The club was short of coaching specialists  and Charles spotted two extremely talented youngsters – Vicky O'Brien and Lesley Clarkson – and decided to take the plunge into coaching again. His Assistant Club Coaching qualification had lapsed but Charles received discretionary reinstatement to what has nowadays evolved into Level 3.   [Coaching qualifications at that time had three levels – ACC, Club Coach and Senior Coach.   The standards were high and the written examinations at Club and Senior level difficult.  On one occasion when Frank Dick was taking a group of Russian coaches round Britain, these professional coaches found it difficult to understand how amateur coaches could have the level of knowledge the senior coaches in Britain had].
The following year Vicky O'Brien won the Schools International long jump and the Scottish under 17 title with 5.95 and gained a GB under 18 selection. Lesley Clarkson became AAAs junior indoor and British Universities outdoor 400m champion in 2001, with a time (54.44) which qualified her for the European Juniors, in advance of making the 4 x 400 pool for the Manchester Commonwealth Games.
David Lease had maybe left a note for his successor or Meg Stone was really au fait  with what was happening in the country and was extremely encouraging, and gave Charles an opportunity as sprints coach with the Scottish team at the 2000 Loughborough International.   He worked as a coach for a whole Commonwealth Games four year cycle and withdrew from coaching until 2008 when his daughter, Jenny, made a delayed comeback to the sport as a road runner.   He is currently coaching Jenny and thinks he will stick with that.   Jenny has a series of marks ranging from 2:20 for 800m through to 58:51 for 10 miles via 9:51 for 3K and 35:15 for 10K.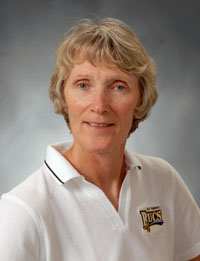 Meg Stone
Away from the track, he is membership secretary for Inverness Harriers, a post he has had since he retired from teaching in 2013.   Having joined the Harriers in 1969, he has been involved in the sport for over 50 years now and has had time to think on the changes that have taken place over that period and how he feels the sport should be developed.   I asked him for his thoughts on where the sport is going and, maybe where it should be going.  This is is reply.
"My philosophy of athletics comprises a set up with clubs firmly at its centre, dedicated by commitment and hard work to achieving the highest standards possible for athletes all abilities – Olympians down to the most modest wearer of a club vest.
As a result I have little time for distractions such as Jogscotland, over priced city road races, Highland Games, Sportshall and Fun Athletics, especially distractions which dilute commitment and competitive ethos. The critical criteria for me, therefore, do not relate to elitist performance standards but to the values and attitudes within a competitive sport. I therefore welcome anyone of any standard who is prepared to pull on a club vest and compete."
Meanwhile, where is he now?  Charles continues his broadcasting activities with shinty having been added to his responsibilities.   He has won awards as a sportswriter for his journalism at the Highland Media Awards ceremonies in both 2001 and 2005 and that continues.   He has written six books over the years including  "Against All Odds", the official account of the controversial Inverness football merger, and "Maroon and Gold", the history of Inverness Harriers up to Glasgow 2014.   We have already mentioned his post as membership secretary of Inverness Harriers and his coaching of daughter Jenny as a road runner plus his own continued quest for a sub-50 10K   – if you want a job done, ask a busy man!