CH Mein
CB Mein was a very good half-miler who won the SAAA 880 yards championship in 1925, with runner-up medals in 1922 and 1924 and a third place in 1923, he ran in the triangular international for both Ireland and Scotland, and set a Scottish record for the distance of 1:57.8 in 1925.   And that was all after service in the First World War.   A very interesting man whose career should be better known.    The following profile was done with much assistance from Alex Wilson. 
Charles Benjamin Mein was born in Newington, Edinburgh, on 12th March, 1898.   He was the second son of second son of Henry Renton Mein, draper, 7 Great King Street, Edinburgh and the grandson of Sir Robert Cranston, prominent Edinburgh Councillor and Brigadier General of The Royal Scots during WW1.   Like his contemporary and sometime rival Harry Maingay he was born into a fairly well-off family – the family owned  Renton's Drapery, a large retail drapery business with premises in Princes Street (now, in 2015, the site of an H&M store) and he was educated at Stewart's College before entering Trinity College, Dublin, in 1915.   This was right in the middle of the first war and he joined 12th Regiment Royal Scots Fusiliers as a 2nd Lieut. in early 1917.   Here he came under the command of his grandfather, who as Brigadier General Cranston was instrumental in forming the RSF.   He was promoted to Lieutentant in 1918.   Shortly after enlisting he saw frontline action as an infantryman at the Battle of Arras.    Alex Wilson, who provided much of the information for this profile sent this link to an account of the battle.
  www.theroyalscots.co.uk/page/arras-april-may-1917
Charles was shot and knocked unconscious on the final advance to Ypres in 1918. It was a lucky bullet though because it did not cause serious injury and he was invalided home.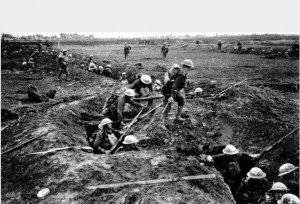 Royal Scots leaving the trenches at Arras, 1917.
Photograph from Alex Wilson
After the War, he resumed studies in Dublin.   He also resumed athletics and was named Captain of Dublin University Harriers AC.   In the first post-war inter-varsity meeting in Dublin Charles won the half mile and finished 3rd in mile.   In 1920 he won the Irish (I.A.A.A.) half mile championship.   The 'Irish Times' reported that "Mein, the Dublin University Harrier, created a rare surprise by outstaying the Birchfield Harrier in the half mile, which he won after a splendid finish"   In the first post-war triangular international at Crewe in 1920 he represented Ireland.   When he graduated from Dublin University with a B.A. in 1921, he became an F.F.A. (Fellow of the Faculty of Actuaries) and lectured on actuarial mathematics at Edinburgh University.   He joined up with Edinburgh Harriers in 1921 and became one of their joint secretaries.   Sporting talent seemed to be a family trait: his younger brother Robert Stanley Mein also competed for Edinburgh Harriers and came third in the 1926 SAAA 440 yards championship.
In 1920 his athletics seemed to be split between Ireland and Scotland – three in Ireland up to the end of May and three in Scotland in July with a run for Ireland in the Triangular International at Crewe at the start of July.   The three races that he ran in in Ireland were all in Dublin – on 6th May he ran in a half mile, which he won in 2:05.2, and a Mile in which he was third in an estimated 4:55.0, then on 24th of the same month he won the IAAA half mile championship in 2:06.8.   This gained him selection for the three-way international at Crewe on 10th July in which he was unplaced.   His first race after coming to Scotland was in an 880 yards handicap on 17th July at Powderhall in which he was third in an estimated 2:01.0 off a 5 yard handicap.   A week later at Craiglockhart he was fourth in a handicap 880 yards, again from a 5 yard handicap mark.   And finally for 1920 at the Sports organised jointly by Hearts FC and Edinburgh Harriers, he was third.   The Glasgow Herald commented on this one that, "CB Mein of Dublin University was a competitor in the half mile, but again he had to be content with third place."   The race was won by J Jackson of Edinburgh Southern Harriers off 52 yards.
In the national championships on 21st June 1921 he ran in the half-mile but was unplaced, but then for a man who seemed to like racing, he had not competed in any of the meetings held earlier in June, such as Queen's Park FC, the West of Scotland meeting or the Heart of Midlothian meeting in Edinburgh.   He doesn't seem to have competed seriously in 1921 – largely because of the importance placed on the final university examinations but by the following year he was clearly back to his best running.
In 1922 he won his first SAAA championship medal – a silver one – to go with his Irish gold.   One of the classic meetings in the athletics year was that of Queen's Park FC and it seemed to be a favourite of Mein's.  On 3rd June, 1922 he ran there and the report reported that Eric Liddell might have won the relay for Edinburgh but for the fine half mile by D McPhee for Glasgow who started 15 yards behind CB Mein of Edinburgh and finished was two yards in front, "the Edinburgh harrier being harassed by the strong adverse wind in the straight."   Continuing his preparation for the championships, Mein ran in the 880 yards at the joint Hibernian FC and Edinburgh Harriers meeting on 17th June, finishing third off 25 yards, behind D McCrae (Maryhill, 42 yards), and T Flanagan (Shettleston, 52 yards).    In the championship the following week, held at Powderhall, Mein finished second to  Duncan McPhee in an estimated 2:03.6 and this earned him selection for the International at Hampden where, running for Scotland this time, he was again out of the medals.   The race was won by Edgar Mountain in 2:01.0 of England and the results included CB Mein and his fellow Scot JCS Ponsford among the four 'also rans'.
 Back in action at the Rangers Sports on 5th August, off 22 yards he was third in the invitation half mile behind Morrison and McCrae of Maryhill (30 and 40 yards respectively) with the race being won in 1:54 4-5th sec.   There were three yards between first and second, and a similar distance between second and third.   There being no invitation half mile or relay, he was not present at the Celtic FC Sports the following week.   The season was to all intents and purposes finished.
In 1923 on 2nd June CB Mein was again in action at Hampden in the Queen's Park Sports and running in the inter-city relay.   Edinburgh was beaten by Glasgow and Mein faced Duncan McPhee on the half mile. stage.   With Eric Liddell running only a furlong, the Edinburgh team was beaten by six yards.   On the Saturday before the championships (16th June), Mein turned out in the joint Hibernian FC and Edinburgh Harriers Sports in the 880 yards off 15 yards to Charlie Freshwater (Clydesdale Harriers, 35 yards) who won in 2:01 with Duncan McPhee out of the prizes.   In the championship itself, held at Parkhead, McPhee won in 2:01 from CS Brown with CB Mein in third place.    Mein's time was estimated at 2:01.8 and all three were selected for the Irish International.   The following week, he favoured neither the Glasgow Police Sports nor the joint meeting in Edinburgh.   He did turn out in mid-July (11th) at West Meadows  in both 440 yards and 880 yards, winning both in times of 53.8 seconds and 2:06.0.
 The triangular contest between Scotland, Ireland and England was on the 14th July and although selected as half mile reserve he did not actually run.
1924 would be another good year for Mein and it was the year in which the Scottish Board of Control recognising his record over the half-mile distance, made him a scratch man for the purposes of handicap racing.   It maybe made life a bit more difficult for prize-winning purposes but was a mark of the progress that he had undoubtedly been making as a runner and of the esteem in which he was held.   He started the season at Daniel Stewart's College Sports at Inverleith in Edinburgh by winning the open mile handicap in 4:37.4, running off 65 yards he had overtaken the field by the end of the second lap.   He also ran 2:04.8 half mile from scratch at the same meeting.     The Queen's Park FC meeting was held on 7th June and the club had organised the 'Olympic Trials' as an addition to the programme – however they turned out to be almost a fiasco because of the "absence of such prominent runners as EH Liddell, WR Milligan, CB Mein, A Valentine and Duncan McPhee."    
The SAAA Championships in 1924 were held on 14th June at Hampden Park.   Two of those named above as by-passing the race at Queen's Park Sports lined up in the half-mile and the finishing order was 1.   D McCrae (2:00.8), 2.  CB Mein;  3.  WR Milligan.   Mein's time was estimated at 2:2:01.4.   At the very end of June there was an 880 at West Meadows which he won in 2:05.0.   On 12th July, in a half-mile from scratch he was beaten by JF Donaldson (off 58 yards) in 2:01.5 at the Edinburgh Inter-Works Meeting at Craiglockhart.   Just four days later, he ran in the Mile Medley Relay at Inverleith as part of the winning team but the following day he was chosen as part of a Scottish team to meet Canada at Cappielow, the Greenock Morton FC ground.
Mein was part of a three man group of Scottish half milers who were sent to the AAA's championships that year – Duncan McPhee and Donald Macrae being the others.   Mein ran 1:59.2 to finish second , three yards behind Cecil Griffiths, the holder, in the first of four heats but with only six going through to the final, the four heat winners and the two fastest losers, he  was unlucky not to make the final.   He did however get a AAA's standard medal.
The other representative in the half-mile against Canada was Donald Macrae, and Mein was also listed as a reserve for the Medley Relay.   Mein represented Scotland in the half mile in international against the Canadians at Cappielow on 26.07.1924.    1924 was Olympic year and in consequence there was no Irish or triangular international but the Canadian match was a more than adequate substitute!   Scoring in the international was by the simple method of comparing the number of victories by each country.   Canada won by five events to four, but the outstanding Scot was Eric Liddell who ran in the 100, the 440 (which he won easily) and the relay.   Mein did his bit by winning the 880 yards from Macrae  in Second in 2:04.1 but Macrae was the chosen half-miler for the one mile relay  which was won by Scotland.   He finished off his season at a midweek meeting at Ibrox on 6th August where he was second in the 880 yards in an estimated 2:00.2 off 20 yards.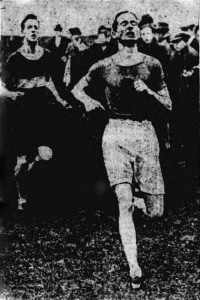 Mein winning the mile handicap at Stewart's College in 1924
He started the 1925 season a bit later than usual with a double win at Goldenacre  on 2nd June – a 440 yards in 54.6 and an 880 yards in 2:14.5.   Neither of those would stretch him but he returned to serious competition at the end of that same week.   On 6th June, he returned to the QPFC Sports at Hampden as part of an Edinburgh team that not only won, but also set a new record for the mile medley relay.   The report read:   "Glasgow's chance was hopeless here from the completion of the first section as CB Mein defeated RB McIntyre by three yards and FB Wardlaw and AF Clarke gave so little away in the two furlongs that Macrae, the Glasgow man, was asked to concede a yard to Liddell when the quarter was entered upon.   McIntyre's failure was unexpected in view of his recent good form, but he had run previously in the invitation half which he won in comparatively slow time, and apparently this effort had taken too much out of him.   At least Mein had no difficulty in shaking off his challenge when the pair settled down to race."    The winning time was 3:30.8 – 0.2 better than the previous best set by Edinburgh University in 1922.
But on 20th June, when the Glasgow Police Sports were a great success before a big crowd in good weather, Mein chose to run at Powderhall at an Edinburgh Southern Harriers Meeting, He set a new Scottish record.  "Further distinction was lent to the meeting by the creation of a new record, CB Mein cutting three-fifths off the previous best native time for the half-mile. "     He ran 1:57.8 from scratch and finished second.    Alex Wilson comments: "Mein broke the Scottish native record jointly held by R Burton and J T Souttar. It stood until 16.08.1932 when it was broken by Bobby Graham and Walter Calderwood at Helenvale (both 1:55.8)"    Four days later  –  his third race in eight days – he won the East District half-mile championship, which was included in the programme of the Edinburgh Pharmacy Sports,  in 2:06.4 at Powderhall.    In the East District Relay Championships. Mein gave his side a good lead on the opening half mile leg in the mile relay, but with Eric Liddell on the final leg, EUAC romped home by six yards from Edinburgh Northern and Edinburgh Harriers.
Then just three days later – 27th June, 1925 – in the SAAA Championships at Hampden, he won the national title.   The 'Glasgow Herald' report read:
"In the half-mile Donald Macrae, the holder, was never prominent and the real fight was between CB Mein and RB McIntyre.   The west man set a pace at the bell which he was not able to maintain and passing the stand it was clear to see that Mein had the race in hand.   He passed the tape in 2 min 3-5th sec, six yards ahead of WH Graham, the Inter-University champion, who came  with a fine burst of speed in the finishing straight to deprive McIntyre of second place.   It was the best race Graham has done in public and he was timed as doing 2 min 2 sec."   Mein and Graham were both selected for the triangular match on 12th July but they did not run well and were both unplaced.
His first race in July however was in the joint meeting with Heart of Midlothian where he won his heat of the half-mile (2:03.2) and then did not run in the final because 'he did not feel well enough to run again'.   His last race of the year was the triangular contest on 12th July, mentioned above, and he missed subsequent meetings such as the Rangers Sports and the Celtic Sports that he had previously attended.
It had been a superb season for the man who served in the War, saw active service and collected an enemy bullet before he was 20 years old; who then resumed his studies, ran internationally for Ireland and Scotland, and who in 1925 set a Scottish record for the half mile, won the SAAA championship and won the international against Canada.
He had also crammed a series of races into a very short period that encompassed his record and title races, and 1926 was to see little if any let up from that furious competition.   He started on 2nd June at Inverleith in Edinburgh, as he had done two years earlier, by winning the half-mile in 2:10.4 before heading to Hampden on the 5th June for the Queen's Park FC Sports.   Mein had dropped out of the inter-city relay due to stitch and he was 'clearly defeated' on the first stage of the relay by Tom Riddell who had been second in the invitation 880.   Three days later it was back to Goldenacre where he won the 440 and 880 in 53.5 seconds and 2:13.2   –  four races in seven days.   On 12th June he ran in the half-mile at Corstorphine Sports, making it five races in ten days, but perhaps unsurprisingly was unplaced in the handicap.
On On Tuesday, 15th June, the first Eastern District Championships were held at Powderhall and Mein was the winner of the half-mile again in 2:06.8.   A District title sounds good but there were only two runners forward for the 880 and Mein won 'by fully 25 yards'.   But to use a modern expression, there was a new kid on the block in Edinburgh and Scotland as far as half-miling was concerned and that was Hugh Maingay who had arrived a Edinburgh University.   In the East District championship medley relay, Maingay was reported as having held his own with Mein on the opening leg, with  Edinburgh University AC winning comfortablyOn 23rd June, 1926, at the Edinburgh Pharmacy AC meeting, Mein gave Edinburgh Harriers a good lead on the opening leg over D McCrae (Motherwell) and H Maingay (EUAC) but it was not good enough and the University squad emerged triumphant with Maryhill Harriers second.   The SAAA Championships were held at the end of the week at Hampden on 26th June and Mein was entered in the half-mile.   The result was a win for WR SEagrove from Tom Riddell.   The defending champion, Mein, 'was never concerned with the issue' and actually gave up 20 yards from the finish.   The following Tuesday however, he ran in his club's own meeting and won the half mile race in 2:05.0.
The meeting was a contest between his club, Edinburgh Harriers, and Edinburgh Southern Harriers, Edinburgh Northern Harriers and Heriot's Cross-Country team.   Edinburgh Harriers was the oldest club in the capital, having been founded in 1885, second only to Clydesdale Harriers as Scotland's first open athletics club, but it was not the only club in the area by a long chalk and in the long term Edinburgh Southern retained their identity longest as a separate club.   After a series of mergers, several clubs (Braidburn, Edinburgh Eastern and others) linked together to form Edinburgh AC in 1962.   In the twenty first century, both EAC and ESH linked up to form City of Edinburgh.   When Mein was running however the battle was between ESH and EH for strongest club in the city.
The selectors had chosen WR Seagrove and DG Love to represent Scotland in the half mile at the triangular contest 10th July, with Mein as reserve.  Seagrove finished second but neither Love nor Mein turned out – the second string for Scotland was the unplaced WH Graham.
1926 was Mein's last season competitive season.  He had had a good career and done well in and for the sport but like many good athletes, he stayed on in the sport as an official.   This led to his 'last season' being not quite his last season.
The following year, on 4th June, acting as an official at the Queen's Park FC meeting at Hampden Park, he stood in for the absent Hugh Maingay in the inter-city relay race.   The report spoke of the disappointment at the withdrawal of HC Maingay from the Edinburgh team, and said "CB Mein who sportingly stepped into the vacancy, was obviously not fit and accordingly quite unable to hold RB McIntyre who ran the half for Glasgow."   He couldn't have been too unfit as the race was only won by 12 yards.
What happened next?   Alex Wilson tells us that Mein subsequently moved south to York and took up an actuarial post at the Yorkshire Insurance Company, where he remained until his retirement.   He died in York in 1967 after a long battle with abdominal illness.