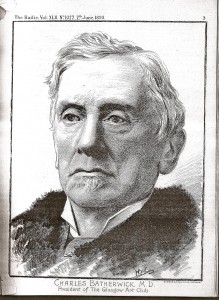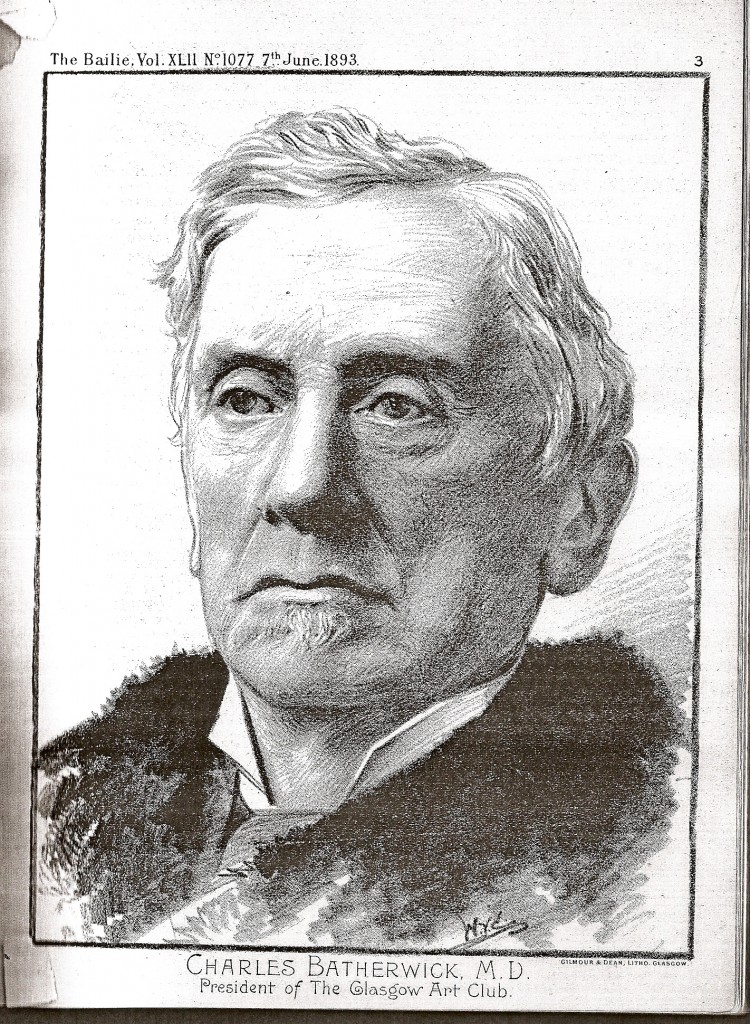 Dr Charles Blatherwick is featured here as the first Honorary President of the Clydesdale Harriers, appointed in 1885.
There were two basic reasons for having patrons and honorary members for a new athletic club, particularly if the venture involved the introduction of a 'new' sport.   Firstly, if you were going to run across country where the farmers and landowners had no acquaintance with the 'Hares and Hounds' tradition, it would be advisable to have the locals on board, and secondly, having distinguished members of the Community as honorary members gave the club status making the sport instantly more acceptable.  Patrons therefore came in two guises: local landowners or dignitaries who could be helpful to the club practically and politically, or people of standing in the community who could add lustre to the club by association, or who could act, formally or informally, on the club's behalf away from the competition arena.   They did not have to be practising athletes, or committed to one sport, they merely had to lend gravitas and use influence on behalf of the club.   Even with such patrons however there were incidents such as the following, which were amongst several recorded in the club minutes.
"A complaint was read from Mr R Howie, Pollokshaws, re club trespassing on his farm, as to also some of our members using abusive language when spoken to.   It was clearly demonstrated that we were being made scapegoats for other Harrier clubs as his intervention and instructions were acted up to on the day mentioned."   (18/11/98)
"A letter was read by a Bishopbriggs farmer re damage done to his fields on the day of the Big Handicap.   The secretary was instructed to write denying liability."  (1/12/98)
Nevertheless being a patron of Clydesdale Harriers soon became quite an honour, and many of the great and good in Scottish society at the time filled the role.   The Right Honourable Sir George Otto Trevelyan, Bart, MP noted on the page illustrated above was a Liberal Member of Parliament, Lord of the Admiralty, Chief Secretary for Ireland and Secretary for Scotland (1886 and 1892 – 95) so was unlikely to have been much involved other than as a name on headed notepaper, and maybe as an occasional donor, but his name clearly lent kudos to the club.
The role of Honorary President however, required someone who would take more of an active interest in the club.   The Blatherwick family at Rhu, outside Helensburgh were likely candidates.   They were known countrywide never mind countywide and with several Harriers members in the area it was natural to approach Dr Charles Blatherwick and discuss a role for him in the club.   He soon became the club's honorary president – the highest honour the club could bestow.   The position was a non-executive one, but it was far more integral to the management of the club than that of patron, and Dr Blatherwick took the role seriously.   It was clear that he was not a remote figure and his office was also notable for the length of tenure – most Honorary Presidents served only for one or two years but he held the position for 20 years.   He came of a Nottinghamshire family (family coat of arms below) and had studied for the MD in Dublin but apparently never practised medicine.   His occupation was officially "Gentleman".   A water colour and landscape painter, he was Treasurer of the Scottish Society of Painters in Watercolour (RSW) (whose members were said to enjoy sumptuous and formal Dinners) and President of the Glasgow Pen & Ink Club.   He had three exhibits in the Royal Academy.   He also wrote popular songs of the time, 'what would now be regarded as sentimental rubbish' says the family website.   He lived at a house called Dunaivon, at Rhu outside Helensburgh.   In 1871 he spent some months at Kilmahumaig, Crinan, Argyllshire having travelled up from Rhu by steamer.   He kept a large illustrated diary of the stay listing all visitors, what they saw or shot for the pot and anything of interest together with pages of poetry or doggerel.    He died in 1895.   He had no reported or obvious connection to any sport and was apparently appointed solely because of his social position.   He remained as honorary president – which is listed as 'Office Bearer' above which indicates that more may have been expected of him than of the patrons until his death in 1895, and the club annual report as printed in the Handbook for 1896/97 commented as follows: "We are sorry to report the death of Dr Blatherwick of Row, one of our Hon Presidents, a gentleman who for many years has taken a great interest in the club."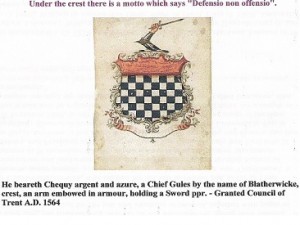 The tradition of appointing eminent patrons continued for another couple of decades.   At the AGM in 1902 the proposed list of patrons was "as last year with Mr A Bonar Law proposed by Mr Reid."    Andrew Bonar Law became a Unionist MP in 1900, became Unionist Party Leader in 1911 and had a glittering career in Parliament, having held the offices of Colonial Secretary and Chancellor of the Exchequer before becoming Prime Minister in 1922/23.   Politicians were often keen to be seen, maybe they still are, and many were patrons of the club – W Mitchell Thomson MP; JW Clelland MP; Scott Dickson, KB, MP; A Acland Allan, Esq, MP were among them. Others of some standing in the community who consented to be patrons were such as A Cameron Corbett, who in 1911 became Lord Rowallan, Sir Iain Colquhoun of Luss and Lord Provost McInnes Shaw of Glasgow.
After the 1914-18 war the club was almost starting from scratch and all appointments, even those of patrons, had to be looked at afresh and at the first post war Annual General Meeting on 12th September 1919 the subject was discussed.   The item was headed "Discussion on whether to have patrons:   Mr P Carswell moved and was seconded by Mr W Ross that we only elect as patrons such persons as are genuinely interested in our sport.   On the Chairman expressing opinion that the motion was vague, same was withdrawn on the understanding that opportunity would be afforded to object to any individual put forward."   The Meeting went on to elect nine patrons four of whom were members of the Denny family in Dumbarton who had long been supporters of the club, another was Dugald Cameron who donated the Cameron Shield to the club and another was Colonel Brock, a noted sporting patron from Dumbarton whose family had several members in the club one of whom, Gabriel Brock, had died in the War.   The Denny shipbuilding family had had a long connection with the club in various capacities – as patrons, as club members and athletes.   They filled every possible condition.   By now though Honorary Presidents were drawn almost exclusively from former club members of renown – Charles Pennycook, Andrew Hannah, A Ross Scott, etc.
All clubs and perhaps especially the SAAA recognised the value of patrons even though the type and role of patrons evolved over time.  In the early days when establishing a new sport it was essential that it had the Victorian virtue of 'respectability' – this was certainly imbued by the likes of Dr Charles Blatherwick.    By the 1900's however patrons tended to be chosen almost exclusively for their standing in the community.   That was the point at which Bonar Law (pictured, right) and Lord Rowallan assented to their appointments. In the words of Peter Carswell in 1919 men such as the two named were probably not 'genuinely interested' in the sport of athletics as much as interested in sport generally: at that time there were at least three sports papers being published twice or three times a week and the interest in sport was probably greater than at present when most interest is in the business of football which masquerades as sport.  Some, like Sir Iain Colquhoun of Luss were interested in all that went on in the sporting world, he being one of the leading lights in the organisation of the Luss Highland Games and also a patron of Crieff Highland Games as well as contributing to several magazines dealing with physical fitness.   That would probably come under Peter Carswell's definition of being interested in our sport.   There was however no harm in the appointment of Lord Provosts of Glasgow and the like since they added to the stature of the club.    (There was an occasion when the runners, changed, took a train from Glasgow City Centre to Cathcart, had their cross country run and returned by train to Glasgow where they changed again and were guests if the Lord Provost for Dinner in the City Chambers that night.)    Other patrons such as the several members of the Denny family of Dumbarton were immediately useful both financially and as influential landowners.
 -o-o-0-o-o-
Doctor Blatherwick must be particularly remembered however as the first honorary president.   He was in office through the early 'glory years' of the club when membership spread all over Scotland and the club had almost 1000 members on the roll.   His long service is no doubt evidence of the contribution he made to the club as the Committees of the time were not slow to 'de-select' members or patrons if they felt they were not adding value.   The notice in the Annual Report is remarkable simply because it was there: its appearance was testimony in itself to respect from the club.