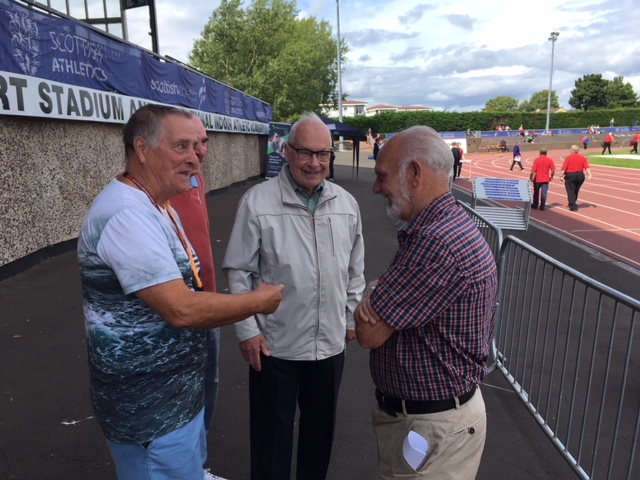 Eric on the left with Willie Day, Brian McAusland and Bill Walker
(Scottish Championships, 2018)
I first came in contact with Eric in the late 80's/early 90's when two of his runners came to study at University in Glasgow and he got in touch to ask if they could train with our group. They were good athletes, in very good condition and were a useful addition to the squad. Eric was in touch a lot – there were even phone calls first thing in the morning before I left for work. This was a first – late night calls you get and you expect to get when you are a coach, but first thing in the morning? It hasn't happened before or since. He was a good coach to work with – information was exchanged in both directions and the athletes benefited because of it. We met subsequently at coaching meetings and at sports meetings all over the country, he produced and worked with many notable athletes and yet surprisingly little is known of the man himself, and he is possibly a bit under-rated because of that. Known as a straight speaking character, I have noticed that in any discussion at a coaching get together, or in any of the athletics forums to which we both contribute, he never comments at the start of the discussion. He usually lets it go on for a bit before coming in with his own comments. Maybe direct and without any circumlocution or equivocation, he listens before he joins in. We should maybe start this profile with his own replies to the questionnaire.
*
Name: Eric Simpson
Club/s: None. I am not allowed to be a member of a club because I took money and am classified as "professional." As a matter of principal I refuse to pay £30 to be called an amateur
Date of Birth: 12th January 1948
Occupation: Retired Teacher /Headteacher still working on a need to/want to basis.
How did you get into the sport initially? I was very good at football at primary school. Went to Secondary and got involved in athletics. Proved to be good at it. Jim Russell(P.E. Teacher ) was the guiding light in school and for many years after. Father took me to a "professional" coach at twelve as I was running with a "bad" crowd and he wanted to turn my energy to something worthwhile.
Personal Bests? Never really found out as I was running handicaps all the time.
Has any individual or group had a marked effect on your attitude to the sport or to your performances? I was lucky enough as an athlete to be coached by three very talented coaches:
* Wullie Young taught me the power of the mind,
* J.B. Jimmy Bryce taught me the need for fitness and last but not least
* Jim Bradley very much ahead of his time. who taught me the need for technique.
What do you consider your best ever performance as a runner?
Winning the New Year Sprint Youths
What do you do apart from athletics to relax? Enjoy music of all types, and films escapist stuff usually.
What goals do you have that are still unachieved? I have not produced an Olympian yet, though I have produced two Paralympic Champions.
Do you have any thoughts on current training and/or racing theories that you would care to pass on?
Learn from the past, never stop learning ,there is NO EASY WAY to being a champion. Most of the great champions we have produced have been done by "maverick" coaches who have done it their way. The ones who have had the biggest impact on me have all been "one offs"- people who have worked out what the target was and then worked towards it. The most obvious ones today are Tony Hadley and Toni Minichello, both of whom have said no I am doing it my way.
What changes would you like to see in the sport?
Change in attitude from the structure of the sport ( N.G.B. ) one size does NOT fit everyone. More financial , medical support for coaches and athletes just below elite athlete level. This does not imply that the N.G.B. "own" the athlete or their coach. N.G.B. S are political hotbeds and not where elite athlete are developed. Always remember "the Titanic was built by professionals and you know what happened to that."
As A Coach
How did you get into coaching in the first place?
Bill McLellan former staff coach for High Jump and New Year Sprint winner asked me to go down and coach a group of young sprinters one day a week. The club was Fife Institute Athletic Union, which then became Fife Southern Harriers which amalgamated with Fife A.C.
Were there any significant inspirational figure who influenced your own coaching practice? So many John Anderson and Bill Walker I consider my mentors even yet. Bruce Longden, who became a very close friend
How far did your own running and competition influence your own coaching theory and practice?
As mentioned above, I was lucky enough to have three great coaches. Wullie Young, Jimmy Bryce J.B. and Jim Bradley – I hope I have combined the excellence of these three men into what I do now.
How did you get involved in coaching at national level? I was "lucky" that I had an athlete in my first 2/3 years of coaching called Shona Urquhart who was invited to squad session at Scotland and G.B. Level with their coaches. She was very good and I was a "sponge" I listened to everyone and learned a great deal.
Can you name some of your athletes that we might know about?
I have worked with 15 athletes to G.B. Level. A couple moved to me but most I worked with from a young age. I will try chronologically:
* Shona Urquhart Commonwealth Games twice G.B Internationalist ,
* Colin Keyes Paralympic Champion Seoul 1988,
* John Wallace ,
* Mary Mc Clung,
* Dawn Burden,
* Sara Whigham,
* Trudy Thomson,
* Kt Skorupska ,
* Stephen Payton Paralympic Champion Atlanta 1996 Triple Gold 100/200/400 plus two World Records. Multi World Champion.
* Karen Montador,
* Ashleigh Gayle Murray.
* Ewan Dyer
What Scottish, GB, University or school teams have you been involved with?
Over the years I have been involved with teams from Schools up to G.B. Senior level. At one point I was involved in G.B. Junior Development Squad ( with Adrian Thomas) and G.B. Senior squad basically before B.A.F went bust. After the sport went professional my services along with other experienced coaches was sidelined .
Are there any coaches that you particularly admire – either coaching at present or in the past?
I was a young coach in the "golden era " of British athletics. Coaches such as John Anderson, Bruce Longden, Peter Coe , Mike Smith and Bill Walker all encouraged me to continue to develop as a coach. They were always available to assist and advise me. My three original coaches as an athlete set the foundations for my move into coaching and in many way my overriding philosophy.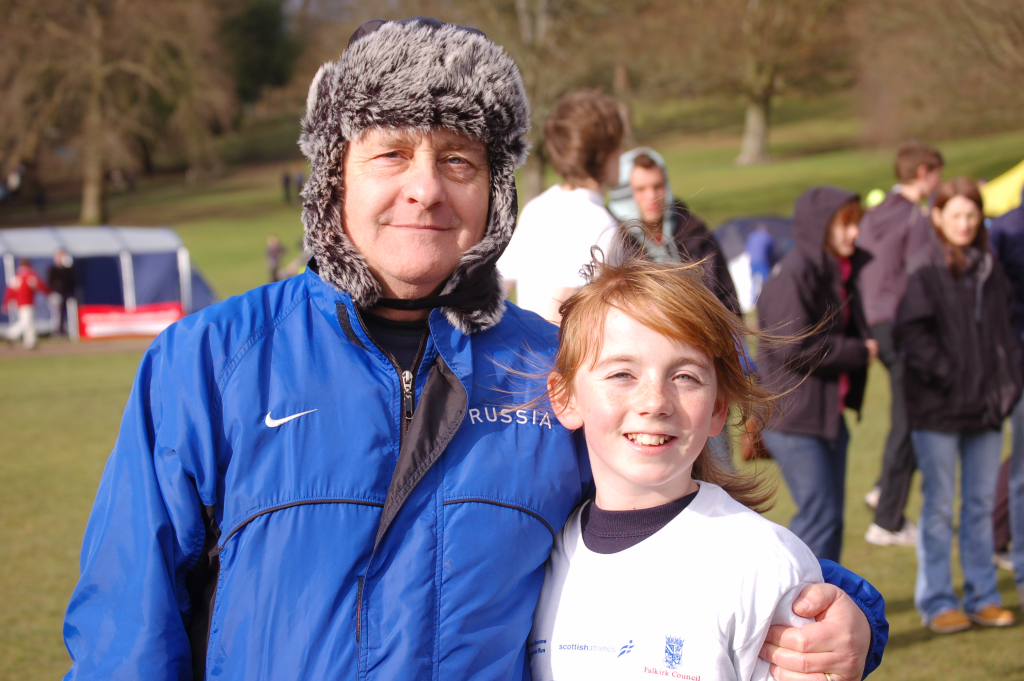 Eric with one of his young athletes
A very interesting career which is unique in several ways – not least because of the early and continuing connection with the world of professional sprinting. He shares that background with at least two top class sprints coaches, Jimmy Bryce and Eddie McKenna, and since the early 1970's many of the practices from that discipline have been accepted and used in mainstream coaching. On another page he pays tribute to John Anderson and his influence in the following words. It could well be someone else speaking of Eric himself in places. He said:
"John and I first met when I did my Senior Coaches in London a few years ago at least 25 years ago. and from the 1st minute John and I hit it off. From the beginning I loved him because I always felt he was honest , he called it as he saw it, it might not be politically correct but hell great athletes and coaches are not made by being P.C.
I always considered John my mentor and if I needed help he would always be there on the end of the phone he was working in London at the time. I managed to get through to him in his office one day and he started laughing because he wanted to know how I had conned his secretary into putting the call through.
John and I crossed swords occasionally but my respect for him never waned and I missed him badly when he moved back South but will always consider one of the major influences in my life, John never gave you the answer as a young coach , he told you where to go and find it then come back and discuss it with him. I have used this technique with the young coaches that I mentor now and tell them how lucky I was to have John as my guide. I travelled a round trip of over 1000 miles to see John when he lived in London , I learned more in the seven hours I spent with him than I had learned in the previous seven years , an inspiration and a great person in my eyes."
Now, having heard what he says about his background and who and what has influenced him, it is appropriate to look at the athletes whom he himself has influenced.
Shona Urquhart was the first athlete of Eric's to be in a GB squad. Born in September 1963, she competed seriously from 1978 to 1990 inclusive. Educated at Kirkcaldy HS, she started out as an 800 metre runner but switched to the challenge of technical events and specialised in Javelin and Heptathlon with had personal career bests of 2:13.8 for 800m (age 16), 14.7s for 100m Hurdles, 62.5 400m Hurdles, 1.64m High Jump, 5.57m Long Jump, 12.57, shot putt, 52.58 Javelin and 5264 points for the Heptathlon. These were considerably good as marks but Shona was also a good competitor: she competed in two Commonwealth Games (1986 and 1990), won silver and bronze in the AAA's (1988), won the SWAAA Heptathlon in 1981 and 1982 with third places in 1984 and 1986, won the SWAAA javelin in 1988 with seconds in 983 and 1989 and bronze in 1982 and 1984. That is a remarkable range of events over a fairly lengthy period and must have been a real crash course in learning about the technical events requiring reading, meeting other specialist coaches, and finding his way around the system. Lesser coaches might have retreated to the safety zone of specialising in one or two events but Eric got right on with it. We all learn from/with our athletes and he was right in there from the start.
Another of his athletes was Katie Skorupska who was an out-and out distance runner, educated at St Leonards School in St Andrews and went on to represent Fife, Edinburgh Southern and Oxford University. She had a range on the track from 800m to 10,000m and won the SWAAA 5000m in 1998. Katie was an outstanding cross-country runner who won the Scottish women's title in 1996/97 and running in the world cross-country championships before going to Oxford the following year where she represented the University and also the Achilles Club.
It might be appropriate at this point to quote Eric again about John Anderson. All good coaches learn as much as they can in as many different ways as appear to them. John himself, Tom McNab, Frank Dick and all the rest read a lot, attend conferences and meetings, and make contact to as many other coaches as possible. Harry Wilson spoke of the 'escort system' where the coach makes progress by accompanying their athletes through the various tiers of the sport as possible so that they become familiar with the progressively increasing demands and opportunities. In the context of working with Katie, Eric met up with John and commented that …
"John was the reason I got my chance to work with the G.B. squad in Birmingham and plans were in place for me to be developed in this area. Then as usual politics got in the way and I think it was B.A.F. went "tits up" I still was invited to work with Adrian Thomas on the G.B. Junior squad and this gave me a great insight into the working of the sport at the top end. Again John was always there in the back ground."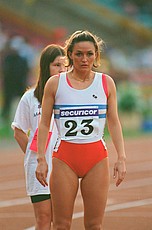 Mary McClung
Mary McClung is probably best known as an 800m runner although her range was from 100m to 3000 plus ranked runs at 400m hurdles, with pb's of 54.6 for 400m, 2:02.92 for 800m and 4:25.13 for 1500m. Her career went from 1987 through to 2003 and she competed against the best in Scotland and England for most of that period. Mary studied at the University of Georgia from 1991, graduating in 1995, where she is still listed as their second fastest runner over 800m and seventh best over 1500m.
And it goes on with Sara Whigham (4 SAAA firsts, 3 seconds and 5 thirds), Trudi Thomson (a wonderful record setting road and cross-country runner), Ewan Dyer (sprinter and 400m hurdler) and many more.
It is evident that what Eric has picked up from Wullie, JB, Jim, John, Bruce and Bill has been put to good use to the benefit of the athletes, their clubs and to the sport.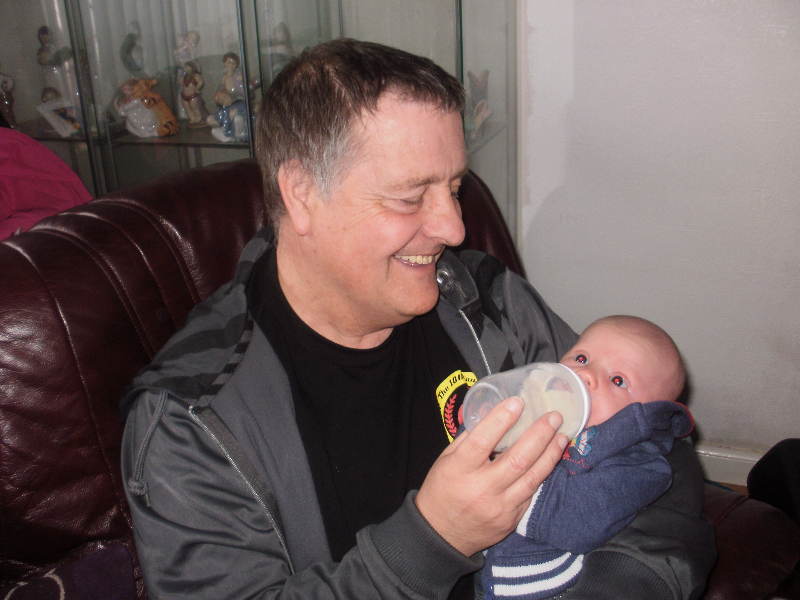 A Gentler Side of Eric on Display
If we look at the Power of 10 website we see that Eric is currently working with 10 athletes from four clubs to add to the dozens who have passed through his hands over the past 40 years, and this is possibly an under-estimate. They will have to work hard to please Eric but if they manage it, then the results are demonstrably there. We can look at his record of coaching winners of the New Year Sprint, currently held at Musselburgh. The 'Herald' of 3rd January, 2003, reported
"Former Piershill Special School Head Teacher Eric Simpson succeeded at his first attempt where many coaches have spent a lifetime striving in vain when he steered Martyn Paterson (Clackmannan) to victory in the 142nd New Year Sprint at Musselburgh Racecourse on Saturday.
Uncharacteristically speechless with emotion, as the second year Stirling University accountancy student received the Eric Liddell Memorial Trophy, gold medal and 4000 first prize, Simpson could only gasp: "That's right up there with the best I've ever achieved as a coach."
All his previous successes have been with amateur athletes as indeed Paterson, 18 only last Friday, very much is. "We decided last June to enter as we wanted to use this event to improve his overall development for the future," explained Simpson, who lives in Kirkcaldy. "He's got to be mentally tough as well as physically tough."
And mentally tough the Central AC runner proved to be, shrugging off his lacklustre performance in last Friday's heats from which he qualified only as a fastest loser and then brilliantly dominating his cross-tie before going on to run even better in the final."
Having won with Martyn in 2011, Eric repeated the performance the following year with Graeme Lister winning the event which set the Press talking. The Herald on 26th December, 2012, reported:
"Fife athletics coach Eric Simpson could be on the verge of a unique treble – by training the New Year Sprint winner for the third year in a row when the 144th former Powderhall classic is decided at Musselburgh Racecourse tomorrow and New Year's Day.
Martyn Paterson (Central) two years ago and Graeme Lister (Pitreavie) last year were Simpson's first winners and both were unexpected triumphs. Lister, in particular, produced unsuspected form to confound the few bookmakers left at this famous old professional 110 metres handicap.
A former half miler, he sped to the line in 11.62 seconds to capture the £4000 first prize from a start of 12.5metres.
His handicap has been cut by almost seven metres, making a repeat win seem unlikely. But Simpson expects last year's winner to "give them a fright".
It was not to be however with victory going to Ben Robbins, of Edinburgh AC, but Eric and his athletes had shown that they knew how to prepare for specific events as well as for major championships.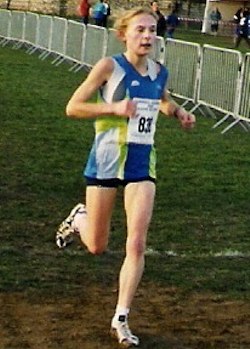 Katie Skorupska
Many coaches now work with athletes with a disability but Eric has been doing this with success for some time. The first major success in this field was with Colin Keay at Seoul in 1988, and then Stephen Payton won gold at Atlanta in
Stephen Payton had cerebral palsy and a major weakness on one side of his body. Competing as a T38 sprinter at the IPC Athletics World Championships in Berlin in 1994, Stephen won three gold medals and set a world record. He went on to represent Britain at European, World and Paralympic Games. The Scottish Disability Sport website noted Eric's contribution –
"Stephen is a graduate of Napier University, the University of the Pacific California USA and post graduate from Teesside University. Throughout his athletics career he received coaching support from John de Courcy and Eric Simpson in particular. As a Lottery Funded athlete he benefited from support services provided through the Scottish Institute of Sport. Over the years he has been a prolific winner of Sports Awards such as the British Sports Writers Award 1996, Scottish Athlete of the Year SAF 1996, Sunday Mail Great Scot Unsung Hero 1996 and the SDS Athlete of the Year 2006 and 2005. Stephen had a very successful career and is undoubtedly one of Scotland's greatest ever international disabled athletes"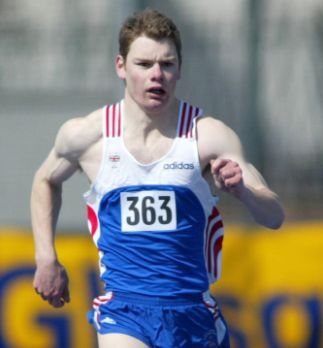 Stephen Payton
Stephen was not the only athlete with a disability that Eric worked with – Louise Brett from Perth Strathtay Harriers was looked after by Jim Hunter in Perth and Eric and competed in the CPISRA (Cerebral Palsy International Sports and Recreation Association) World Games in 2015.
As we have noted, Colin Keay from Dunfermline won his gold at the Paralympics in 1988 at Seoul. Colin had cerebral palsy with associated sensory problems of deafness and absence of speech and won 5 gold and 1 silver medals at Paralympics at Seoul and New York: the Scottish Disability Sport website says : "
"Colin was the first DSF member to be coached in a mainstream athletics club. Fife AC must be congratulated for its vision and for adopting the inclusion model before it been identified as the way forward. Coach Eric Simpson was the inclusive coach who provided outstanding support for Colin during his decade as the lead athlete in his class in the world."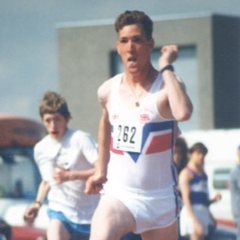 Colin Keay
There are again many others. The point here is that Eric makes time for athletes of all categories and all levels of ability who are prepared to work at their sport. He always gives the best that he can and the many successes are there to be seen.
We can finish with a quote from the man himself: "I must have done something right as even yet I receive messages /Christmas cards from many of my athletes from the past all the way back over almost 40 years."
Now read what a fellow coach and one of his athletes have to say about Eric. Just click on this link